Busty French Game Show Contestant in Wardrobe Malfunction (Video)
February 6, 2017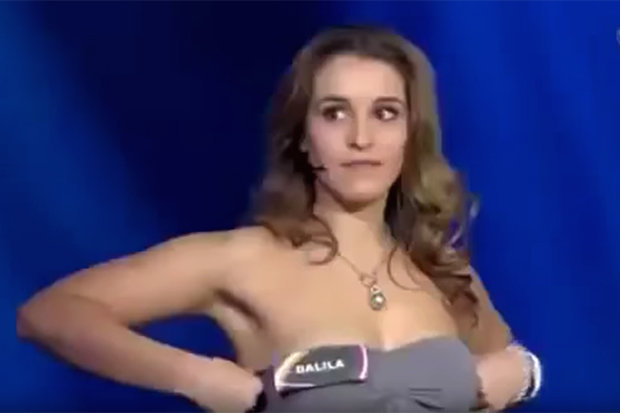 ---
A super hot French game show contestant suffered multiple wardrobe malfunction on the country's version of Wheel of Fortune.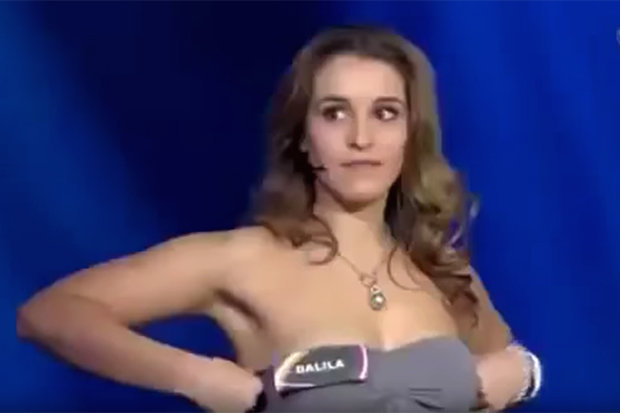 The contestant, known as Dalila bared a little too much each time she took a spin of the wheel. (well, not too much for us, we have to say)
At one point, close to the start of this fantastic video, she is chased around the studio, which caused her dress to fall down. I really don't remember Nicky Campbell doing that, and if he had done, I imagine he would have been fired on the spot.
In the game, called La Roue de la Fortune in France, contestants compete to solve word puzzles to win cash and prizes. It is exactly the same as the set up over here, just with less boobs!
A Wardrobe Malfunction Won't happen Here
I always love these foreign shows. What is seen as offensive over in the UK is actually pretty cool over there. Take this video for example. This weather-girl is not only hot, she has such a tight fitting, revealing dress. Now I am not saying that the women on UKTV aren't just as hot, but I do feel like over here, showing you are attractive is seen as lowering your credibility.
As a nation, we also lack a bit of a sense or humour about these things (or sections of society have) If this woman had been having these wardrobe malfunctions over here, then the filming would have come to an end, and she would have been put into different clothes. I know this as my Mrs has been on a well known game show, and it was done with almost military precision. I have serious doubts she was going to be allowed to show off her knockers. However, the French and other places seen to take it as all good sport.
I certainly know what I prefer!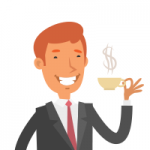 Martin Ward is a well respected editor and writer with over five years experience in the adult industry. After stints in the Escort Advertising call centre and on the escort forum, he moved into the site editor position around three years ago.

Since then, he has specialised in articles on the battle for equal rights for sex workers, sexual health, as well as bringing the readers fun news from around the world. He also has a major interest in LGBT rights, and is an active campaigner in this field.

When he isn't fighting the good fight, he enjoys spending time with his girlfriend, and young daughter. He also enjoys reading and taking long walks.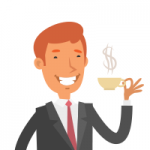 Latest posts by Martin Ward (see all)
---