4 Sexy Halloween Role Play Ideas!
October 26, 2017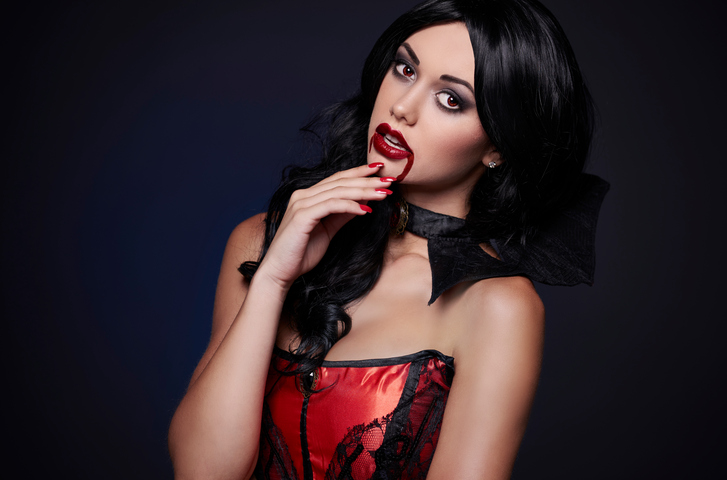 ---
Halloween is almost here, and you know what that means! Almost every shop seems to be selling costumes and pumpkins to honour the season, and so it would be a shame to miss out on the fun. If you are feeling a little kinky, you could try a sexy Halloween role play to spice things up.
Because you can buy the costumes almost everywhere for a good price, it won't cost you much. Plus, many costumes you can put together yourself, saving you even more money. But what kind of things should you role play? Here are four ideas for you to try.
1. The seductive vampire
Halloween and horror go hand in hand, so why not touch on horror with a seductive vampire role play? Really, all you will need for this costume are some fake fangs. The rest of the costume is completely up to you.
One thing that works really well with the vampire role play is food play. Bear with us on this. Vampires are all about sucking blood. So why not get some red food for food play? The vampire can seduce you, and when you are ready to be bitten, out comes the food.
They can slowly lick it off of your body as a vampire might with blood. It'll be sticky and incredibly sexy, making it the ideal way to kink up your Halloween!
2. The wicked witch
One of the most common costumes you'll see in stores at this time of year is the wicked witch. There are so many variations, meaning that you'll be able to find the ideal costume without spending a fortune!
This role play is great for those who want to give up control. Whoever is the witch will "cast a spell" on the submissive person. Perhaps you can give them a drink and tell them it is a potion to make them do whatever you want.
From there, you can explore the dominant and submissive relationship in more detail. It'll be kinky because of the costume and the little story to it makes things even more exciting!
3. Dance with the devil
To enjoy a little role play as the devil, all you'll really need are red clothes. If you want to add horns then do so, but the colour red should be enough to make it clear exactly who you are to your partner.
This is one of the more fun role plays, especially if you want to tease your partner. The devil will want something from the other person, and so will slowly tease them in the hopes of getting it.
This is perfect for edging. The devil can bring the other person to the edge of orgasm over and over again until they beg to come. When they do, the devil gets what they want. It's a fun way to combine edging with a sexy Halloween role play.
4. Naughty nurse
Another popular costume at Halloween is the naughty nurse. However, if you don't want to buy this outfit then you can always create your own. White clothes and a red cross somewhere might just be enough to satisfy.
Eager to try something a little different? You can ask the nurse to give you a prostate exam. It is the perfect outfit for the medical fetish, but starting out with a prostate exam is going to be great.
Your partner can put their finger slowly into your ass and it will feel incredible. You might just come in a record number of seconds, so make sure you have some other things you can do with your partner until you are ready for round two!
Other sexy Halloween role play ideas
When you choose to do a sexy Halloween role play, it doesn't have to focus purely on the costume. The costumes can actually lead into a lot of kinky fun, such as edging, medical play, BDSM, and food play.
So we want to know about your favourite sexy Halloween role play ideas. Which do you find hard to resist? Let us know by leaving a comment in the box below. The more detail, the better! Latest posts by Lara Mills
(see all)
---