5 Kinky Things You Need To Try!
June 22, 2015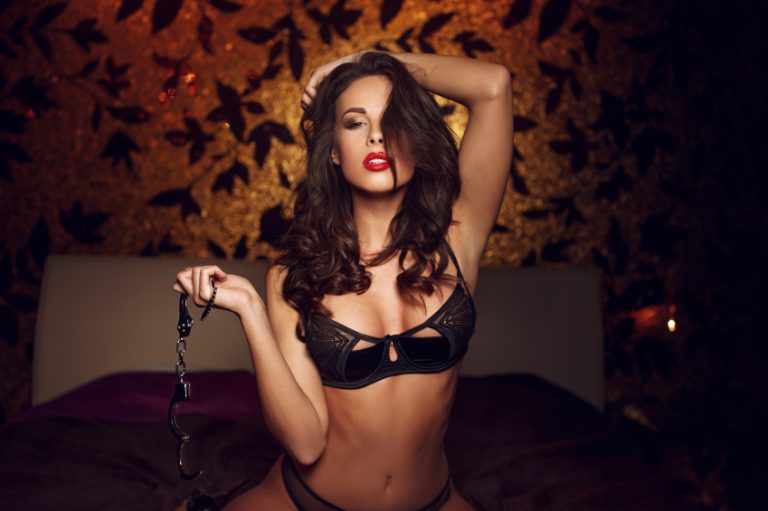 ---
Mention trying something kinky and new in the bedroom with your partner and they will probably panic, wondering what you are going to ask them to do… but in reality, there are a lot of kinky things you can try in the bedroom that don't take your out of your comfort zone.
If you've found that your sex life is getting stale, or you are just eager to try something new and exciting in the bedroom without going to extremes, why not try some of these 5 kinky things below?
Food play
Food play is something that many are scared about trying in the bedroom for one reason – taking food to bed leads to a lot of mess! It can make what was a very hot and sexy situation into a sticky mess where neither of you are in the mood because you've found a strawberry somewhere it definitely shouldn't be.
If you are going to try food play, don't go for the typical things you think of. Strawberries are a good idea, but the chocolate sauce and the cream people will lavish on them aren't so good. Go for easy to easy fruits, like pieces of apple, strawberries, and grapes.

Others suggest that mango is a good idea, as the scent of it will help to turn you both on, while a box of delicious chocolates will always go down a treat. You can try simply feeding them to each other or put them on your partner and eat your way over her body. It will be a huge turn on for her, and when you eventually kiss her she will be able to experience all of the different flavours on your tongue.
Those of you brave enough to try something a little messier, such as honey, melted chocolate, or squirty cream will want to have a towel and some moist wipes on standby. If even those don't get rid of the mess, take things to the shower so you can clean your partner off while getting even dirtier together.
Temperature play
Temperature can be a lot of fun in the bedroom if you do it right, but many worry about getting it wrong. They worry about burning your partner and imagine having to user a lighter or matches on their body, and the amount of water that will be left running all over the bed after using ice is a turn off.
Want to cool things down? Put a large towel on the bed first and ask your partner to lie down on it. Then get a glass or bowl with water and some ice cubes in it. You can either hold the ice cube in between your fingers, running it slowly up and down their body, or you can put it in your mouth to add that little cool touch to your kisses as you work your way down the body.
When you want to heat things up you don't have to do things that could result in you burning the place down. You should exercise extreme caution, but there are some great products you can get to make things hotter. Many places have massage candles, where you light it and use the melted wax and oil mixture to massage your partner. You drop the liquid a little bit at a time from a height, that way it has cooled enough not to burn them but is still warm enough to turn them on. Then you can work on massaging their hot and sexy body.
Blindfolds
Some people will spend a lot of money on blindfolds to use in the bedroom, as they like to make sure they have the best quality for their sexy fun. You don't have to do that. Instead you can use anything, like a tie from your shirt or even a bathrobe.
By covering your partner's eyes, they cannot see what is happening. They will be listening closely and, most importantly, feeling what you are doing. The anticipation of not being able to see where or when you are going to touch them is a huge turn on, and they will be very excited to see what happens next.
Take your time to explore her body, or maybe give her oral sex while they are blind. Lick her clit and eat out her pussy while she cannot see what you are doing and just enjoy the sounds of her moans as you make her come.
Tie and tease
As with blindfolds, people can spend plenty of money on the best equipment to use. They might buy a special harness or even bondage rope to keep their partner right where they want them.
Again, you don't have to. You might prefer to have rope that is softer on the skin, as bondage rope tends to be, but if you have a tie your wear for work or a tie for your bathrobe those will work just as well. Even toy handcuffs from that stag party you went on will work!
The reason that many enjoy trying this is that you have your partner completely at your mercy. You can tease them for as long as possible, and many will take this opportunity to bring them as close to orgasm as they can before backing off. It will make your partner beg you to let them come, and that is when you can fuck them hard and make them scream in pleasure.
Take control
When we talk about taking control in the bedroom, we don't mean you have to read or watch Fifty Shades of Grey to get a good idea of what to do. Instead, we mean that you should be the one leading what is happening in the bedroom, and make it clear that you are going to do whatever it is you want to do.
If there is a position you like, do it. If there is something you love doing, do it. Of course, you will need to make sure your partner is willing, but most find the idea of giving up control to be exciting for them, and seeing you take charge will make them even wetter for you. Just listen to them – if they don't like what you are doing, stop and do something else instead.
What is your favourite kinky thing to do in the bedroom? Do you enjoy the things above, or are you a little more adventurous than that? Let us know by leaving a comment in the box below. Latest posts by Lara Mills
(see all)
---