5 Sex Positions Made Better With Vibrators!
November 16, 2015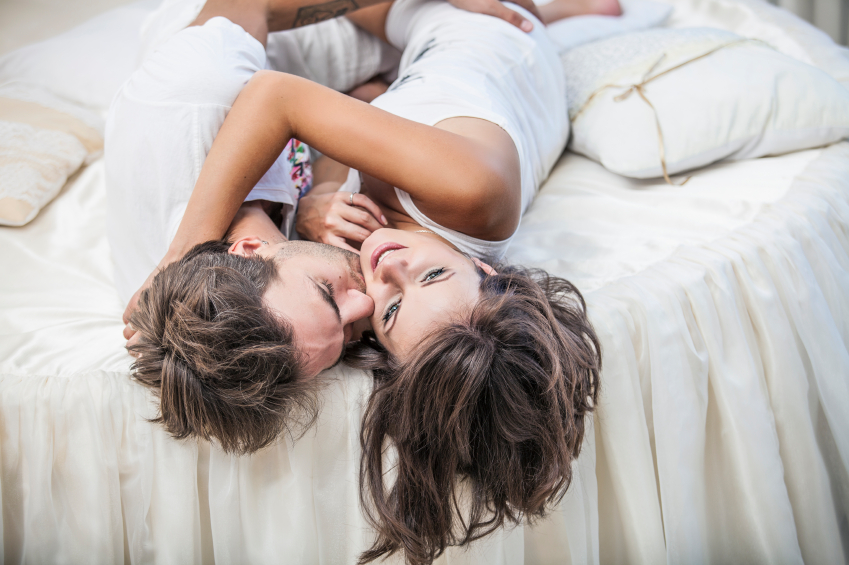 ---
We might try to give sex our all every time we get down to business, but sometimes we fall a little short of the mark. It could just be that we need a little extra help getting to the place where we are grabbing at the covers and moaning as our orgasm hits, and while your finger can be the perfect way to get there, sometimes it just isn't enough.
That is why sex toys can be a great addition to the bedroom. Not only are they fantastic for some fun when you are on your own, but they can actually help to make some of your favourite sex positions even better. Small, waterproof vibrating bullets are the best, as you can keep them hidden away until the perfect opportunity. We take a look at 5 sex positions that are made better with the use of a vibrator, and some other fun things you can do with them in the bedroom to spice things up.
Spooning
Spooning is the perfect position for sex in the morning, as you can get straight to it when you're finished with your cuddle. A quick reach around to squeeze their tits and rub their clit, combined with some kisses on their neck, will help to get them in the mood, which is why this position is so good.
When you have slowly slipped your cock into her pussy, that is when you should pull out the bullet vibrator. Get it vibrating and gently tease it up and down her body. When she starts to beg for more, that's when you rub it against her clit and bring her to orgasm. What a great way to wake yourselves up in the morning!
Sex on the table
Having sex on the counter in the kitchen or on a table is a huge turn on for many. It feels so naughty, especially in the kitchen, and is so much fun that we absolutely love doing it. If that doesn't turn us on and get us in the mood, I don't know what will.
Get your partner to sit on the edge of the table or counter and spread their legs for you. Then you can slide yourself inside of them and thrust away. If you want, let her take control of the vibrator and see where she puts it. Not only will she be able to get herself off quicker this way, but you can also see how she uses it and remember it for a later date.
Wet and wild
Sex in the shower can be awkward at best. You've got to work to get into the perfect position, and even then it can be hard to get off when you are constantly slipping around. That is why taking a waterproof vibrator in is the perfect way to finish her off.
If you have sex standing up in the shower, you might actually be able to hold the vibrator between you using your bodies. It can take time to get it right though, so practice makes perfect. You could even get her to hold the vibrator and take your time licking and sucking on her nipples at the same time, as she will have an intense orgasm and you'll have some long lasting memories.
A twist on missionary
Missionary, as boring as it might seem to us, tends to be a go to position during sex. It allows the man to take control and, when done properly, can leave her rolling around in ecstasy on the bed beneath him. Just imagine her hands snaking out and grabbing a tight hold of the bed as you passionately fuck her to orgasm.
Adding a pillow under the ass is a great way to enhance this position, and teasing her with a vibrator makes it even better. Let her take control of it and feel as the vibrating rock through her body. Neither of you will last long with this position, and it might soon become a firm favourite.
Doggy style
Doggy style is a favourite for many during sex. There is nothing quite like it, as your cock is in the perfect position to rub her g-spot and you get to stare at her sexy ass. Well, if you want to give her an orgasm so intense that she begs for more, add a vibrator to the mix.
Stack some pillows so that they will be underneath her body as she kneels, and place the vibrator on there. As you thrust she will rub along it, and in no time at all she will be begging you and screaming out for more. Hearing her shouting out and feeling her pussy tightening around you will be sure to have you joining her in no time at all.
Other uses…
Okay, so all of these positions focus on giving her pleasure during sex, but it isn't a one way street. You might enjoy the little bullet vibrator on your balls as she bounces up and down on your cock, but there are some other fun ways that you can use it in the bedroom.
If she loves giving you a blowjob, hand her the bullet and see what she does with it. She may just slide the bullet up and down and around your cock as she bobs her head, but she might get a little clever with it. If you have chosen a waterproof bullet vibrator, she can actually hold it in her mouth as she sucks, which will pay off for you in a huge way!
Have you got some better ideas for using a vibrator in the bedroom? Why not share them with us by leaving a comment in the box below? Tell us how your sex session with a vibrator went and share your story with others. Latest posts by Lara Mills
(see all)
---