5 Tips For The Best Romantic Sex
March 16, 2017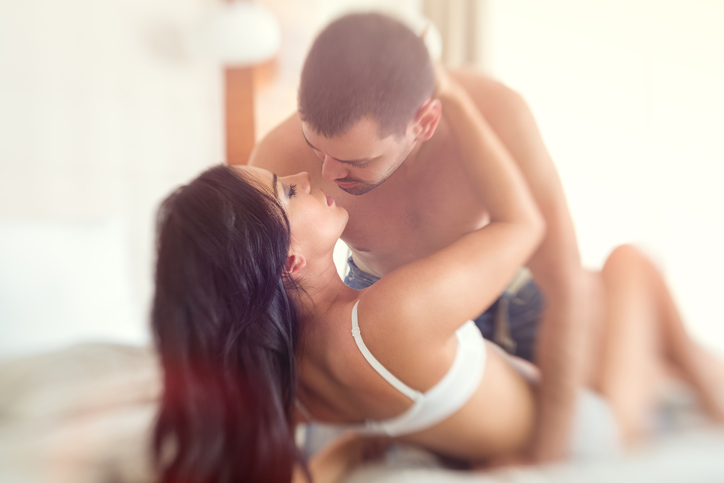 ---
Some people love to have rough sex, going as hard and fast as they can. Some enjoy kinky sex, exploring the worlds of BDSM and submission in order to turn themselves on and build a deep connection with their partner. Others, however, just want sex to be a little more romantic.
Romantic sex tends to fall into the category of "vanilla", which means that a lot of people believe it is really boring. It isn't. In fact, having romantic sex might be exactly what you need to help enjoy intense fun with you and your partner! Want the best sex? We have five tips for you to try.
1. Talk about it!
You aren't going to be able to have the kind of slow and passionate sex you want if you can't talk about sex. Being able to talk to your partner about sex means that you can talk to them about your needs and that you have a better understanding of your desires in the bedroom.
If you can't talk about sex then you are just playing a guessing game. That might be fun for some, but for those keen to have sex of the romantic variety, you'll need to open up.
Ask them what their ultimate romantic fantasy would be. They might start to tell you in detail about it, saying that they want to be picked up and carried to the bed before they make sweet love to you. They might want to make out on the sofa. Talking about it means you get the chance to explore it together, with both of you on the same page.
2. The ultimate girlfriend experience
For many, the idea of romance ties in to the girlfriend experience, so you should talk to your partner about this. This means different things to different people, but GFE tends to involve the following things:
Long, slow French kissing. Cuddles. Jokes and laughter when things don't quite go according to plan. Taking things slow and enjoying things without rushing.
Foreplay is also a big part of it. You don't just skip straight to sex and having a quickie. You'll really take the time to turn your partner on and leave her feeling incredible after it.
3. Take things slow
We've already mentioned above that taking things slow, during foreplay and kissing, is a big part of the build up to romantic sex. It shouldn't surprise you that it is also a big part of the sex itself.
You don't want to rush you through it. This means taking your time to enjoy it. You want the build up to orgasm to come slowly, which helps to make the orgasm more intense. You'll often try so many different things when things turn romantic to try and get your partner off, and so slow, steady thrusts give you more time for this.
It also is a lot of fun to tease them. You'll find that they start moaning and begging you for more. They want you to give them their orgasm quicker, but you want to delay it to make it more intense. Kiss them slowly and keep time with your thrusts to make it a truly incredible experience.
4. Choose the right position
It is also important to try and find the right position. For example, people tend not to think of doggy style as particularly romantic. Bending your partner over from behind and fucking them just doesn't do it for many people. So you need to find some alternatives.
A firm favourite for many is missionary. To some this is a boring position. However, it puts you in control. You can thrust into her slowly, and your hands are free to explore. You can slowly rub at her clit, tease her tits, and slide your hands along her legs.
Another plus? You can kiss while you fuck. Why not trail some kisses slowly along her neck and collarbone? It'll feel great to get this attention from you.
5. Make contact
Choosing the right position also means that you get the chance to make lots of contact… and we don't just mean between your lips and theirs. You can have many passionate kisses if you choose the right position, but romantic sex usually has more to it.
Linking fingers is great during sex. Your partner will squeeze your hands the closer they get to orgasm, and you'll see that it is a huge turn on to you when it happens. Their hands in yours feels good, but it also looks good… especially if you happen to glance them in the mirror!
Another big plus is that you can make eye contact. If you love getting blowjobs then you'll know just how much hotter eye contact makes oral… so why would sex be any different? If you really want to make it work, try to keep your eyes locked on each other as you fuck… even when you cum. It will be a hell of a challenge and bring you closer together.
Why we love romantic sex
Sometimes, I want nothing more than a hard fuck. I might want to be tied to the bed and dominated, or I might want to take control and tease them until they start begging me for more. Sometimes, I want to enjoy something a little more romantic.
Romantic sex is a great change to your usual routine, especially if you follow the five tips above. Got some others you think we have missed? Let us know by leaving a comment in the box below. You can see what others have been suggesting too, which could lead to the best sex of your life! Latest posts by Lara Mills
(see all)
---