Amateur Porn Vs Professional Porn
May 2, 2016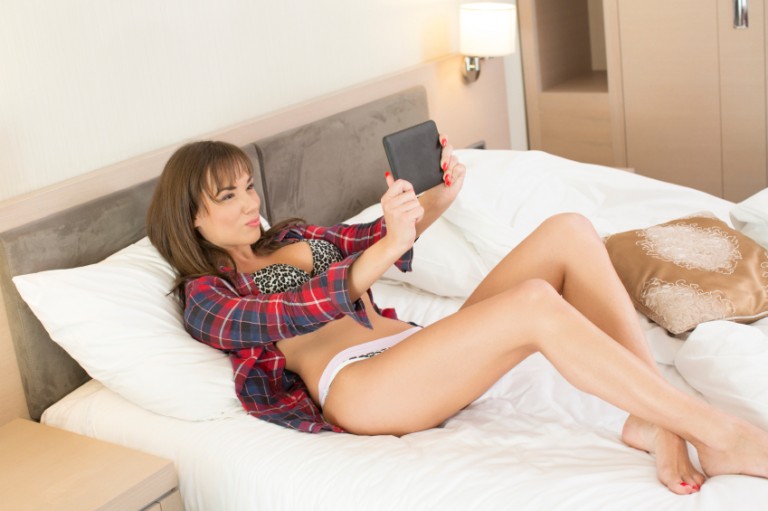 ---
Everyone has a kind of porn that they like. Most people enjoy watching lesbian porn, seeing the sexy ladies rubbing against each other and kissing their way up and down their bodies. Others prefer to watch something a little kinkier, eager to see the things that go on in sex dungeons. However, which we can accept that everyone has their own tastes when it comes to porn, we still debate whether amateur porn or professional porn is better to watch.
They each have their merits, and when it comes to certain genres of porn, you might find that professional or amateur porn shoots it better… but is one of them really better than the other? Does professional porn add that touch of shiny to the porn than amateur porn just cannot mimic?
We here in the XEscorts offices know which we like the most, but what do you think? Take a look at our arguments in this epic battle and let us know what you think by using the comment box below to join in the discussion.
The stars of the pornos
One of the biggest differences that you will see when it comes to professional vs. amateur porn is in the actors and actresses. The porn stars will act differently because they have had very different experiences in front of the camera.
While we might make fun of some porn stars for the way they fake an orgasm, porn stars actually seem to be pretty damn good at their jobs, especially in professionally-produced pornos. A lot of the time, producers will find actresses and actors they enjoy working with. It might be that they take direction well or that they seem to have what their audience is searching for.
This usually means that they will have been in a few different productions. They'll have more experience in front of the screen, and so know how screen sex works. They will understand where they need to move to give audiences a great view of the action.
On amateur porn films, it is a little more raw. They don't always know where to move to make sure the camera is in the prime position, and so it can seem clumsy. Often, the stars don't have the same polished, perfect bodies you see in professional shoots, but this can actually work in favour of amateur pornos.
The people in the videos are more likely to look like me and you. It makes the scenarios they act out seem that little bit more believable, which can really help to immerse you into the fun and the action on the screen.
The sexy settings
Where a video is set can really make a difference. Amateur porn videos have, for a long time, been taking sex out of the bedroom and putting it into more unusual situations… mainly outside. Outdoor sex is a big turn on for many because it is taboo. You risk being caught by doing it, and when you watch these videos, you find yourself looking into the background for people who might spot what is going on.
Professional porn hopes to copy this. There are plenty of "fake" videos out there for you to enjoy. Think of things like Fake Taxi. These are professionally shot pornos, designed to get those interested in amateur videos clicking. They are still polished, but often the cameras are used like "hidden" cameras.
Fake Taxi porn is popular because it makes you wonder if that kind of thing would really happen, while amateur porn shot outside shows you that this really can happen.
The crew and equipment used
To state the obvious for a minute, there is another big difference between amateur and professional porn… the equipment used and the crew they have to hand.
On professional shoots, there will be plenty of people on set, each with a set job. Someone will be in charge of lighting, others will work the costumes, while another might simply choose the shots that they want. The equipment will be high end, high quality stuff, that has usually cost a fair bit of money.
Unsurprisingly, most amateur films don't have this equipment, and they usually don't have a crew. The person who operates the camera is usually the one fucking, so it might be placed on a table pointing in the right direction or held for a little point of view fun.
Amateur porn vs. professional porn
Interestingly, there have been studies to look at these two different types of porn. One study, conducted by the University of Amsterdam, aimed to look at the key differences between the two. They took 100 videos from a number of top porn sites, of which 24% were amateur, and looked for the key differences between them.
They immediately spotted some things that we were expecting to find. For example, they noticed that the professional videos were more likely to have men receiving oral sex and having an orgasm. They were also "more likely to be manually stimulated". In amateur porn, there were more close ups of the bodies of women.
Surprisingly, they noticed some other key differences. The professional videos showed men and women pretty much as equals, with women just as likely to take control of the action. The big shock factor, though, comes from the amateur.
Women seemed to initiate sex less in the videos, and so they weren't really having sex for their own pleasure. It was all for the man, who was more likely to be in control. They also found that, while violence wasn't that common in professional videos, amateur porn was much more likely to contain it.
However, this could just be the small sample of videos they had… but it still doesn't bode well for the future. Maybe you want to look for some other porn to watch instead? Why not read about the porn England loves the most on our blog? Latest posts by Lara Mills
(see all)
---