Are Sex Toys A Distraction In Bed?
April 8, 2015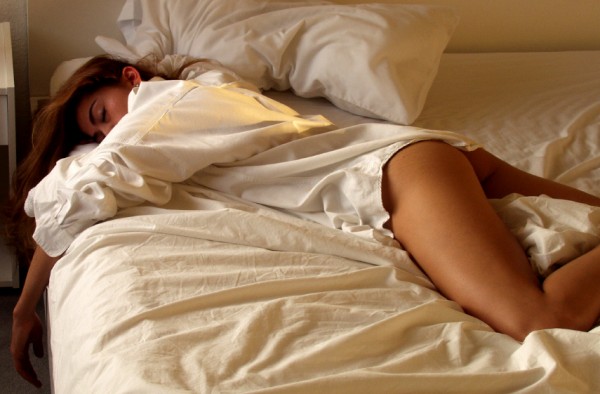 ---
Sex toys can be great fun to use in the bedroom. There is nothing sexier than seeing your partner writhing and moaning on the bed as you press a vibrating bullet on her clit to make her scream.
However, sometimes you will bring a sex toy into your bed, only to find you are concentrating more on the toy than on your partner. After all, you can use the toys to get you off without having to worry about finding the perfect position.
Is it a good idea to take toys into your antics in the bedroom with your partner, or are they a little too distracting?
Advantages
Obviously, there are a lot of advantages to taking your toys into the bedroom. For a start, it adds a little fun to your routine. If you have found yourself falling into a routine when it comes to sex, you can use it to break up the routine and put something fresh and exciting in there.
Admitting that your sex life has become stale isn't a bad thing. It means that you are willing to make the changes to make it better, such as getting out of the same positions and concentrating more on your partner's needs.
That is another reason why taking sex toys into the bedroom can be good for you and your relationship with your partner. Toys make it easier to meet your partner's needs, whether it is relaxing them by using a vibrating bullet on their aching muscles or on their nipples to tease them until they beg you to fuck them.
Vibrators and dildos also give the chance to try some of the more taboo sexual activities without having to involve another person. If your partner likes anal, you can slide slowly into her ass while gently pushing the vibrator into her pussy. You could even get her to pleasure herself with a dildo while she sucks on your cock.
Some toys are also great for your sexy fantasies. Cock rings and bondage equipment can make you submit to your partner, or even give you control by tying them up and teasing them. If you enjoy role play, toys can be a part of it, from a sexy school mistress with a cane for spanking to a sexy French maid with a feather tickler.
Disadvantages
Of course, there are some disadvantages to taking toys into the bedroom. You might feel that the above advantages will far outweigh them, but it is all down to personal preference.
For example, as we've said earlier toys can be very distracting. Instead of focusing on your partner's needs, you could end up looking at your own and how you can get off.
There is also the fact that, while you might know what you want to do with your partner and what you want to do with your chosen sex toy, you might both be unsure of just what to do when you put the two together. Will your partner want the same? If you are at all unsure, talk to them about it. Say that your fantasy is to fuck her pussy with a dildo and watch her cum on it before you lick up her juices.
Sometimes, people become reliant on sex toys to get them off. After all, making a woman cum can be a huge challenge for many. When using sex toys, women know exactly what to do to get them off, and if you enjoy seeing your partner writhing on the bed you might always take a toy in the bedroom.
You don't want to use them instead of your own skills. Instead, toys should enhance the whole experience. Think about how you can use them to make your sex life even better, instead of just using them to replace parts you aren't happy with or are just too lazy to achieve.
Finding a compromise
The key when taking sex toys into the bedroom is to learn to compromise. You might think that you absolutely won't enjoy sex without a cock ring, but let your partner test that first. Sex toys should be used to enhance your sex life and make it interesting, instead of replacing parts altogether.
If you have a problem with getting your partner to orgasm, toys can be good to help but you should also learn exactly what it is that the toys do that get her moaning and groaning. When you do that, you won't even need the toy anymore and can get her screaming your name all on your own.
Do you use sex toys in the bedroom or do you prefer to leave them out of it? You can let us know by posting a comment in the box below. Latest posts by Lara Mills
(see all)
---