BDSM For Beginners
March 12, 2015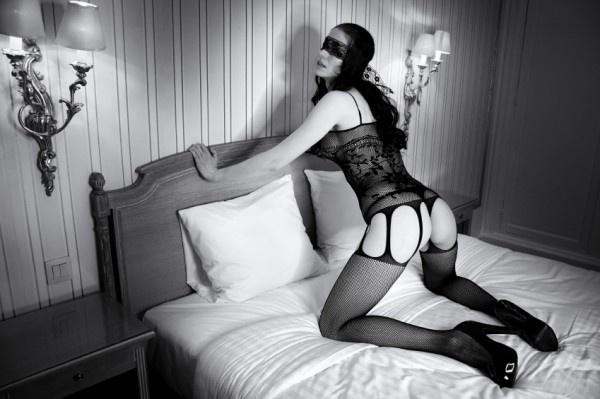 ---
Confession time: I really enjoy BDSM. In one of my relationships the guy I was dating was really into it. In fact, he was in to a lot of things, and dominating was probably the tamest of them all.
The feeling of helplessness and being at someone else's mercy is what does it for me. The idea that they are withholding what they really want to do to me while we discover my limits is a huge turn on, and makes me want to do everything that they want and tell me to do.
However, it's been a long time since I've enjoyed some real BDSM, mainly because I haven't found someone willing to take control. A lot of people are scared about trying domination, as they fear they might hurt you or take things too far. So I've put together this little guide for beginner's BDSM.
Talk about it
This might not be the first "BDSM for beginners" guide that you've looked at, and you might be feeling frustrated that they all say the same things. Every person I've spoken to about BDSM says that the first thing you need to do is talk about it.
Why is talking about it such a high priority? Talking to your partner about BDSM actually serves many purposes. You can talk about your desires and outline what you want to happen during your session, but it also gives your partner a chance to talk about their fears. Are they worried about hurting you? Are there certain things they won't do?
You can also start to talk about your safe word. Having a safe word is important, as it gives you both the opportunity to stop the action at any point, whether it is because you feel uncomfortable, you want a break, or you just want to stop altogether.
You will need to choose your safe word carefully. You might think that the word "no" or "stop" is a good idea, but this may tie in to the fantasy. Make it something you wouldn't cry out as part of the fantasy and remember to pay attention when your partner says it.
Trust
This might be another point you have seen mentioned again and again, but it is very important. If you do not have trust between you and your partner, your BDSM isn't going to last very long or be very fun!
Your partner needs to trust you. If you are dominating them, they need to know that when you hear the safe word you will actually stop. That, of course, means that you should stop as soon as it is said.
They also need to know that they can say it without you making them feel guilty. Far too often people will stay quiet when they want to stop because they fear your reaction. Make it clear that everyone needs a break every now and then, and try to learn their limits as you go. That is why a lot of people choose to visit a professional dominatrix instead, as they have a better understanding of limits and when to push them.
Of course, trust works both ways. You need to be able to trust your partner to let you know if they need to stop, and you also need to believe that they will be honest with you about what they do and don't enjoy.
Take your time
You might want to whip them hard with a long cane, or to humiliate them in public, but you should take baby steps when getting into BDSM. Do too much too quickly and not only do you risk seriously hurting them, but you can also damage your relationship with the person.
Check with your partner how they feel after each session, and if they have anything else they want to try. If they do, start lightly and work your way up. If they feel at all uncomfortable, stop and try again another time. You can always come back to it.
Toys might sound like a good idea, but keep them out of the bedroom until you have mastered the basics. When you are happy and able to put them over your knee and give them a spanking that leaves them gasping for more, or when they ask for it, then you can move on to the other equipment.
Are you a BDSM fan? Do you enjoy being dominated, or do you prefer to have the power in the bedroom? Latest posts by Lara Mills
(see all)
---