BDSM Dirty Talk To Enhance Your Play
July 4, 2018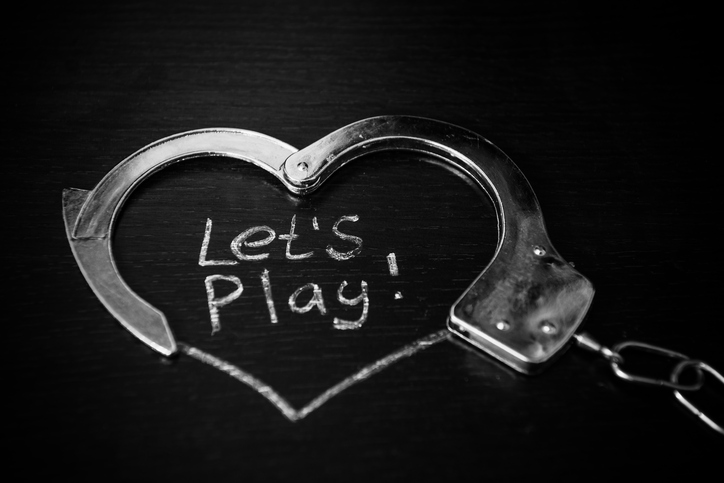 ---
BDSM is an exciting world. It is all about control, whether you are the one with it or the one giving it up. It is thrilling to play with control, but one thing many people forget about when doing it is the dirty talk.
BDSM dirty talk is a fantastic way to enhance your play. The simplest phrases can really make a difference and leave you and your partner begging for more. Don't make your kink all about the act! Instead, try adding some of these fun phrases to your play.
A little dirty reassurance
Most of us like praise. We like being told that we are doing a good job, and for those in control of a sub, you'll know how good praise can be. It makes your sub feel safe in their role and let them know that they are doing the things that they should be.
So why not add a few naughty words to your BDSM dirty talk? For example, reassure them they are taking your cock well. Something like "you're being a good slave, taking this cock so deep" is not only going to give them positive reinforcement, but it also sounds kinky, thanks to the word 'cock'.
You could even tell them that they are safe and okay. You might not think of this as dirty talk, but when you combine it with dirty language it is strangely thrilling.
Ask permission for everything
If you are the one submitting to a domme, it can be difficult to know what to say. The default BDSM dirty talk here tends to focus on "yes" and then their title (whether it is mistress, sir, or daddy).
What you can do instead is ask them for permission to do things. Want to worship their feet? Ask. Say something like "please may I kiss your feet, mistress?". It will sound great to them and, if you add a little begging to it, will show just how much you want it.
This works especially well if you thank them after you receive permission. A simple "thank you, mistress" will show that you appreciate them giving you permission, and that you know they could easily have said no. Even if they say no, thank them for treating you the way you deserve. It helps to reinforce your roles.
Give kinky compliments
If there is something about your sub or domme that you really love, don't be afraid to tell them that. Of course you'll want to cater it to your kinky scenario, but you'll find that it is thrilling to talk in this way to them and make them feel good.
A domme might say something like "I love your smile when you please me". They might also say something like "your ass is perfect for serving me" or "you always know exactly how to please me".
A sub might say something like "I crave your beautiful cock all of the time" or "I love when you push me to my limit". You could even try something like "you are the only one I want to give myself over to". It shows the strength of the trust relationship between you both.
Repetition works well
It can be difficult to learn how to turn normal dirty talk into BDSM dirty talk. It can be even more challenging if you aren't as creative with your words as you would like to be. If you don't have a great imagination don't worry, as there is one trick you can try.
Repetition. Whenever your partner says something to you, repeat it back to them. If your domme is telling you what a good slave you are, say "I'm a good slave for you". If they say "you're mine", reverse it and say it back to them.
This works just as well for the more dominant among you. If your sub has said that they love pleasing you, say "I know you love pleasing me". You could add a compliment onto the end of "and you do it so well" to really enhance your play.
Your favourite BDSM dirty talk phrases
There are so many different things you can do to enhance your kinky play, but using BDSM dirty talk is a great way to do it. Hopefully the guide above will help to inspire your next kinky conversation. If not, check out the comments below.
You can share your own ideas or see what others have to say. You might just uncover a phrase that makes you instantly horny, so why not take a look? Latest posts by Lara Mills
(see all)
---