The Best Erotic Massage Guide
May 13, 2016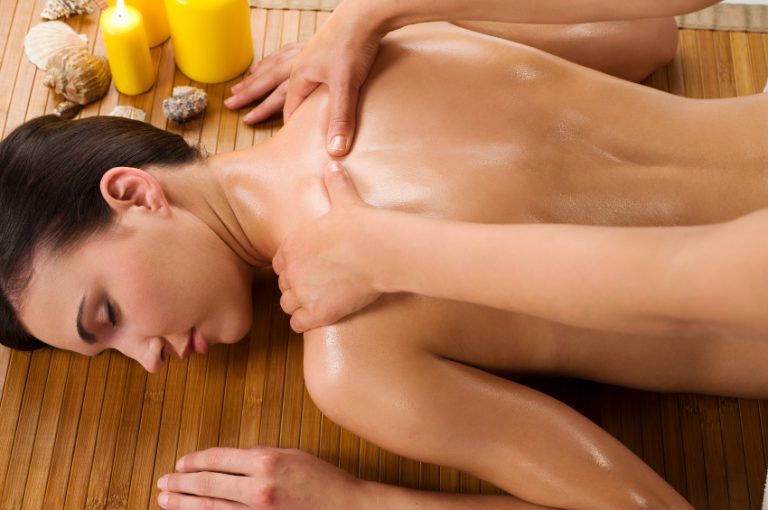 ---
Stress can be a big problem for sex. If you are feeling too frustrated by your work, you might decide to just head to bed instead of enjoying an intense fuck. Massages can help, but often they just aren't enough. This is why a lot of people prefer to treat themselves to an erotic massage instead.
You might want to treat your partner to an erotic massage, or perhaps you just want to learn the skills to make sure they have a fantastic time with foreplay. If so, our ultimate guide to giving an erotic massage will tell you everything you need to know to make it fun kinky for you both.
The different between massage and erotic massage
Before we get started, it is essential that you learn the difference between a normal massage and an erotic massage.
When you get a normal kind of massage, it can leave you feeling pretty tired and exhausted. It might hurt a bit, as they use a lot of pressure and get right in there, and while it helps your aching muscles, it doesn't leave you feeling turned on.
Arousal is one of the main reasons for making your massage more erotic. You want to turn your partner on and leave them begging you for more. You want to make them so horny that they struggle to keep their hands off of you.
This happens by taking things very slowly during the massage. You need to touch every part of them, slowly working your way to their hot spots, so that they are moaning with pleasure and need.
Preparing the things you will need
You can't just get them to lie down on the bed and rub them all over. Massages aren't that simple, and if you want to make it especially erotic, you are going to need to help them out a bit first.
Make sure you get a good massage oil. A massage oil is essential if you want to show them a great time. The oil will help you get the right balance between slipping your hands over their body and gripping it to make them feel amazing. Best of all, you can get massage oils that are slightly scented to help set the mood. Places like Young Living have some great ones you can buy.
Not sure that a simple oil is enough for you? Treat yourself to a massage candle. These are designed so that you burn them for a little while to melt the wax, and when it has melted, you have a nice oil you can use. The best thing is that this will be nice and warm to put on their body. Just make sure you drop it onto their skin from a height to give it chance to cool a little first. You can leave them hot and sweaty without burning them.
Starting things off
Massages are best enjoyed when you are relaxed, so help your partner by running a nice, hot bath for them. Not got a bath you can use? A shower will work just as well. Give them the chance to unwind a bit in the shower while you set up the bed.
Put a clean and soft towel onto the bed for them, with plenty more to the side to help clean up the oil. Have your massage oil ready and get some music playing. There are plenty of playlists on YouTube with relaxing music for you to try, or you could create your own to set the mood.
When they come out of the shower, ask them to lie down on the bed on their front. Make sure they are comfortable and that they have a drink to hand, in case they need it, and then you can get down to business.
The massage itself
With an erotic massage, you want to draw it out. You want to touch every single inch of their skin slowly and softly, before passing over again with a little more pressure. This will turn them on and make them realise that you are going to, eventually, give them what they want.
Start with the hands or the feet and work your way inwards to the body. The hands are probably the best place to start, as you can slowly move along the arms, down their back, and then down their legs to their feet, before coming back up. Spend a little time on their ass, but don't linger too long.
Use the flat of your hand to massage, dragging each finger along as you move. When you have done this once, go back again and apply a little pressure as you go. They will start the breathe heavily, telling you that they are relaxed and getting turned on.
Once you are done with the back, get them to roll over. You might be tempted to go straight for their tits or clit, but resist. Instead, go slowly from their hands and feet inwards again. Don't touch the rest of their body until they are begging you for it.
Give in to temptation
When you have been touching their body for a good long time and think you have covered every inch at least twice, you can start to work on their hot spots. Gently massage their tits, slowly working your way in to the nipples. They will get more and more turned on the closer you get to them, so try to hold back for as long as possible.
While one hand works their boobs, slip the other down to their pussy. Rub gently along the outside of their lips, not touching the clit until you have covered every inch with your touch. When you are satisfied that they are as turned on as can be, start to give them the erotic massage happy ending you have been hinting at all along.
Keen to learn about the other types of massage? Gabriella looks at a few of them on the different types of massage blog. Latest posts by Lara Mills
(see all)
---
---