The Best Ways To Use A Bullet Vibrator
March 3, 2017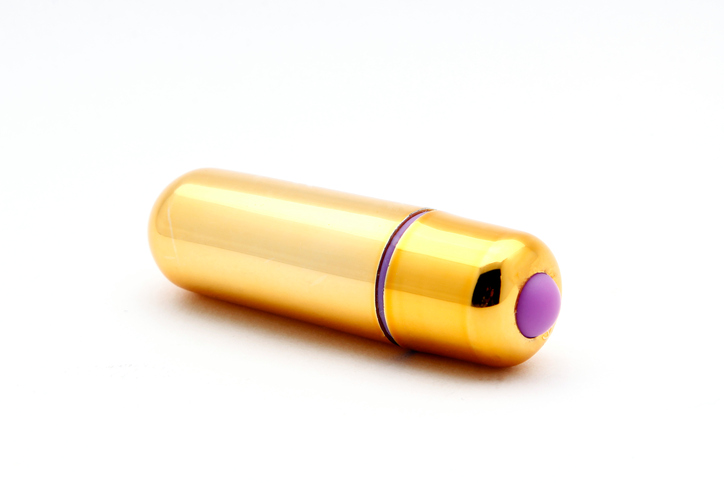 ---
For a lot of people the idea of using sex toys in the bedroom doesn't sit well with them. They feel as though they are cheating by using toys to get their partner off instead of their own skills. It can feel like sex suddenly becomes lazy, which is why some couples refuse to use sex toys. The temptation to try them, however, might still appeal to you. So why not try something subtle like a bullet vibrator?
Bullet vibrators are subtle sex toys. They aren't as intimidating to use as a dildo and they have so any different uses. They are truly versatile, meaning that you can use them in so many different ways to please your partner. Not sure how to use a bullet vibrator? We have a few suggestions you will want to try.
What is a bullet vibrator?
So what is a bullet vibrator? Bullet vibrators, often referred to simply as bullets, are small sex toys. They get their name because they look a lot like bullets, and some are even shaped like them on purpose. They also, of course, vibrate.
There are so many different kinds you can get. You can buy one for very little money, and while they tend to come with just one speed you can spend more to get one with multiple speeds. Many believe that these are the only sex toys you need.
Some creators have even decided to take things a step further. They have created ones that are waterproof so that you can use them in the shower or even hold them in your mouth for an added twist to foreplay. You can even buy rechargeable ones that look a lot like stunning jewellery so that you are never without your favourite toy.
An erotic massage tool
So how can you start using your bullet in the bedroom? Why not start with a sensual and erotic massage? Everyone loves a massage, and the vibrating of the bullet will help to take it to the next level without you having to put extra effort in.
You can simply hold the bullet between your fingers as you press your hands on their body. You could even trap the bullet between your hands as you apply pressure so that the vibrating isn't so intense on their skin.
Found that they have a particularly tight knot you want to help them get rid of? You can concentrate the bullet in this spot for the best effect.
Tease and tempt
If you then want to take things a step further, you can actually use the bullet to tease and tempt your partner. You can easily go from erotic massage to teasing them during foreplay with the little vibrator.
Start by slowly running it along their body. Go from the tips of their fingers slowly along their arm, dragging it along the skin. Move towards their tits and start to slowly circle the bullet around their nipple. It'll feel great, especially when you finally touch the tip to their sensitive nipples.
From there you can slowly trail it down their body towards their pussy. The slower you go the more intense the build up will be for them, and you'll love teasing them in this way.
Great for oral!
If you have a waterproof bullet then there is something else that you can do in the bedroom with it. As we mentioned earlier, waterproof means you can take them into the shower with you… but the best thing to do is hold it in your mouth.
By holding the vibrator in your cheek as you go down on your partner you'll really be upping your oral game. Instead of leaving them feeling unsatisfied, they'll get to enjoy the intense buzz each time your lips or tongue touches their clit.
Obviously you'll need to be careful not to take the bullet too far into your mouth, but you'll find it is really easy to get the hang of using the bullet vibrator in this way.
Clit stimulation
So we've covered massages, foreplay, and even oral. What else is there? Well, there is sex itself. The bullets are perfect for use during sex as you can place them wherever they need to be to get your partner to cum.
In a position where you can get to her clit? You can use the bullet on her clit to make her cum. Instead of rubbing your fingers inconsistently in the hope that she'll orgasm, you can let the bullet do the work for you.
If she'd rather be in control, let her use it on herself. She might find it easier to hold the bullet in place while you fuck her. She might even surprise you by putting it in a place where you can feel it each time you thrust, making for a hell of an intense orgasm for you both.
The subtle sex toy
Having an entire drawer saved for sex toys might sound good to some people, but it isn't for everyone. Sex toys can be a little intimidating which is why so many people prefer to keep things simple. However, that doesn't mean you have to rule out sex toys entirely.
Bullets are the subtle sex toy and have so many uses that you are sure to find a good way to tease and turn your partner on using it. All it takes is a little imagination… or you can just use the suggestions above to get her off.
Do you own a vibrating bullet or do you prefer other sex toys? Would you rather not use toys during sex? Let us know what you think by leaving a comment in the box below. Latest posts by Lara Mills
(see all)
---