Brits Declare Bigger Men Are Better In Bed!
August 14, 2015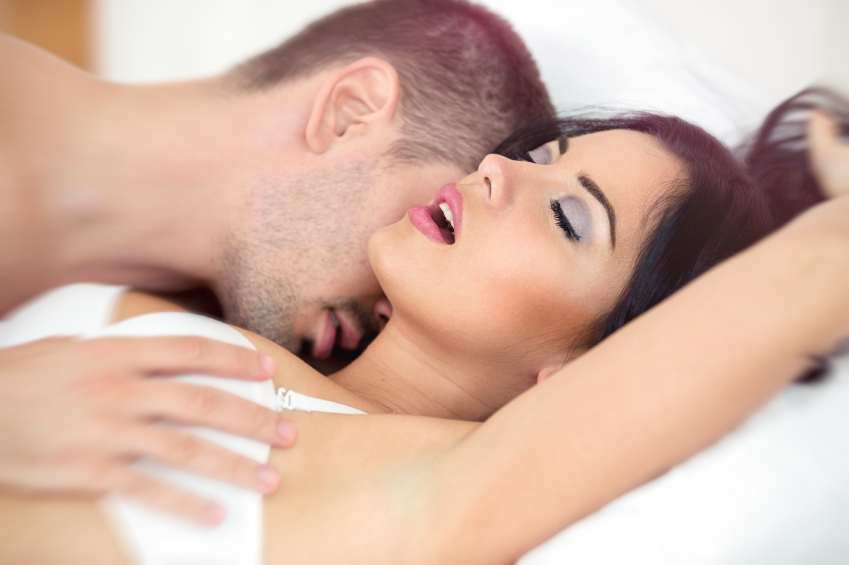 ---
Big men, you are beautiful! Or at least, that is what the latest study seems to be saying, and who are we to argue with science when it is science that tells us squeezing boobs can lower your risk of cancer?
For women, we are so used to saying that size doesn't matter in the bedroom that it is hard to talk about size when asked about it. But it seems that some researchers managed to get us talking about this all-important subject to find out which body shape we like the most in the bedroom… and the muscular men do not come out on top!
BigDudeClothing.com
This research was conducted by the BigDudeClothing.co.uk website, so they might have an agenda for wanting to know what women thought of beer bellies in the bedroom. They might also have had a very specific client base to ask, with those using the site possibly being the ones sleeping with the big guys in the first place.
That shouldn't put us off the results, though, as they managed to get 2544 British women to confess their sexy secrets in the bedroom, and the type of men they really like to fuck more than any other.
The respondents apparently said that they had slept with a huge variety of lovers in the past, covering a range of shapes and sizes, and so they had the best knowledge to help them answer this survey honestly… or as honestly as you can if someone is looking over your shoulder and asking if you like bigger guys.
Surprisingly, the results weren't what we were expecting. Honestly, I was expecting to hear that we women love nothing more than a strong, muscular guy to take us into his arms and fuck us hard against the wall, but that isn't the case. In fact, there was a huge 17% between the athletic men in second place and the big beautiful men at the top of the charts.
The top five
BigDudeClothing asked the women to describe the size and shape of men that they have found to be the best in bed. They wanted to know which type of man was the best at making these women weak at the knees so that they could tell their clients that things weren't as grim as they feared.
Positions three, four, and five weren't all that surprising. For a start, slim/petite men just don't seem to have the skills in the bedroom to make you grin from ear to ear, and often sleeping with a short man (classed in this study as being under 5 foot 8 inches) can make things worse, especially if you are taller than them! Speaking of tall men, they came in third with just 13% of those surveyed saying that they were the best in bed.
Positions one and two were quite surprising. The poor muscly, gym-buffs came in at number two, with 21% of the women surveyed saying that they had what it took in bed to be classed as "amazing" in the sheets. Yes, they can pick us up and take us anywhere we want to go, but it seems that not enough are taking us to orgasm. Sorry guys!
Right at the top, with 38% of women believing that they were just what they needed to make their bed squeak, were the overweight and plus-sized men. Many have found this result surprising, and I have to admit that it has shocked me too. Thankfully, BigDudeClothing hasn't left us hanging, as they also looked at why the men with the bigger bodies give us better sex.
Why are bigger men better in bed?
The people at BigDudeClothing must have been overjoyed by the results of the survey. After all, 966 women admitted that the bigger men were by far the best lovers they had ever had… but now they wanted to know why. So they asked those who said that the overweight or plus-size men were best just what it was that made them that way, and the results were, again, quite surprising.
The most popular reason (which 42% of the women surveyed said) was because these men seemed "more eager to please me than themselves" and that "they were more caring and gentle", which might also be a dig at the big and muscular men. You want someone in the bedroom to make you squeal in delight and orgasm again and again, and the more athletic they are, they less they care about that. Which sucks for us women.
Another important point made was that these men actually made the women feel a lot less self-conscious about their own bodies. We women in the bedroom tend to worry a lot about how we look. We worry that our ass isn't sexy enough for you, and that our boobs are a big saggy. With a bigger man, it is so much easier to forget about those things and just enjoy it, and that little bit of relaxation leads on to the next favourite point.
It seems that the bigger you are, the better you are in bed. This could be a combination of all of the above points, but the women surveyed said that they had better orgasms when they were having sex with a bigger man. They also found themselves trying new things, as these men were more adventurous and open-minded. Result!
The MD of BigDudeClothing.co.uk, Mr Darrell Freeman, stated that "the fact that so many women prefer sex they've had with lovers on the larger side just goes to show that chiselled looks and pumped up muscles aren't everything, and it's what's on the inside that counts."
So, does this mean that you can stop hitting the gym, or are you going to stick it out despite this evidence? Latest posts by Lara Mills
(see all)
---
---