Escorting Guide To Dundee
February 28, 2017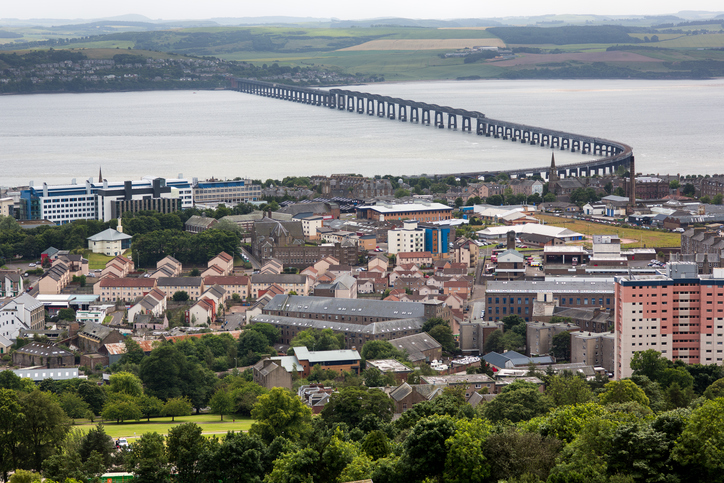 ---
You might decide that you want to go on a hot date with an escort, but find that you've grown a little tired of the punting scene where you live. Perhaps you are fed up of going to the same places and want to find somewhere new. Whatever your reasons, you might decide to take a trip across the border into Scotland to spend time with the Dundee escorts!
Officially known as the City of Dundee, it is the fourth-largest city in Scotland, and it lies in the eastern central Lowlands, along the northern bank of the Firth of Tay. This historical and beautiful city was once a part of Angus, and has now grown into a thriving place to be. Promoted as "one city, many discoveries", you'll find that there are plenty of incredible things for you to do on a date with a top escort.
Whether you would like to learn more about the city or enjoy the thriving nightlife, Dundee has everything you could desire in a date destination. Found that you are still unsure of just where to go? We have put together the XEscorts escorting guide to Dundee so you know about the best places to go on a date.
The history of Dundee
One of the best things about visiting the city is that you'll find no shortage of amazing spots to visit to discover more. Given the city's rich maritime heritage you'll be pleased to know that there are some great places for you to spend your time. Discovering Point is a firm favourite for many, You get the chance to learn more about Captain Scott's trip to Antartica and follow in the footsteps of his crew on the RRS Discovery. It will make for an unforgettable trip and is open all year round with guided tours available.
Not for you? Why not pay a visit to the HM Frigate Unicorn? This preserved historic ship is one of the six oldest in the world, and features a beautiful unicorn on the front, which is the national animal of Scotland. They even host a number of events throughout the year, making it a truly unique destination to visit.
Those keen to stay on dry land will find that the Dundee Museum of Transport has everything you need. The staff there are incredibly friendly and eager to answer all of your questions, and there are some fascinating artifacts and vehicles inside for you to admire. If you have just a few hours spare, then this is the place to go.
Science and discovery
You might feel that spending some time in a museum isn't for you. If you are a big fan of science and discovery, then you won't have to. Instead, simply spend some time in places like the Dundee Science Centre.
The Science Centre is open 363 days a year from 10 in the morning until 5 in the afternoon, so you have plenty of time to visit. They have more than 80 different exhibits for you to admire, and a huge number of them are interactive so that you can immerse yourself in learning. There's even a gift shop for you to visit if you feel you haven't learnt enough.
Mills Observatory can be found in Balgay Park, and it is the first purpose-built public observatory. It is a fantastic place to visit, especially on a clear night as you get the chance to watch the stars and planets in the sky. Even when it isn't clear, the scenery surrounding the observatory makes it a beautiful spot to visit on a romantic date. Why not take a picnic and enjoy a true GFE with the hottest Dundee escort?
The ideal dinner date
When it comes to enjoying a romantic date, you can't get better than going out to dinner with that special someone. It is even better if you want to get to know one of the TS or TV escorts in Dundee, as you can enjoy some great food and great company at the same time. But where is best to go on a date? There are so many good places in the city. It is well worth simply walking around and seeing what you discover, but if you'd rather know the best spots, we have some suggestions for you.
Sol y Sombra Tapas Bar is one of the most popular in the city and has received a huge number of positive reviews from previous guests. With Spanish and Mediterranean dishes for you to try, you'll find something for everyone here, and the charming atmosphere will make you feel totally at home in no time at all.
Hoping to enjoy somewhere a little more contemporary? The Tayberry Restaurant is a truly beautiful spot to visit. They have a huge range of Scottish meals for you, and while the price tag might be a little on the steep side you'll find that it is well worth it for the service you get here. Treat yourself and your chosen escort and you will not be disappointed.
Animal lovers and the great outdoors
While there are some excellent restaurants and cafes in the city for you to visit, you might decide to instead enjoy the great outdoors. On those rare moments when the sky is clear, you'll want to be outside and appreciating the gorgeous sun.
Why not take a trip to the Camperdown Wildlife Centre? There is an admission charge to get in, but you'll find that it is well worth it to see the animals. You will find a huge range of beautiful creatures here, from European Brown Bears and Golden Eagles to Donkeys and Otters. Make sure you visit on a clear day to make the most of your trip.
Want to simply be outside? The Monikie Country Park is the perfect spot for you. Here you will find all kinds of different terrains to explore, from parkland to woodland and even reservoirs. You could hire a kayak to get yourself out on the water, and you can even enjoy lessons here. If you are looking for a unique date in the area, this is the place to go.
Getting active in the area
Sometimes you don't want to just meet with an escort in Dundee and have a standard date. You want to do something more exciting, something that will make for a truly unforgettable date with them. This is why you should head to Avertical World Climbing Centre. The centre is the only indoor climbing centre in Tayside, making it the perfect place to go. You can learn a lot on a trip here, and the staff are keen to assist in any way that they can.
If you'd rather enjoy watching otheres get active, then the Dundee Ice Arena is the perfect spot to visit. You can watch ice hockey, wrestling, and a number of other events here. Best of all, there is a large car park for you to visit, so you never have to worry about getting a space.
You might be the type of person who loves a challenge. Maybe you want to see if you can please a kinky dominatrix in the city, or perhaps you want to spend a little time with them finding your limit? If you do love a challenge, then why not try Battlefield Live? It is said to be the best indoor combat game in all of Scotland, and takes laser tag to a whole new level. It is intense and a hell of a lot of fun, so take a deep breath and go for it. Afterwards you could arrange to meet with an erotic massage provider to help ease the tension in your muscles. Why not try a Nuru massage and learn what all of the fuss is about?
An evening of entertainment!
There are plenty of amazing places in the city for you to spend some time. You might decide to make an evening of it with that special someone by looking for the best entertainment venues.
One of the most popular in the city is the Dundee Rep Theatre. Found in Tay Square, the theatre has a huge range of shows for you to enjoy, and it is the perfect spot for you to visit on a date. You can enjoy a show here and spend some time during the interval and the close of the show getting to know your partner. Plus it gives you something to talk about if you run out of topics.
Not content to sit in a theatre and watch a show? You might want to check out the Grosvenor Casino Dundee. Described as a vibrant and diverse leisure destination, you can try your hand at a number of different games. They have everything from slot machines to blackjack and poker, so why not try your luck? Is Lady Luck on your side, or do you need to invite one of the hottest escorts in Dundee with you?
A romantic escape
You might have had a very long and intense week at work and simply want to get away for a while. A quick date isn't going to give you the chance to properly unwind, which is why it is worth instead booking yourself into a hotel.
A hotel gives you somewhere central in the city to stay, and if you have a few days spare you have even more time to explore. Plus, the rooms will be discreet and private enough that you could meet your dream courtesan here.
Whether you are on a tight budget and need to save your money or you simply want to splash out on an expensive hotel, you'll find that the city has everything. Take the time to shop around and you are sure to find something perfect to suit your needs.
Dundee is perfect for drinking!
Don't have the money to splurge on a night in a hotel with a beautiful call girl? Don't worry, there are still plenty of great dates you can enjoy. Why not meet them for a drink and take the time to get to know them over cocktails or wine?
The Wine Press is a beautiful bar for you to visit. They have a huge selection of wine, as the name might suggest, so whether you are a fan of deep and robust reds or you want the crisp flavours of white, you'll find that they have everything here. Why not get a bottle and share it with that special someone?
Prefer beers? You'll be happy to learn that there is a BrewDog in the city. You get the chance to try a few different ales here, and the charming appearance of the bar will make you want to immediately step inside. You could even take part in the beer school to sample a number of different drinks, so treat yourself.
Top Dundee escort dates
These are just a few suggestions for the best places to visit in the city when you are on a date. You will find plenty more fantastic locations simply by taking the time to look around. It will make for a breath of fresh air to your punting life.
So you've found the perfect date destination… but who to call to take with you? There are so many gorgeous escorts for you to choose from which is why you should take the time to read the Escort Scotland reviews. These reviews have been written by clients just like you who are eager to share their experiences. They want to tell you about the top escorts in Dundee and help you find your dream date.
Once you have chosen your dream date it is so easy to make an appointment. Simply call them and ask to make a booking. It really is that simple, and you'll get to enjoy some time with one of the top courtesans. So what are you waiting for? Latest posts by Lara Mills
(see all)
---