Fifty Shades Of BDSM
July 31, 2015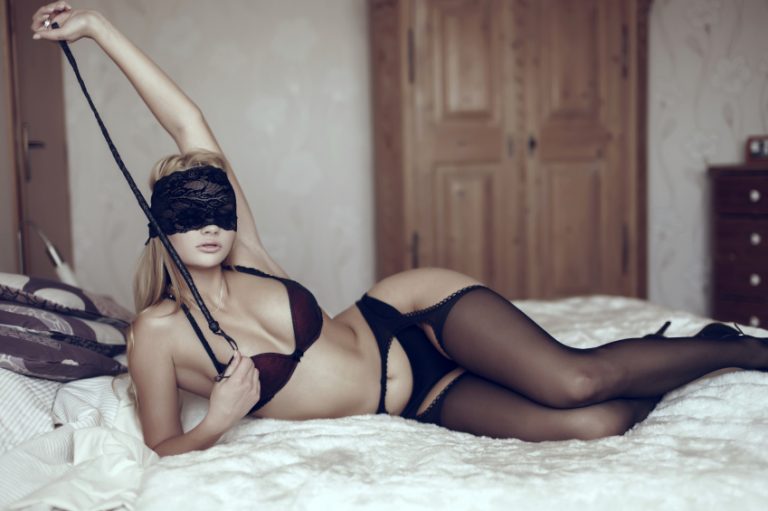 ---
Ask anyone how they feel about the 'Fifty Shades' series and you will be hit with a strong opinion. People either love it and think it is some of the best erotica they have ever read or they hate it and believe that it is nothing short of abusive and disgusting to read.
Personally, I'm on the side of hating it. Honestly, it's not a book I can say is particularly well written, and the way it portrays a BDSM relationship is just wrong. Not that E.L. James will care, because the books have made her so much money she won't give a shit what I think.
However, as bad as the books are, there are some interesting BDSM acts and tricks that she touches on, and here on the XEscorts blog we take a look at some of these acts and just how you can do them in the bedroom.
Nipple clamps
A favourite tool to use in domination is the nipple clamp. The dominant one will put a pair of them onto their submissive slave, keeping them tight on their nipples and gently tugging on them to tease them that little bit more. In the 'Fifty Shades' series, Christian uses them on Anastasia to control her and show just how much she loves the pain and pleasure they give her.
However, if you've never used them before, the idea of having some metal clip tightening on your very sensitive nipple is horrifying! If you do manage to say "yes" to trying them, you might suddenly see the clips coming at you and scream "no" because you really don't want them touching you.
If you are eager to try the nipple-pinching that nipple clamps give you but don't think you are ready for the real thing, stick to the fingers. Get your partner to squeeze your nipples, telling them to go a little harder to see if you enjoy the slight pain it gives you. If so, you can then more onto something else.
A lot of nipple clamps have rubber on them to lessen the pain, but if you still think that would be too much for you, keep an eye out for nipple lassos. They can be adjusted a lot easier to the tightness you want, and your partner will love fixing them to your nipples.
Whipping
Christian, in the novels and movie, likes to whip Anastasia. In fact, he enjoys it so much that he won't listen to her when she is clearly in distress and continues to hit her. Laura Lee wrote about it on the Escort Ireland blog, stating that "he gives her six of the best with a belt, making her count every stroke, and although she is clearly distressed, he doesn't stop. That's not BDSM, that's abuse".
Yet whipping and caning in the bedroom can still be a lot of fun – you just need to pay attention to your partner and listen for the safe word. If they are enjoying it, by all means carry on! If not, don't do a Christian Grey. Stop and figure out where to go next, instead of carrying on for your own pleasure.
When you have a whip in your hands you don't actually have to hit your partner with it. In fact, it can be a bigger turn on if you don't, because then they will start to anticipate your next move and get more aroused wondering where it will go.
Light strokes up their leg with the whip and all over their body will get their heart pumping, which in turn will make them far more sensitive. You can then gently tap them with the whip, increasing the strength of the hit as you go. Remember to stick to the fleshier parts of the body so that you don't cause damage, and if they seem distressed or unhappy, stop.
Restraints
There are so many different types of restraints that we see used in the 'Fifty Shades' series, from him simply holding her hands in place while fucking her, to him tying her up or handcuffing her so he can do with her what he wishes. The whole point of restraining your partner is so that you limit their movements, and so you can do with them what you wish. They will find it a huge turn on, and there are so many different ways you can do it.
A lot of people will spend a huge amount of money on restraints, as they are eager to get the soft rope used in bondage or to get sturdy handcuffs that their partner cannot break out of. If this is what you want to do that is fine, but you don't have to break the bank if you don't want to.
A work tie or a tie from a bathrobe will work well as a substitute, as the soft material will mean that they won't get hurt from the material on their wrists, and as you will have them to hand, it makes it easier to stay in the moment.
Another unusual method is to use toilet paper. You might be thinking that it isn't an effective tie, as you can break through it in one swift movement, but that is the point. Using toilet paper as a restraint is a great idea, as it only needs a little amount of force to break it. That means your submissive partner has to work hard to be still and not break the restraint, or you will stop doing what it is you are doing to them. This mental restraint is a huge turn on to try, and it also means that, should you take things too far, your partner can easily get out of it without having to rely on you to set them free.
Do you believe there are some good things about the 'Fifty Shades' series that we can take into the bedroom, or is it all just trash that doesn't accurately show the world of BDSM? Let us know in the comment box below. Latest posts by Lara Mills
(see all)
---