The Ultimate Guide For an MMF Threesome!
October 24, 2016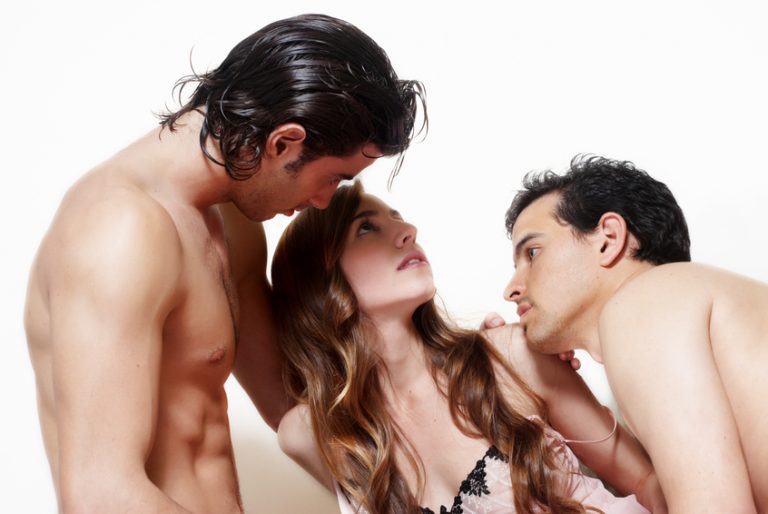 ---
You are in bed with a gorgeous guy, he's starting to kiss your breasts while unfastening your shirt. Suddenly, another man touches your hips from behind and starts kissing your neck while sliding his hands in between your legs…
Having a threesome is one of the most common sexual fantasies. However, it's not that easy to make it come true. Jealousy, insecurities, even a bit of fear or just not finding the right people, can make impossible to fulfill this fantasy. However, if you decide to make a threesome, clear your mind, decide what things you'd like to do and go for it!
1. A huge pleasure to share
When talking about threesomes, especially about MMF threesomes, women tend to be scared of two men being to much for them. About heterosexual men, they normally will radically say no, as they consider it gay being in bed with another man. This are the two main reason why MMF threesomes hardly ever come true, two completely fake and stupid reasons!
Having a threesome is not a having a fight or a competition to see who's the best. Having a threesome is sharing your passion, experiences and desires with two other people. It's not about 2 men against 1 woman, or 1 woman having to please 2 men, it's about three people exploring and having new sensations in a very delicious way.
A man touching another man, or even having sexual intercourse with him, doesn't turn him gay (even though this shouldn't be a problem). It's normal for women and men to feel sexual attraction by people from their same gender. Exploring and knowing new sensations, doesn't mean anything but having an open mind and being completely confident of yourself. So just forget about the prejudices and have fun!
2. How to choose the perfect person?
Another of the main problems is choosing the people you're having the threesome with. Whether you are a couple looking for some fun or a single person that wants to have a different evening, you should be careful when selecting your lovers.
Choosing a close friend that you've always wanted to take to bed is the hottest fantasy. However, be careful here. Even though you can have a very nice night, you will have to see this person later on, and this may create awkward situations in the future. So, choose a friend, only if you are 100% sure this won't affect your friendship.
That's why having these kinky experiences with unknown people sounds like the less complicated option. Go for a drink, and if you find someone you like go for it. What can be hotter than feeling like a goddess surrounded by two gorgeous strangers?
However, if you don't find anybody you can really trust, this is an amazing opportunity to contact an escort, especially a duo. If it's your first time, they will show you all their knowledge and you'll have one of the most amazing moments in your lifetime!
3. How to go for it?
Meet your lovers for a drink to create a sexy atmosphere. A hotel room would be the perfect place and it will give an adventurous touch to the encounter. Start talking so you can get to know each other, and just let it be. Start by kissing one of them, but always let the other one know he's completely invited to the party. He can join how and whenever he wants to.
Let yourselves delight your minds, look at the other two, get horny while watching them, this is a moment for recreation. Don't feel ashamed and enjoy it.
4. Find your place
One of the biggest fears when thinking about having a threesome is being left alone, or just not knowing how to join the rest. No worries, there are some easy and sexy ways to be completely integrated with the rest.
Giving a blow job while being fucked is one of the kinkiest and hottest fantasies ever. Get on one of them and ride him while giving a enthusiastic blow job to the other one. If you want to make it even kinkier, you can also try it with the doggy style. Nobody left alone, all of you happy.
As said before, having a MMF threesome is not 2 man against one women. So, if you're looking for a kinkier experience, you may consider also interact with the other men. This is amazingly hot for the women to watch, and it's also a great new experience for the men. One tremendous position to start with is: one man fucks the women from behind (you can chose anal or normal sex) while, at the same time, the other guy gives anal sex to him. However, this is just an option, if you don't feel sure, just concentrate in pleasuring the women. This way 3 of you would have an amazing experience, very difficult to forget!
There are hundreds of positions for threesomes, the magic thing is discovering them by yourselves. Let your bodies speak for you and overall, let any kind of shame or embarrassment out of the room.
Having a threesome is one of the most sexually enriching experiences you will ever have. And if you do it in a relaxed and confident way, it won't take you too long to repeat it.
If sex is already great only between two people, imagine how would it be with three… Latest posts by Lara Mills
(see all)
---