Hologram Porn: What You Need To Know
January 27, 2016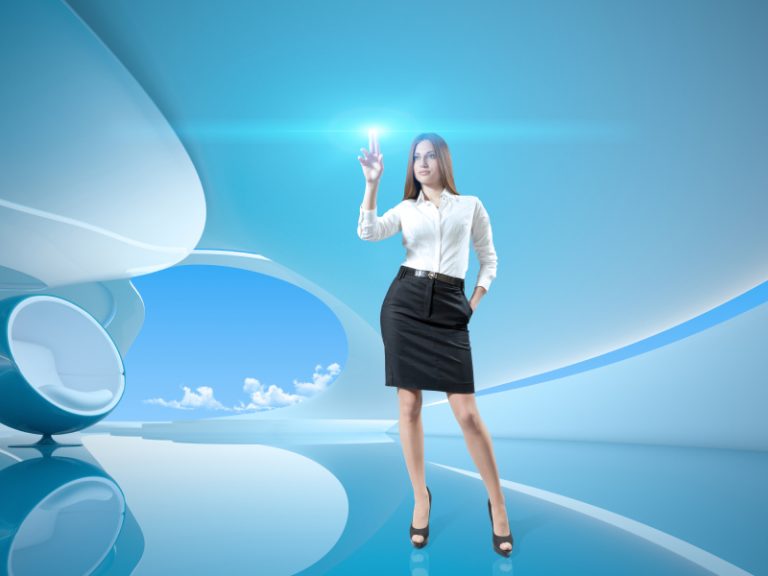 ---
Virtual reality porn is getting more and more popular lately, and anyone with a virtual reality headset will be using it to try it out. We're all a little curious about how realistic and convincing it will be, but many have also been crying out for something to help those far from their partners and dream escorts experience fun with them. That is where Holodexxx steps in, and they have created something that we have only dreamt of for a long time. They have created hologram porn.
You might have had some naughty thoughts about this kind of technology since seeing Weird Science, or perhaps the sexy Carrie Fisher in a New Hope saying "help me, Obi-Wan Kenobi, you're my only hope", but it is finally becoming a reality. Hologram porn might soon be something you can use at home, and it may just be your new favourite thing to use. We take a look at just what you need to know about it, and why it has the potential to be one of the fastest growing porn products of all time.
Like virtual porn, but more ambitious
The big talk in the world of watching porn lately has been pretty focused on virtual reality porn. This porn gives you the chance to basically be the one getting fucked in a variety of porn films, and because it is virtual reality you can simply move your head and change the angle you're seeing it from completely.
You can get as close to the action as you want, making this porn even better than any other. It seems less like there is a camera crew in the room while it is being filmed, and more like real sex between two hot and kinky people.
It seems only natural that after virtual reality porn, we'd get something a little more ambitious like Holodexxx. They decided that virtual porn didn't quite have the level of interaction they wanted. They hoped to give people the chance to reach out and touch those they were watching in some sort of way.
That is why they created hologram porn. They wanted to give the viewer even more interactivity, ensuring that it wasn't simply a case of sitting down to watch while they jerked off. They wanted to put the choices in your hands.
More options for users
When it comes to virtual porn, it tends to be pretty generic. You'll get to enjoy some people fucking each other, mostly taking the point of view of the man in the situation, and while you can change the camera angle, you can't change much else.
The porn will go through the motions, just like every other kind of porn, and sometimes that just isn't for you. You might instead be hoping to change the position or even the person getting fucked in the video. The hologram porn gives you the chance to do just that.
Instead of just watching and wanking off at the same time, you can actually use the virtual reality headset and controllers to change the porn star in front of you. You can alter the position they are in, making them stand, sit, kneel, or bend down on all fours if you see fit.
You can even adjust their hairstyle, colour, and the size of their tits and ass. If you love a big booty, you can give a sexy porn star the biggest you've ever seen in just a few movements. You can manipulate the computer image however you want to, and while it might not be the same as getting a sexy lap dance from your favourite porn star, it is certainly the closest we are getting for now!
The future for hologram porn
At the moment, Holodexxx has kept things pretty simple. They probably want to see if the demand is there and if the technology works as they hoped it would, but so far they seem to be getting green lights every way they turn. That means you might soon be seeing hologram porn in stores.
Since it is pretty small scale at the moment, you only have a total of nine 3-d digital avatars to choose from. Eight of them are women, with just the one man. Feel disappointed? Don't worry, as the co-founder Morgan Young has some words that might make you feel better.
"We're all about representing all the diversity that is human as long as it's safe and ethical," Young said in an interview, promising that we would see many more porn stars appearing on the platform and that they will be as diverse as they are in the world of porn.
However, the best part is that you might actually be able to totally customise the experience by 3-d scanning your own body. This means that you could have a holographic sex session with someone who isn't even in the same country as you, and so you could sit down and enjoy a conversation and some fun with the sexy escorts near you.
Is hologram porn a good idea?
The idea of playing with holograms in this way really is intriguing. We want to know more and we'd love to have the chance to experience it for ourselves. However, while we might like the sounds of it, we may not be convinced that it is going to work quite as well as we imagine.
We love the idea of customisation, and we love the fact that you can interact, in a way, with the figures you see before you. But like virtual reality porn, hologram porn is lacking that real touch. You might be able to see your virtual hand touching the model, but you will be waving a controller around to do it.
It is a novel idea, and one that I think will work well, but whether it will blow up as many expect it to is something we can only wait and see. The platform is due to be pushed out later this year and the pricing structure hasn't yet been set in place, so we can only hope that it will be cheap enough to try out.
What do you think of the idea of hologram porn? Is it just a novelty that we don't really want to try, or is it a bit of fun you can't wait to get your hands on? Latest posts by Lara Mills
(see all)
---