Is Naked Exercise The Way To Go?
March 20, 2018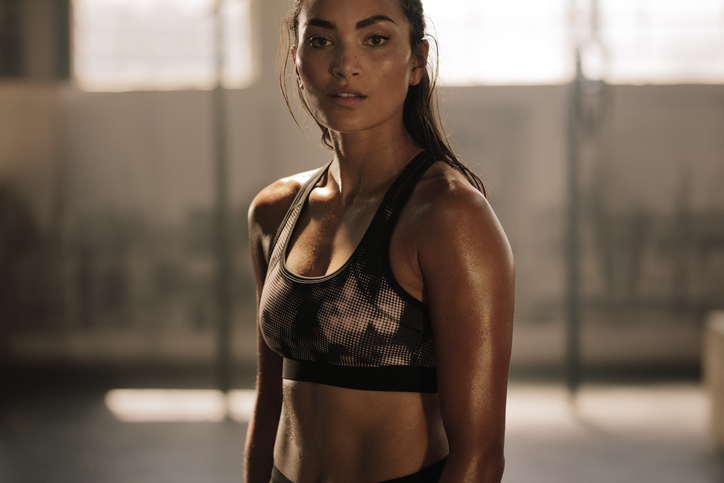 ---
When I'm heading off to the gym, I take great care packing my bag. I want to make sure that I have the essentials in there, such as my trainers and my sports bra, so I can get on with the exercises. To some people it seems that these are just too many items to take with them. They'd rather do their workouts wearing nothing at all. That's right, they believe naked exercise is the way forward.
Naked exercise is a growing trend for 2018, but why is that? Are there any benefits to stripping off for your workout, or is it better to keep our kit on? I take a look at why baring all might be the way to go.
Dress to impress
When I first got into exercising properly, it was through running. An app everyone was raving about caught my attention, and so I started using it while walking. It quickly progressed to running, since the app repeatedly told you through the story it played to 'run'.
The essentials for running as a woman are simply the right trainers and a good sports bra. Trainers can cost a lot, depending on the support that you need. Thankfully my gait, when I had it analysed, was neutral, making it much easier for me to get the right trainers.
If I didn't have the right trainers for running, I'd end up doing more harm than good to my body. Of course, my workout clothing has expanded a lot. I have a range of sports bras, trainers, leggings and tops specifically to work out in. I have so many that an entire double drawer is reserved just for these items of clothing.
Many of the items that I have are a good fit. They aren't so tight that they will ride up or down as I do burpees, and they aren't so loose that they might get caught on the prowler when I'm doing a circuit and have to run it across the room.
There are tons of websites out there telling you the importance of wearing the right clothing when exercising. They can help to prevent injury and protect you while you workout. So why is it that some people are stripping off?
Better to bare all?
There are some times when stripping off can feel very freeing. For example, it can feel great right after a workout when you are jumping in the shower. You rid yourself of the clothes that now feel as though they are sticking to you. You are free and able to just be at ease with yourself.
This is one of the reasons why some feel that we should try naked exercise instead. You are free from the restrictive and sweaty clothing from the beginning, but this isn't the only reason why you might want to consider baring all.
Robert Herbst is a personal trainer, coach, and a professional powerlifter. He states that "clothing can hinder performance if it causes a person to overheat". I know that things can particularly challenging in the summer for me at my gym, as it gets very hot in there when the sun beats down.
He goes on to say that "if it is so tight that it inhibits range of motion or restricts blood flow, or if it is so loose that it gets in the way of or catches on equipment" it can also be a problem. The last thing you want when you are trying to do oblique burpees is to find that you are tripping over your loose trousers!
On How Things Work, a number of people weigh in on whether we should strip off to work out. Kat Setzer, a personal trainer, stated that losing "all the slimming panels from fancy workout pants and tops" can actually "force your own muscles to learn to keep things pulled in on their own". This can then "stabilize your spine and hips". Is it worth taking our clothes off?
Naked gyms
Naked exercise has recently gained a lot of attention when Ruth Langsford visited a naked gym on 'Do The Right Thing With Eamonn and Ruth'. She wanted to know exactly what it was that would make people remove all of their clothing in order to workout, and so the best place to visit was a naked gym.
You can view the clip below, showing how she got on. In it we see her talking to various members about why they do it and if they feel at all distracted by the naked bodies around them. One member says that they are more focused on their own body, so perhaps this is the way that we should be doing things?
A lot of those featured in the video seem very comfortable in their own skin, as their focus is entirely on getting the exercises right and completing the workout. Everyone is equal, so I can see why it might be appealing. But is naked exercise really a good thing?
Physician Alex Roher believes that we need to keep our clothes on when working out. Roher states that "it is an urban legend that you should exercise naked, and it can lead to yeast and other bacterial infections as you have nothing to pull the moisture away from your skin."
Roher added that "lightweight, breathable, sweat-wicking clothes are a must. They pull moisture away from your skin". It looks like we need to keep our clothes on when at the gym after all!
Would you try naked exercise?
This is something that is really dividing people. Some can see the benefits of stripping off to exercise. Others would rather keep themselves covered and not have to worry about how their body looks. There are some exercises that might not work well naked, such as running, but what about your usual routine at the gym?
I'm not sure I'd strip off the next time I'm working out. Would you try it? Let us know what you think about this, and whether you would try it for yourself, by leaving a comment in the box below. Would it be worth it? Latest posts by Lara Mills
(see all)
---