Rope Bondage Techniques For Newbies
June 3, 2019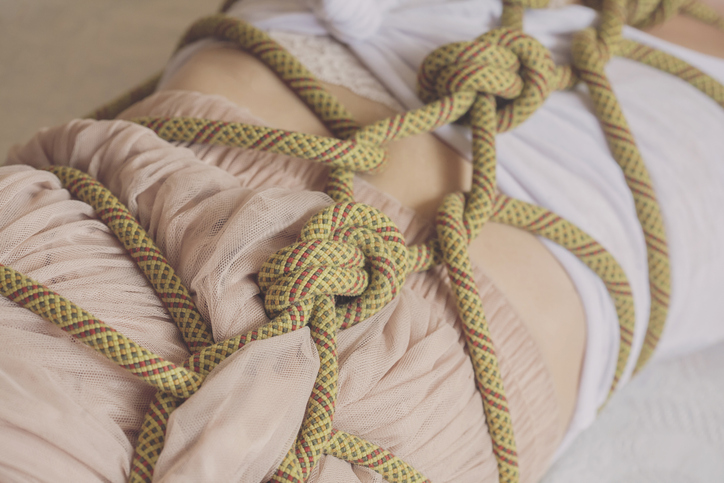 ---
Stepping into the world of BDSM is both a scary and exciting time for a newbie. They'll want to learn the ropes, try a new kink, and have a heightened sexual experience.
As their dominant partner, you'll know that Japanese bondage is the way to go. Instead of jumping right in at the deep end, here are some of the best Japanese bondage techniques you can use on your fledging sub.
What is Japanese Bondage?
Fetishes come in all shapes and sizes. Japanese bondage might sound exotic and mysterious, but it's actually a lot more familiar than it sounds. In essence, this fetish is a type of artistic rope bondage that typically focuses on intense beauty and erotic pleasure.
Its most literal translation is "to tie", where hessian and cotton rope is usually used. Otherwise known as Kinbaku, the Japanese art form made its way to the western world some years ago, where some people started referring to it as Shinbashi. Though it has become a bedroom staple for some escorts, it's important to recognise it for what it truly is: art.
Traditionally, a rope of 7 metres is required for you and your sub to get the most out of it, but most people can get away with using a rope between 5 and 10 metres long. While many experts say it takes years to master, there are a few knots you can learn that make for an excellent introduction.
1. Single and Wrist Binding
There are some Japanese bondage techniques that require years of practice for you to get right, but luckily these knots should only be used on people who have outgrown beginner practices. Instead, it's a good idea to start with the simple single wrist binding.
This knot forms the perfect basis for your Japanese bondage knowledge, but it is also ideal for when you want to tie your sub's wrists to a bed. Once you master the knot on both hands, and even on the ankles, you'll be able to show them the iconic Spread-eagle pose, which leaves them vulnerable to tantalising touches or more intense torture techniques. Though under light restraint, the knot is both comfortable and easy to escape from if they need a break.
As this is one of the first knots you'll need to master, it's wise to use the time with your sub to practice the knot. This way, you'll also discover what else you can use the knot for.
2. Prisoner Handcuff Binding
Now, this sounds more like the bondage we all know and love. It can also be referred to as the double wrist binding, but I think we can all agree that doesn't sound quite as exciting. The technique involved with this knot is a small step up from the single wrist binding, but instead, it ties both wrists together in a handcuff position.
Whether you place your sub's hands above their heads, behind their back, or anywhere else, you're leaving them unable to use them during sex. With women especially, the arch created in their backs when their hands are bound behind their backs makes it easy to see why even simple Japanese bondage is so revered. If you add the Surgeon's knot, you can even bind your submissive's so they can't move them.
3. Leg Tie
Enough about the wrists. You and your sub might be ready to commit to something a little heavier. With the leg tie, you ask your submissive to sit on the floor with their legs bent, so you can sandwich their calf and thighs together. As you may already know, Japanese bondage is all about creating definite lines across the skin, so you're best off sticking to symmetry and doing this with both legs.
With their knees tied and legs open, they are limited to basic movement, but most importantly, still movement. It explains why some people refer to it as the Frog tie. Even so, their crotch is exposed, leaving them open to whatever kinds of wicked things you're planning on doing to them.
As with every knot, you should take extra care to practice this one. As it's a beginner technique, it's less about inflicting pain and discomfort, but more about the pleasure.
4. Crotch Rope Tie
Some bondage techniques are all about binding body parts to other body parts or certain objects. Others are there purely to increase sexual satisfaction and boost both yours and the sub's sex life. This is where the crotch tie comes in. As an undeniably beautiful knot, it is used primarily on female submissives. It starts at the waist, and comes down to cut between the legs.
When tied at just the right tightness, subs will feel friction on their clitoris. Just enough to tease them, but not enough to make them come. As a binding that is easily hidden, you can add a whole new dimension to your sub-dom relationship by making them wear it for extended periods under their clothes. If you've both agreed that you'd like to inject more pain into the session, simply tie the knots a little tighter.
5. Diamond Pattern
We've already touched on why Japanese bondage isn't just about sex. While its purpose is to enhance BDSM and physical sensation, it's also about showing just how much of an art form it is. If you want to embrace it at its finest, one of the simplest techniques to try is the Diamond pattern.
Formed from various simple knots, it still takes a while to get right. When completed, it creates a vivid design on the body of a male or female submissive.
Obviously, there is more skill involved in this pattern, so it's always a good idea to turn to a service provider like XEscorts to see what kind of services, content, and escorts they have that can help.
---