Kinky Christmas Games To Play With Your Partner!
December 24, 2018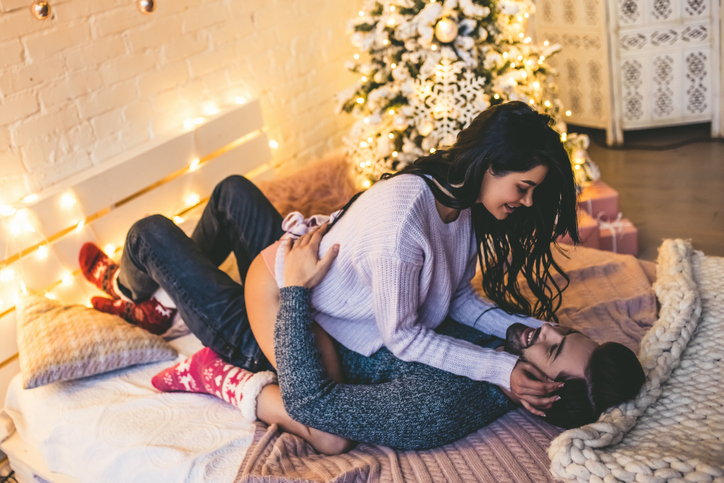 ---
Finding time for just you and your partner at Christmas is tough. Most of us will spend the day with our families, wishing we could just got five minutes with our partner. When you do get the time together it is hard to know exactly what you should do to make the most of it.
Sex should be fun, especially at this time of year. I've put together some kinky Christmas games for you and your partner to play. They'll keep things fun and give you the time together you really need.
Naughty or nice?
We know from years of Christmas carols that Father Christmas knows when we've been bad or good… but he isn't the only one. The chances are that your partner will also know if you've been good this year or whether you deserve a lump of coal in your stocking. So why not make a game out of it?
Make two lists. One should be your 'nice' lists. These are the things that you absolutely love doing with your partner – the things that you can't get enough of. The other list should be your 'naughty' list. These are the things that you have always wanted to try with your partner but never got around to.
Your partner will then decide if you have been naughty or nice. Hand both of the lists to them and get them to choose a 'gift' from the list. Then do it! It'll be a fun way to mix things up and really give you the chance to try something new… if you've been naughty, that is! If you've been nice then you'll get to enjoy the amazing sex you love.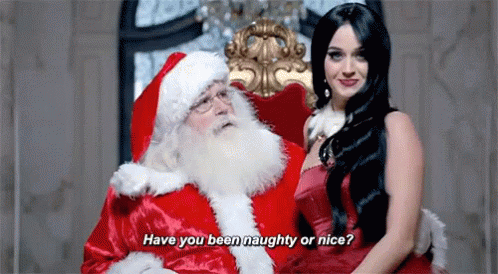 Santa, please stop here!
We all have hot spots on our body that we love being touched or kissed. For me, I'm a huge fan of long kisses on my neck. The right kind of kiss in the right place can make my knees weak and my body melt. It's a huge turn on when your partner discovers that spot on your body!
Having a hard time getting your partner to give you the attention you deserve? Try this variation on the 'X marks the spot' game. Instead, it's called 'Santa please stop here'. It works in a similar way. You'll need to think of a spot on your body and your partner then has to try and find it!
You don't stop until they have found it. When they do, you both win! It shows them where you want to be touched and will leave you both feeling amazing. Why not give 'Santa' a reward of some kind when they get there?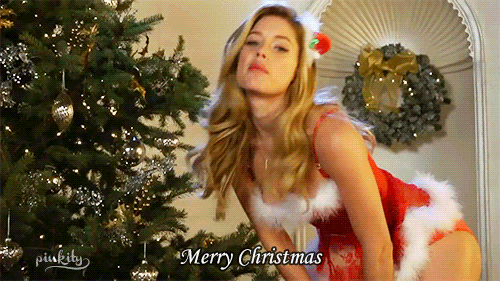 Wrapping and unwrapping your presents!
One of the big things that you'll do on Christmas day is opening your presents. Unwrapping tends to go one of two ways. You'll either appreciate each and every gift as you open it, taking the time to thank your partner for the presents, or you'll just rip the paper off to see what lies underneath.
This is something you can take into the bedroom with you! You can take the time to slowly unwrap your partner from their clothes. Make it as slow as you can, teasing them as you can. Can you make them beg before you get all of their clothes off?
If you'd rather make things a little kinkier with this game, you could always wrap your partner up. Get some ribbon, a dressing gown tie, or a work tie. You can use them to tie their hands together, leaving them completely at your mercy. Can you make them beg this way instead?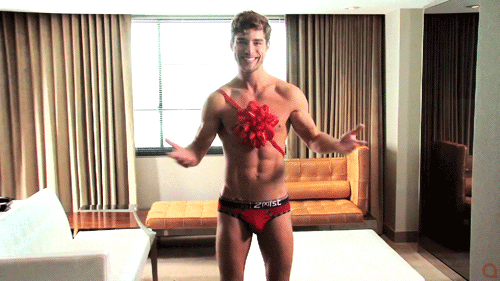 Kinky Christmas games we love
Finding the right kind of kinky Christmas games to play with your partner can be tough, especially at Christmas. You want something that will be fun and festive at the same time. That is why you should try the kinky Christmas games I've suggested above.
Got a few suggestions of your own? You can tell me all about them in the comments below. Have you got a favourite you want to share? Which kinky Christmas games get you going? Leave a comment with all of the dirty details! Latest posts by Lara Mills
(see all)
---