Man Seeks Medical Help When 23 Inch Dildo Gets Stuck!
September 5, 2018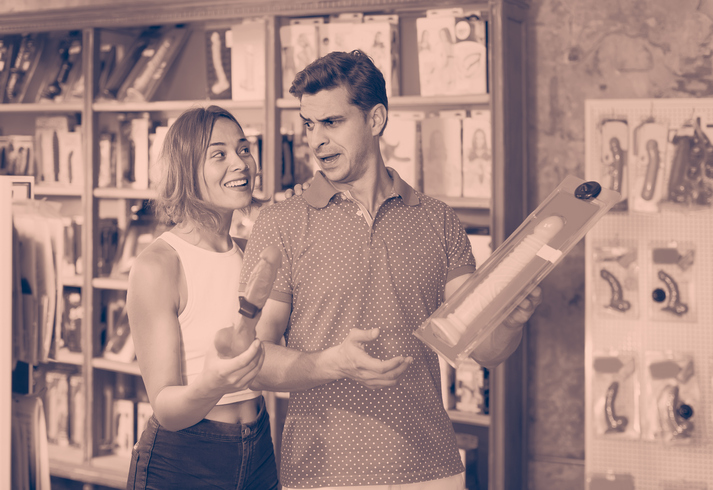 ---
When it comes to buying sex toys, there are certain things you should look out for. You want to buy toys made with materials safe for use with the body. Avoiding porous materials is key for keeping your toys clean and safe. Depending on where you use the toy, you should also look at flared bases to ensure they don't go further than they should.
This is something one man learned the hard way, when the 23 inch dildo he was using got stuck up his ass. If that wasn't bad enough, medical professionals had to invent and entirely new tool in order to retrieve it. No matter how bad your day is, at least you aren't this guy! Read on to see how bad his day got.
When sex toys get stuck
It can be pretty terrifying when you get a sex toy stuck. I've had friends call me in a panic because they've been foolish with a sex toy and managed to get themselves into a predicament. One friend decided to try and use a vibrating bullet to stimulate her g-spot, only to lose her grip on it. In time, she was able to get it back out.
Getting stuck with sex toys is one of the more likely accidents to occur in the bedroom. Usually this is because we are too horny to think straight. We'll be so eager to try something new that we won't think about what might happen as a result. Then when we get stuck we worry.
If you do manage to get a toy stuck, there are some things you can do to help yourself first. It might be hard to do, but try to relax. Tensing up is only going to make things worse. Many find that squatting and trying to push the object out with their muscles helps too. If all else fails, it might be time to seek help.
One man and a 23 inch dildo
For most people, being able to insert a 23 inch dildo into themselves would be one hell of an accomplishment. The idea frankly frightens me, but for one man in Italy, it wasn't enough. He wanted more. Seemingly while trying to get more, the dildo got stuck up his ass.
Given the fact that the man now had a 23 inch dildo stuck up his ass, he was understandably nervous. He did what most people would do, which was have a panic and then set about trying to get it loose on his own. Except it didn't work. The dildo was well and truly stuck up his ass.
With no other choice, the man then decided to take himself to the hospital in the hopes of retrieving it. Amazingly, he stated that he had no symptoms other than "mild abdominal pain" from the 23 inches stuck up his ass.
A close look at the problem
When he arrived at the hospital in Milan, the 31 year old went for an x-ray (which you can see below). The staff wanted to establish a full picture of the situation so that they knew how to handle it. They quickly saw that the dildo was well and truly jammed in the man's ass, and after a few attempts discovered that it was "not removable by hand".
Things get stuck in bodies all of the time, so the doctors on hand had numerous tools they could use to try and help the man. However, they discovered that standard methods weren't working. The dildo was reportedly "too big and smooth" to be retrieved via the usual methods.
In the end, the staff had to create a new tool to get and get it. They chose to thread a wire through a catheter tube to create a noose. They then managed to get the noose around the dildo and were finally able to free the man. In the end, he'd been stuck with a 23 inch dildo inside of him for roughly 24 hours.
Sex toy safety
You might be wondering just how a 23 inch dildo might end up stuck inside of someone, but it is actually not as rare as you think. People will get toys stuck inside of them all of the time. It's just a matter of dealing with it in the right way.
If you want to prevent this happening to you, buy sex toys carefully. Unless your toy has a flared base, there is a chance that it might get stuck in your ass. When buying sex toys, go for flared bases. This is the best way to prevent them getting stuck.
You can usually work toys free on your own. If you can't, seek help. It might be embarrassing, but stuck toys can cause all kinds of complications. Would you rather be left a little red in the face or suffering from long-term damage? I know which I'd rather deal with! Latest posts by Lara Mills
(see all)
---