Phone Sex: What We Really Want To Hear
April 2, 2016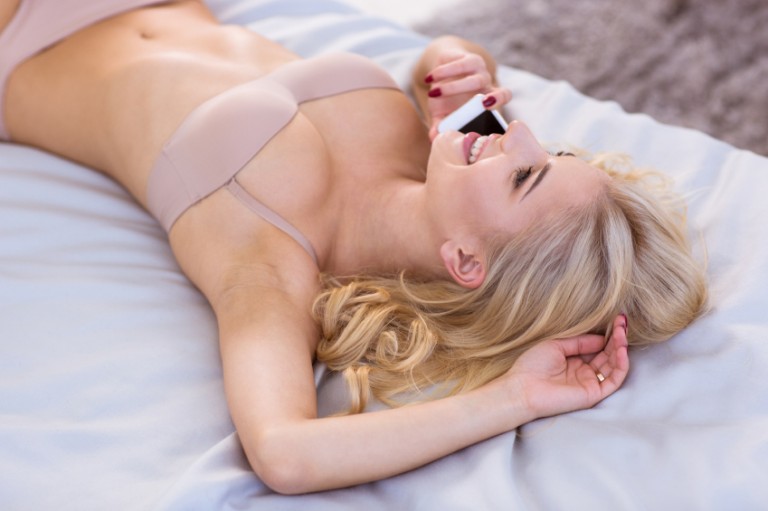 ---
If you are in a relationship and have ever been away from your partner for a period of time, or you simply enjoy hot and heavy conversations, you'll probably have enjoyed a little bit of phone sex at some point. It is a fun way to spice things up, and when you know what you're doing it is surprising easy and fun! But what happens if you aren't sure what you should be saying?
There are so many guides online that it can be difficult to figure out what you should and shouldn't say in the heat of the moment. Some guides will even tell you things to say that others advise you to steer clear of… so what can you say during phone sex without ruining the moment?
Here on the XEscorts blog we take a look at the hottest things that you can say during phone sex, focusing on what your partner really wants to hear from you. Take a look at our phone sex guide below and see if the tips help you to keep things steamy during your sexy conversation.
Think about what you want to hear
The easiest way to figure out what you can say during phone sex is to think about the kind of things that you would want to hear. The chances are, this is the kind of thing your partner wants to hear too! It helps you to narrow down your options and figure out what kinky words and phrases might turn your partner on.
If you would like to hear about what your partner is wearing, ask them about it, and then take the time to describe the clothes you are wearing to them.
The beauty of having this kind of kinky conversation is that you don't have to be honest. If you have slipped into your really comfortable but not very sexy looking pajamas, they don't need to know that. Get a little creative and describe something sexy to them, like silk boxers.
Don't be afraid to ask questions
A good way to slowly ease into things is to start by asking questions. It gives your partner the chance to get involved and lets you hear more from them in a kinky way. Don't want to dive straight in? Ask them how their day was.
This might not seem like the kind of conversation you would expect to have at a moment like this, but it can help to give them the chance to rant about their day. You can then ask if there is anything you can do to make them feel better.
Ask them if having a slow a sensual massage from you could help, giving a description of how your hands would move slowly over their body. Not only will they have let off the stress of the day, but you will now be putting the idea in their head of you slowly running your hands all over their body and turning them on.
Pay attention!
One of the key things that people tend to forget to do during phone sex is pay attention. It is a two way conversation, so instead of focusing on what you want and what you are going to say next, listen to your partner.
If she says that she would get on her knees before you, taking your cock out and kissing it, don't then say that you would spank her ass. You should try to logically follow where they are going with the fun.
Being able to repeat back what they are saying to you in some way shows that you are paying attention and like where it is going. If she says "I would kneel before you, taking a look at your hard cock and slipping it into my mouth", follow it up with "as you kneel in front of me, I run my hands through your hair, watching you suck my cock". By repeating a little bit of what they have said and adding on to it, you are showing that you're paying attention and continuing the hot erotic story you are telling together.
It's in the way you say it
The important thing to remember is that it isn't all about the things you say. Often, it is about the way you say it, as this can make the difference between having a normal conversation and having phone sex.
Try to make your voice a little huskier. This suggests to your partner that you are trying to hold yourself back but having a hard time because they are turning you on so much. Take the time to let out little moans and sighs as you have your conversation, as this tells your partner that what they are saying is really working for you.
Some people choose to masturbate and have a wank while having phone sex, but not everyone does. If your partner tells you that they want to hear you cum, oblige them. Go crazy, letting them hear every beat you make and your moans as you finally reach orgasm as they talk to you.
Other phone sex tips
Hopefully, the suggestions above will be able to help you have some hot phone sex, giving you some ideas about the things you can say to turn your partner on and leave them wanting more… but we have some other great tips for you to remember!
Before you even start the session off, think about how you are going to do it. If you are using a phone on a contract, you might be shocked to see how much the conversation has cost you at the end of the month. Consider using a pay-as-you-go phone to make sure you don't spend more money than you were hoping to.
You should also arrange the conversation for a time when you won't be disturbed. Lock the door, unplug the main phone, and make sure no-one is going to turn up and interrupt your fun. The last thing you want when you are in the middle of hearing a sexy woman orgasm is to have a friend let themselves into your place.
Want some more tips to help make sure your steamy sex conversation goes smoothly? You could see what others are suggesting in the comments. Got your own you'd like to suggest? You can use the comment box below and share your thoughts with us. Latest posts by Lara Mills
(see all)
---