Why You Should Be Having Phone Sex
February 26, 2015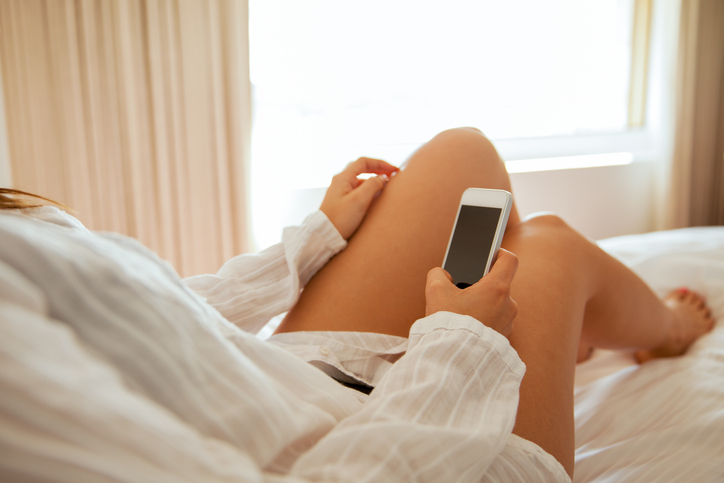 ---
Work can get in the way of the best things in life, like the hot passionate sex you should be having. Trying to find the time to go over and meet your sexy girlfriend can be a struggle, which is why people are becoming more and more interested in phone sex.
A lot of people find the idea of phone sex to be scary or boring. They don't get how talking dirty to your partner can be a huge turn on, or how you can get a lot of satisfaction from hearing their sultry voice on the phone.
If you have never had phone sex before, here are the reasons why you should be trying it.
Perfect for busy schedules
Phone sex is the perfect way to get the thrill of sex without having to take a huge chunk of time out of your schedule to travel for a date.
Instead, you can simply wind down in the evening as you would usually do before getting steamy. You don't even have to dress up and put a shirt and tie on! It is so easy, you can do it from the comfort of your own bed.
If you don't have time in the evening, or find yourself too tired to pick up the phone and have hot phone sex, you can do it during the day. Simply arrange a time with your partner and give them a call. Your lunch break from work might be the perfect chance, and it gives you something to think about while filing all of that boring paperwork.
A great change
We are all guilty of it. We let sex become boring. We might not mean to, but we start to do the same positions and same things to turn each other on, and soon fall into a sex routine.
Having phone sex is a great way to break the monotony. It is something fresh and exciting, and it gives you both the chance to discuss your deepest and darkest desires to each other.
You can even use the phone sex to test the waters. If there is something you'd love to try in the bedroom, but you aren't sure how your partner will react, you can try it out on the phone. There is less pressure on you this way, and if you word it correctly you will find them enjoying the idea as much as you.
Closes the gap between you
A business trip, holiday, or even a long distance relationship could be keeping you from having hard sex with your partner just when you need it most. Whatever the reason, phone sex can be used to close the gap and keep you together.
Having phone sex is fun, and you can talk about the last time you had sex together. You can start by describing just how you felt when they stripped out of their clothes to reveal that shaved pussy to you, and how hard you got at the thought of it. It gives you the chance to re-enact your hottest sex with the added twist of being apart.
You can also start a new adventure. Tell them how horny you've been all day thinking of their delicious tits and how you'd like to suck on their nipples while they pump your cock with their hand. They can describe what they'd do to you, making it an excellent masturbation tool.
Phone sex is fun!
If none of the above reasons have convinced you to pick up your cell and give a Stockholm escort a call for phone sex, then maybe this will. Phone sex is a hell of a lot of fun!
Whether it is the start of a new relationship or one that has been going for a long time, you can flirt and tell each other just what you would do if they were there. Not only is it a huge turn on to hear your partner moaning and groaning as they masturbate to your voice, but it also makes the next time you meet even hotter as you want to act out all that you said.
Phone sex is one of the best ways you can have the fun of sex without the risks involved. Why not tell us your hottest phone sex story? Latest posts by Lara Mills
(see all)
---