What Really Happens During A Threesome?
April 11, 2016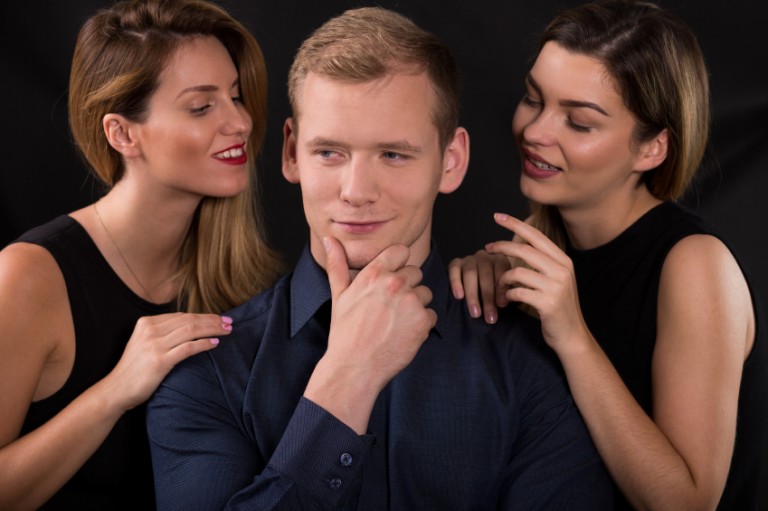 ---
A threesome is a sexual fantasy for many. It sits at the top of the kinky bucket list for pretty much everyone in the world… but for some it will never be more than a dream.
However, for some of the lucky ones around the world, they manage to make this dream a reality. If you have never had a threesome before, you might be curious about what really happens during this fun and sexy act. We have the answers for you here on the XEscorts blog.
Talking about your kinky fantasy
Before you can enjoy the fun of a threesome, you need to talk to your partner about it. You can't just turn up with another person and say "honey, we're having a threesome tonight!" because you will probably end up in the dog house.
First, talk to your partner about your fantasy. If you can't talk to them about your fantasy, the chances of it actually happening are pretty slim.
When you talk to your partner about your kinky dream, you can discuss all of the little details. You can figure out where your limits are, if there is anything your partner doesn't want to do, and figure out where to go for the third person for your fun.
Choosing the right partner
There are some good and bad ways to choose a partner. Often, we are tempted to choose someone we know. It might not be someone we know ridiculously well, just in case it makes it complicated, but it can be awkward.
Those with experience in threesomes, like myself, will tell you that you are better seeking someone you don't count as a friend for the fun. If things go wrong, it can really ruin the fun and your relationship, so look elsewhere.
A lot of people choose to invite an escort to join them. This is the best way to do it, as you don't have an emotional attachment to the escort and they will be able to easily guide you from to awkward "what do we do now?" stage to the "holy shit, this feels amazing!" stage where you are all in bed together fucking.
Getting ready for the threesome
When you are getting ready for the fun to start, it can be tempting to have a drink to ease your nerves. This is fine, but make sure you restrict yourself. Getting drunk before it happens means you might have trouble getting it up and keeping it up… and you may find that you pass out before the fun starts. Definitely not a good thing to do!
You should also choose clothing that makes you feel comfortable as well as sexy. Got a nice suit that is a little too tight on you? Put it away. Go for a sleek shirt and jeans for that smart casual air.
As for the ladies, it can be tempting to slip into a tight corset, but unless you are used to wearing them, you won't feel comfortable. Take my advice and go for a sexy lingerie set that makes you feel fantastic, look fantastic, but you also feel comfortable in it.
When the fun starts
Now for the main part. When the threesome starts, it can be difficult to know what to do. One of your main focuses should be on making sure everyone is involved.
If you are in the middle of eating out one of the hot women in bed with you, try to get the other involved in some way. Reach over and stroke their leg, making eye contact with them. They might join in and start kissing the body of the person you are eating out. Make sure that everyone has something to do, as it can feel really awkward if someone is sitting to the side and watching the couple have their fun.
You should also understand that threesomes aren't for everyone. While it might be fun, you might not reach orgasm, and if it isn't fun for you, you might want to take a step back. This is fine. Just let the person feel welcome and that they can take a step back simply to enjoy the show if they wish.
After the threesome
When the threesome is over, it can feel pretty awkward and uncomfortable. You might suddenly feel as though you are far too exposed, and that the run up to the threesome was far more enjoyable than the actual fun itself.
Having a drink at this point is the perfect way to ease tension and to get talking. You can get yourself dressed back into your lingerie if you want to, but try to avoid getting totally re-dressed again. It can really ruin the mood and make it seem as though you are just glad it is over.
Try to make some jokes to lighten the situation, and when it is time to leave, do it without lingering. Thank the third party of your little fun for joining you, and let them know how you found it. If you really enjoyed it, you might be able to do it again.
So, what is it really like?
As someone with experience of threesomes, I can tell you that it can go either way. The first time I had one, it was awkward. Me and the guy I was dating at the time had asked a friend of mine he fancied to join us, but the entire thing was uncomfortable and weird. We were all very glad it was over.
However, the second attempt with another guy was much better. We prepared better, so if you really want to have a fantastic time during a threesome, make sure you prepare. The first step of preparation? Talking to your partner about it.
Not sure how to start that conversation? Martin wrote a blog on how to suggest a threesome, so take a look at the hot things he has to say about it to make sure things go according to plan. Latest posts by Lara Mills
(see all)
---
---