Sex Stories – My Naughty Nurse!
May 20, 2015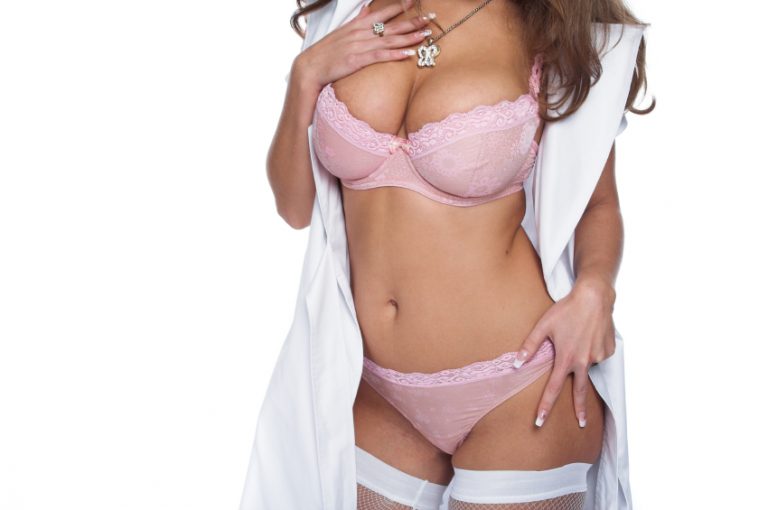 ---
There is always time for a little naughtiness during the working weeks at the St Barts Gynecology unit.
Being a 32 year old, single, Gynecology nurse living and working in central London, it can be hard to find time for romance. However, during the past 6 months or so, since working with a particular woman, I have started to question my sexuality. Many beautiful doctors and nurses come and go at St Barts hospital, but, this nurse is incredible.
She has long, dark, curly hair, olive skin, big green eyes and a huge pair of tits which sit perfectly under her chin. Don't get me wrong, I still lust after a good thrusting of a hard, pulsating penis from time to time, but there is something about seeing the genitals of a woman daily for the past 6 months that has sparked my mind with sexual fantasies about Jessica Perez.
An Exotic Beauty
Half Brazilian, half Greek with a curvaceous figure, no more than 28 years old, she has awoken a new desire to endure a steamy lesbian encounter. But not just with any woman, just with Jessica. I have suspicions that she is well aware of my desire for her too, but I have no shame in her or anyone knowing. The way she licks her lips with her moist, pink tongue, makes my nipples tingle just sitting there talking to her. Every night I find myself caressing my wet clitoris at the thought of sucking on her hard nipples and hearing her soft voice begging me for more. I have a scenario in my mind to turn this fantasy into reality. I'm unsure of when or how but I am a determined woman who knows what she wants and will do what it takes to get it.
Jessica has a boyfriend called Ricky, who is tall, muscular and handsome and definitely looks like he has something good to entertain her with every night. But, I sometimes catch her looking at me in a way that makes me question if she also has similar thoughts? The tension when we entered the lift together this morning was unbelievably intense. I can hear the nerves through her voice when she is talking to me up close. This may be because I couldn't help myself looking at her tight, buttoned shirt, imagining the perfect orbs, slightly paler than her upper chest, with edible coffee-colored nipples surrounded by areola which spread halfway across the flesh of her breasts. I felt myself moisten and started to throb again. There is definitely a physical connection between the two of us, or could it be that I am lost in this fantasy and that it is all in my head?
The busy working weeks have flown by and the Christmas party is fast approaching, so Jessica and I went shopping for an outfit together. Watching her undress and slip into sexy party dresses made my underwear damp! As she asked me to zip up her dress I found myself almost leaning in to kiss the back of her neck. My vagina was throbbing with excitement due to my imagination running wild, my palms were sweaty and my mouth dried up instantly!
'Control yourself!' I say to myself. That evening I gave myself a good seeing to with my favorite vibrator, imagining tickling her vagina with my wet tongue and hearing her moan whilst she plays with her nipples. Just the thought of her touching me makes me gush like never before!
The Party
Tonight is the night of the works Christmas party. Jessica has kindly invited me to her house to get ready and have some pre-drinks. As I enter her apartment, Ricky is just leaving.
So now it's just the two of us, me and Jessica, alone with alcohol. My imagination starts running wild again! I tell myself to shut up, but, as she approaches me with a glass of bubbly wrapped in nothing but a towel, with hair still wet from just getting out of the shower, I feel myself start to throb inside and palms sweat again. As she passes me the champagne her towel drops to the floor, she giggles and without taking her eyes off of mine, bends down slowly to pick it up. She doesn't wrap the towel back around her still damp body, to my surprise, she stares deeply into my eyes.
'Touch me, I know you want to, I've known for ages!' she says softly.
Have I really been that obvious? I had to pinched myself to see if I was dreaming! I could smell the alcohol on her breath as she came closer to me. I trembled as she started to put her tongue in my mouth, fascinated at what was happening, she asked me to touch her again. Unzipping my dress, which fell to the floor, she then pushed her naked body against mine and started to rub herself against my bare leg. I could feel her getting wetter as we continued tonging one another passionately, naked in the kitchen. I stopped and placed a finger over her lips to silence her, then, my body, moving before my rational mind could catch up with it, I lowered my head and started to suck on her luscious breasts. As I gently nibbled on her nipple, I felt her hips start to move and her head fell back as she gasped, "fuck!" The risk of Ricky walking back in at any moment made it even more intense.
Things Get Heated
Slowly caressing her nipples with my tongue, I then started to move slower down to her crotch, kissing and licking her soft skin. She places herself on the kitchen counter and spreads her legs apart, her body screaming for me to eat her. Kissing her sexy Mons Venus, her breath was roaring, her chest rising and falling rapidly. I slide my middle finger inside of her whilst licking her prominent clitoris. As I entered another finger, she clamped her forearm to her mouth to stifle the groan which erupted from her. Jessica's moans were getting louder and louder, wanting to take her to ecstasy, within a few seconds her hips started gyrating and she screeched, 'I'm going to come!'. I increased my pace of thrusting my fingers into her squishy pussy, her hips bucking up and down as I felt the warmth of her throbbing vagina tighten around my fingers as she came. She finally sank back on the kitchen worktop and in a slightly naughty gesture; I slipped my two fingers, soaking with her cum, into her mouth. As she sucked them, she looked deeply into my eyes and said… 'Now it's your turn'!
---