Should You Play Music During Sex?
May 1, 2015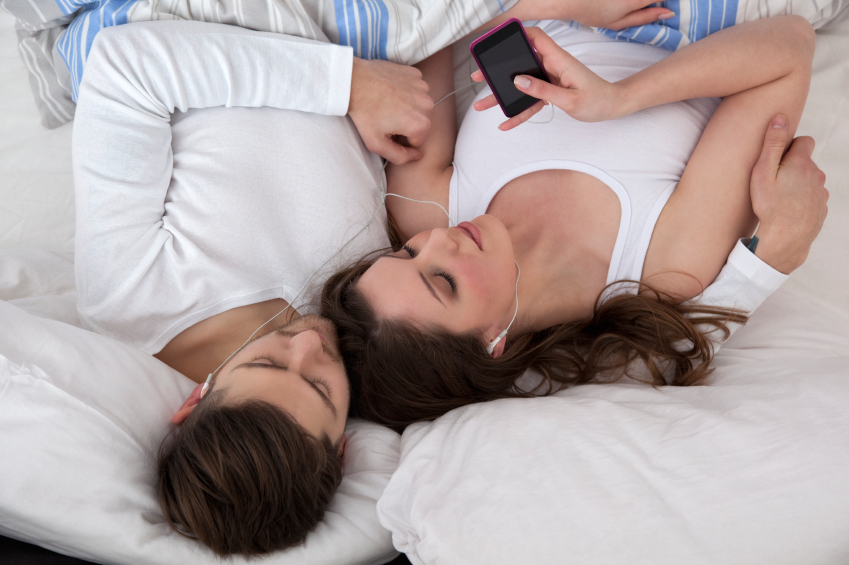 ---
The relationship that sex has with music is a long one. A lot of songs talk about sex and the kind of freaky things people get up to in the bedroom, as well as the fact that people everywhere are getting it on. Even if they don't, the rhythm is often enough to make you want to have sex.
An online retailer decided it was high time we looked at the relationship that music and sex have today, and just how music can affect things in the bedroom. We take a look at the results of their survey and what this could mean for the future of your sex life.
The survey
The study was undertaken by Adam & Eve, an American internet retailer who aim to put the spark and spice back into the sex lives of people everywhere. They had seen some information dotted around the internet that suggested that sex was actually a really good thing in the bedroom.
So, of course, they did a little more research. Why wouldn't they? I know that I would, and honestly, people never get tired or bored of reading about studies into sex.
They asked people a huge variety of questions about music, from the very simply "do you listen to music while having sex" to "how does listening to music in the bedroom make you feel?"
Surprisingly, 61% of people said that they didn't listen to any music in the bedroom, while 39% of people said they did regularly. Personally, I was expecting that number to be higher.
Why play music?
Why would someone play music in the first place in the bedroom? For some, music has no place when you're having sex, but others think it really helps to set the mood. In their study, Adam & Eve found that the majority of people agreed that it does help to create a sexy setting, with 52% saying that was the reason they played music.
For 27% of people, however, they said that it had absolutely no purpose if they were to play it, and was just some background music or something to cover up what they were actually getting up to in the bedroom.
There were some that found music to be much more important in the bedroom, as 12% said that it put them in the mood for sex. 9% simply answered "other", and so it could be they just play it out of habit, or that it doesn't really affect their mood at all.
Of those surveyed 40% of them confessed to something quite shocking. They said that listening to music before sex could actually be more arousing than physical touch during foreplay. Yes, really. Putting on some Barry White could save you time on the foreplay.
What should you be listening to?
Needless to say, some music works a bit better than others in the bedroom. If you really want to seduce your partner, putting on some death metal is going to turn them off.
29% of people said that their favourite genre in the bedroom was easy listening, while 25%, surprisingly, said that they enjoyed a bit of rock while having sex. No other genre rated as highly, showing that, if you do want to put some music on while you get it on, you should go for easy listening and rock.
Not sure what song to listen to? Adam & Eve consulted Spotify, an online music streaming service, about the top songs listened to on Valentine's Day. Their top list was filled with a lot of artists I haven't heard of, but everyone agreed that the best song to have sex to is Intro by The XX.
Dreams by Fou De Toi took second place on the list, while Chet Faker's Talk is Cheap held firmly on to the number three spot.
Music and sex work!
It is clear from these results that music and sex actually work really well together. For a start, it helps to set the mood and get you turned on, making you want sex more and more. The rhythm of the music can help set the pace as you're fucking, and it will leave you grinning from ear to ear whenever you hear that song in the future.
Music is also a great way to time yourself. If you know that you only have half an hour with your partner before you have to run off back to work, create a playlist that is thirty minutes long. You can fuck away with the music playing, enjoying the moment, without constantly checking the clock to see if you are late.
Do you listen to music in the bedroom, or do you prefer to hear the sound of your partner moaning away as you lick at her wet pussy? Have you got a favourite song for sex, or even a favourite band?
You can use the comment box below to tell us your sexy music thoughts, or you could see what others are saying. You might find some new songs to add to your list, or maybe even get talking to a London escort about the best bands out there! Latest posts by Lara Mills
(see all)
---