Surprise! Porn And Feminism Go Hand In Hand
September 14, 2015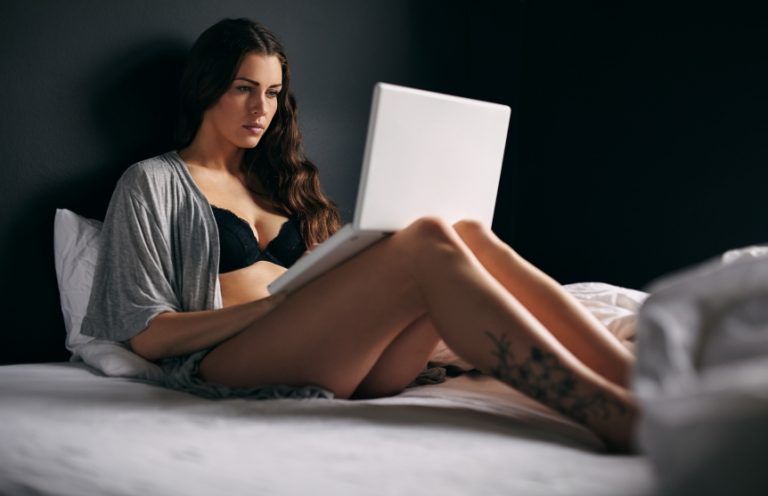 ---
We don't really need an excuse to watch porn. We are more than happy to simply sit and watch those hot and horny porn stars fucking each other so passionately, and we love masturbating while watching them writhe against each other. It is hot, and we will do it whether the world gives us an excuse or not.
Yet porn is still seen, mostly, to be evil. We've all heard the theories about it. Watching porn not only gives you "unrealistic views of sex" and how it actually works, but it is also "oppressive" to women and "harmful" to men by making them think they have to last half an hour in bed.
However, a recent study from the University of Western Ontario has said that, actually, porn might be linked heavily to equality and that those watching it "may hold deeply feminist views".
Ruining traditional ideas on porn
The Daily Mail pretty accurately describes how people tend to think about porn, and that is by saying that "more men than women like to watch porn", and that "clicking on adult websites probably stokes deeply sexist views about women".
However, Pornhub has shown in the past that porn isn't just for one gender. The popular adult entertainment website has a huge range of videos for you to watch and they collect data from those who watch their videos to let us know more.
There was recently a "what women want" that looked specifically at the desires of women and what it is they are most looking for in porn. That piece of statistical analysis let everyone know that women watch porn just as much as men do, and that porn isn't just for men.
Now the University of Western Ontario's study has shown that, actually, porn doesn't give people sexist views on women, as those watching it see women as equals. The problem is that this completely goes against what everyone believes, and so people aren't as willing to talk about this fantastic study as much as they should. So we're going to talk about it instead!
The General Social Survey
The study, called the General Social Survey, actually took a long and hard look at those who watch porn, and has been going since 1975 to 2001. That is a lot of data that they have collected, which suggests that, if anyone knows what they are talking about when it comes to porn, it is these guys. Spending twenty six years to look at how porn makes us think about women and equality? That's a long time, and they have done a great job.
In fact, many have suggested that the study is "the single best source of data on societal trends" in America, and perhaps even in the rest of the world, all because of how long the study has been going for.
Of the participants, 56% were female and 43% were male. Just over half of those involved in the survey were married, with the rest of the group made up of single, widowed, and divorced people, in order to get a nice even spread of those involved.
They even tried to make sure they had a wide variety of religious backgrounds for their participants, to ensure that no one group found themselves to be better represented than others. Of course, this kind of thing doesn't always work out that way, and they found that 85% of those involved in the study classed themselves as either Protestant or Catholic. However, it is still a good spread!
The results of the study
The results of the study were pretty surprising, especially given the amount of beliefs we all hold about porn as it is. For a start, there are plenty of people out there who think that those who watch porn think of women as beneath them, and that they are nothing more than holes for us to fuck. It's a ridiculous idea, but that doesn't stop people from having it.
However, this study showed that the participants who watched adult films once in the past year were actually more likely to believe that women should have equal opportunities.
They discovered a little more about the men and women surveyed, with many of them saying that it was only fair and equal if women were allowed to hold positions of power, such as a high-ranking position at work, and that they should be allowed to work outside of the home.
The University of Western Ontario also found that there were plenty who felt that women should have rights over their own reproductive system, and that it is women who should be able to choose if they can go for an abortion or not. After all, it's their body.
Great news… now what?
Like us, you might be sitting there and thinking that this information is all well and good, but there has to be something more to it. After all, knowing that porn watching believe in equal rights for the sexes is one thing, but what does that mean for the future?
Well, basically you won't turn into a chauvinistic bastard simply for putting on some lesbian porn. In fact, you are more likely to have respect for women and understand that men and women are equal, which solves a lot of problems.
Of course, there will always be some out there who struggle to differentiate between what they see on the screen and what happens in real life. The key to helping those people is to talk about sex. The more we talk about sex, the more likely we are to educate others.
What do you think about this study? Does it really prove that those who watch porn see men and women as equal, or is it simply that the participants they got involved in the study held those beliefs in the first place? You can let us know by writing a comment in the box below. Join in the discussion and tell us if you think porn can actually help with gender equality. Latest posts by Lara Mills
(see all)
---
---