The Sex Shop Made Entirely Out Of Felt!
September 29, 2015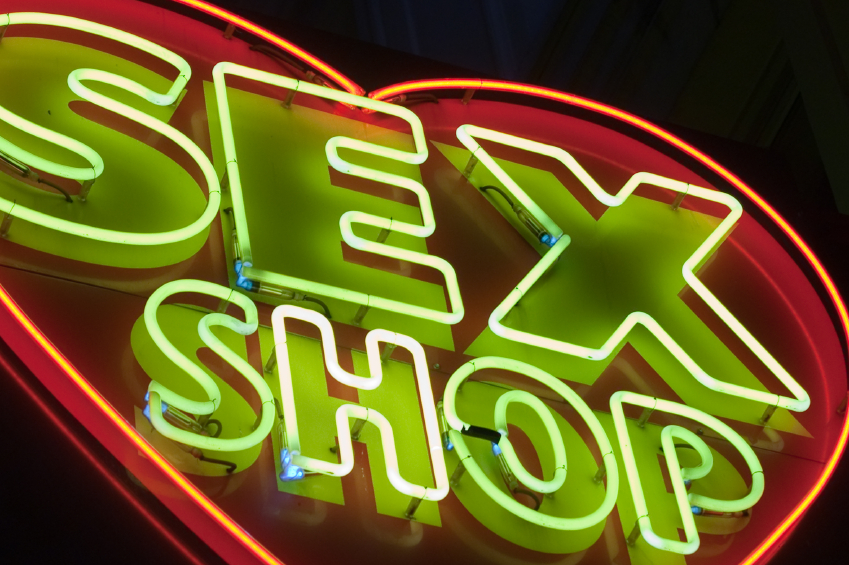 ---
There are a few different kinds of people you will see looking at sex shops. The first kind are those people who are there to buy something. Their eyes will eagerly look around for that perfect toy and, when they buy it, they will show no shame going up to the counter and asking for the best lube to use with it.
The second are the timid folk who look as though they might have just stumbled into the wrong shop but decide to get something anyway. They will quietly ask about the products, fearing that speaking too loudly will draw attention to themselves, and they will walk out of the shop as quickly as possible to put distance between themselves and it.
The third are the people who look on them in distain. They hate the fact that sex shops are a thing and that they ae having sex thrown into their faces, and if they ever were to walk into one (which is unlikely), they would glare at every item in there to make it clear how they felt.
Well, one British artist has decided to tackle the way that people think about sex, and has decided that the best way to do this is with an adults-only store in Soho. The store, which will have the usual things inside of it, will have a key difference. This time, everything inside will be made out of felt.
Madame Roxy's Erotic Emporium
The installation has been giving the tantalising name of Madame Roxy's Erotic Emporium, and is going to open next month with plenty of sexy products for you to admire. The products have all been created by hand, and there are over 5,000 to look at.
It isn't just vibrators and butt plugs that Lucy Sparrow, the artist behind the installation, has created. Over the last six months she has worked had to make sure the objects that will appear in the sex shop are varied, and so you can find packaging for lubes, dirty magazines, penis enlargers, and even ball-gags complete with smiling faces stitched onto them.
The faces on the items are a nice way to show that, really, sex isn't as serious as people make it out to be. Sparrow is trying to show that we take far too seriously and put too much stock into what people do in the bedroom, when really it is none of our business.
The project aims to reflect on the recent transformation of Soho, which was once known as the red light district of London and has now become a highly commercial area. It also takes a look at the recent censorship of pornography that is allowed to be produced in the UK.
Highlighting sex
We pretty much all know and accept that sex happens. The problem is that a lot of people hate the idea of talking about sex, or that sex might be out in the open. It is find happening behind closed doors, but as soon as it steps into the public eye, there is a problem.
The lack of understanding about the sex industry, with the recent restrictions on UK-produced porn and the calls for the Swedish model to be brought in, just makes things worse. People genuinely have no idea what the sex industry is really like, and the media feeds the stigma surrounding it. It is okay for consenting adults to have sex behind closed doors… unless it is paid for. Then it is still seen as wrong, despite the fact that there is still consent there.
Sparrow isn't the first to use Soho as a way to protest and speak out about the way we think about sex. The designer Lee Broom wanted to use his latest collection to create what many described as a prostitution-themed restaurant. Every single room in the restaurant was given a name, and each room was named after a sex worker in Soho.
In an interview, Broom said that the reason for this piece was "because that scene in Soho is slowly disappearing", which made them want to "pay homage" to the Soho sex scene that is slowly fading into the background to become just another part of history.
The changing face of Soho
Soho used to be the place to go if you weren't at all fazed by the idea of sex. You could find everything sex related in this busy and thriving London district, and the fact that it is all changing bothers a lot of the people who spend time there.
In an interview, Sparrow spoke out about the issue: "while London's Soho undergoes sterilisation with strip clubs and sex shops being swept away in favour of trendy wine bars and hipster coffee shops, so Britain's laws on pornography are also being cleansed, with the prohibition of the depiction of practices like face-sitting, female ejaculation and even whipping."
Sparrow's little protest is a way to show that, actually, the rapidly changing laws on sex work in the UK are becoming more and more unclear. She actually asks "does a porn magazine created from felt and hand-stitched break Britain's new porn laws?"
Honestly, I am really eager to see the shop. The fact that she has spent the past six months working to create each item shows a huge dedication, and because it is so unusual people will come along just so they have something they can talk to their friends about down the pub.
However, will it be a success? Will Sparrow's show be enough to highlight Soho's plight, or is it simply going to be forgotten in the months to come? Tell us what you think by leaving a comment in the box below. Is it all just a little too much, or is it actually not enough to highlight the problems that sex workers are facing in the UK? Latest posts by Lara Mills
(see all)
---