The Ultimate Guide To A Kinky Christmas
December 24, 2015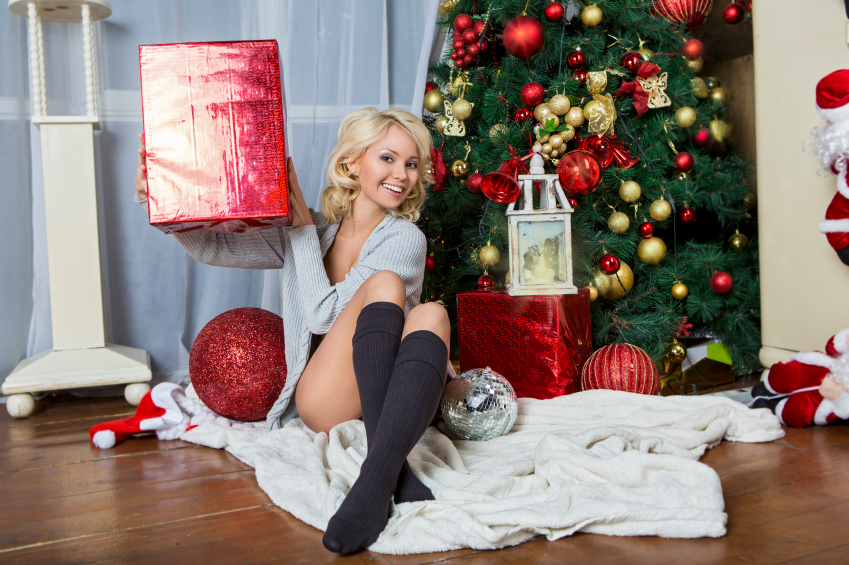 ---
Christmas is supposed to be a time of fun and family, but you might find that you have a little time to indulge the kinkier side of you. It might be that you get an afternoon during the festive season where you can nip out for a little fun and games with your favourite escort, or maybe you want to try out some new things with your partner. Whatever your reasons, you aren't the only one hoping to enjoy a kinky Christmas this year.
The problem is that, when it gets to Christmas day, we start to get really tired and exhausted. You might have been doing your Christmas shopping for months and feel so tired that thinking of kinky things that you can do during the festive season. Have no fear! Here on XEscorts we have put together the ultimate guide to a kinky Christmas so that you can choose the things you most want to do and get started straight away! Take a look at the guide and see which of the hot kinks you want to try out.
Santa baby
We all love a bit of roleplay. You get to pretend to be someone else for a while, trying on someone else's skin and seeing how it feels. It is a lot of fun and allows you to explore the kinkier side of you without changing who you are.
One of the favourite, and often the cheapest, costumes that you can get at Christmas is a sexy Santa. You can find it in almost every shop, and even if you can't and hope to buy one for the sexy lady in your life, it is easy to put together. Simply request that they wear some lacy red lingerie with a Santa hat. It is that easy!
Alternatively, you could put the Santa outfit on and get to kiss your favourite sexy lady under the mistletoe. You could be naughty and put the mistletoe on your belt and see what she does!
Of course, one of the favourite things to see a sexy lady in is nothing at all, and a fun costume you can pick up involve a ribbon. Your partner will wrap themselves up in a red ribbon and then you can untie it before ravishing them. Merry Christmas to you!
A kinky Christmas carol
Erotic stories are a lot of fun to read. You get to imagine every moment as you see it on the page or on the screen, and the characters will look at sexy as you imagine them to.
Of course, there are only really two things better than reading erotic stories, and the first is to act them out. Sit down with your partner and find your favourite kinky Christmas story and start to act it out. Follow the story and stay as close to the scene as possible as you act it out for even more fun.
If you have tried out our first suggestion, then you will probably have had your own kinky festive fun that you can actually write down yourself. It will make for an amazing tale, and as you sit down together and write it down you will find yourselves getting even more turned on by the memories.
Writing your own erotic stories together is a lot of fun, but the best thing is when you have a great imagination. You can write anything you wish, and afterwards you and your partner can act them out together. Make some great memories together!
Make a new kinky Christmas tradition
For many people, Christmas is all about the tradition. You follow the same routine almost every year, doing the same things as your family and your history dictates to you.
When you are feeling horny you'll want to go off schedule and do something unpredictable and fun. That is why one of the best things you can do to have an amazing and kinky Christmas is to start your own kinky traditions that you can do each and every single year!
Unsure where to start? Take the time to sit down and think about your fetishes. You might have a few fetishes that you wish to try out, and this is the perfect place to start. Choose one to experiment with each year, and you and your partner can take it in turns to choose one for each season.
It could always be that you buy each other a new toy to try in the bedroom, and then on Christmas night you can try them out. You'll open them in the morning and be eager to try them out all day, and this can be the biggest turn on of them all.
A kinky Christmas is the perfect adult holiday
When you find yourself stuck at Christmas with lots of routine and schedules to keep, sometimes the best thing to do is to take a break from it and to spend some time with your sexy lady.
Starting to enjoy a kinky Christmas doesn't mean you can't enjoy the more traditional side. Instead, it adds a new and fun twist to the season, and you'll feel as though you are treating yourself each and every holiday when it comes around. After all, is there really anything better than waking up on Christmas day and realising that Santa isn't the only one coming?
Do you have your own kinky Christmas traditions that you want to share, or have you thought of some hotter costumes to try out? Maybe you have seen the perfect Christmas sex toy to share?
Whatever it is that you want to talk about, you can do so in many different ways. You could simply leave a comment in the box below and tell us the different things that you love doing! Latest posts by Lara Mills
(see all)
---