The Weird World Of Flavoured Lubes And Condoms
June 17, 2018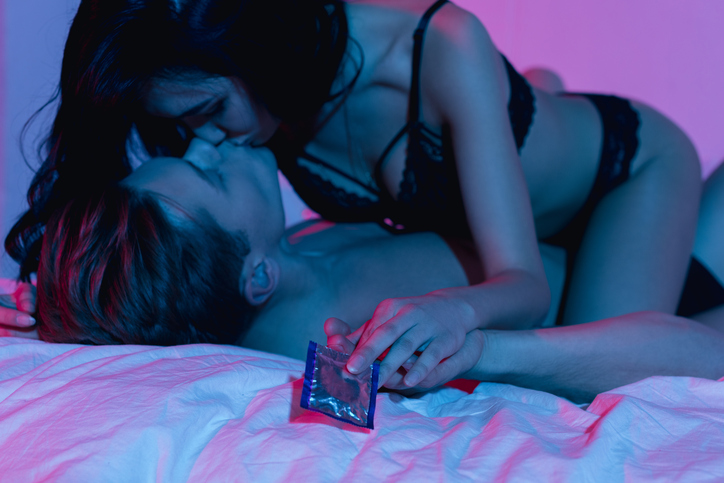 ---
Things like lube and condoms can enhance sex. They can make it more pleasurable for you and your partner, while also ensuring things go to plan. Safe sex is hot, and lube makes it easier for you to fuck. The problem is that even then, lube and condoms can be a little boring.
You could try one of the many flavoured lubes and condoms out there to spice things up. They might work well in theory, but in practice it's another matter entirely. So why do we flavour them, and what kind of flavours can you get?
Why use flavoured lubes and condoms?
There are so many different reasons why we might decide to opt for flavoured lubes and condoms during sex. Yes, it is about the taste, but why do you want lube or condoms with a different taste to them in the first place?
For some people, it is simply a case of not enjoying the natural juices their partner produces. Everybody has a different taste. Some are sweet, some are tangy, some are musky. You might not like it. If that happens, you don't want to give up certain acts because your tongue doesn't enjoy it.
Instead, you'll try to find ways around it. Flavoured lubes and condoms are a great alternative, because you'll get another flavour to enjoy. It might not fully cover your partner's juices, but it can help to take the edge off of it.
It can also tie in to some kinky foreplay. While drizzling something like honey all over your partner's body might seem like such a good idea, it can cause some problems. It tends not to mix well with certain sensitive areas, whereas lubes are designed to.
They work well because they allow you to seamlessly transition from foreplay to sex without having to clean up first. One of the best things in the variety, so you are sure to find something perfect for you!
The different flavours
There are so many different flavours out there to suit your mood, whether you are seeking something classic or something a little different and unusual. The key is to look around and find the best one for you.
The classic flavoured lubes and condoms you can find tend to focus on fruits. Strawberry and raspberry are popular flavours, as are apples and bananas. Before you ask, no, they don't count as one of your five-a-day. Shame, right?
That said, you can also steer away from the fruity lubes and condoms and go for something different. Things like chocolate, vanilla, and candy floss have proven to be popular throughout the years. If you are looking for a sweet taste, you can find it with those flavours.
Then we get into the weird ones. You can get scotch flavoured condoms, G&T lube, and even 'unicorn spit' lubrication. Yes, really. If you can think of it, you'll probably find flavoured lubes and condoms in that flavour. Bacon? Check. Sex on the beach cocktail? Check. Garlic to keep away the vampires? Check.
If you have absolutely no experience with flavoured lubes and condoms, a word of warning. Just because the label claims that it tastes like the flavour doesn't meant that it does. Often you'll find that the taste is a little off. If you don't want any nasty surprises, we suggest that you do a taste test before you get into the bedroom.
Do you like flavoured sex aids?
I've experimented a little with different flavoured sex aids throughout the years, and while they are fun to spice things up, they can be disappointing. If I have lube that promises to make my partner's pussy taste like New York cheesecake, I want it to taste like New York cheesecake. Is that too much to ask?
Apparently so. Some flavours, like fruit, tend to get pretty close to the flavour you want. Most of the time, anyway. Others miss the mark completely. As of yet I haven't found a convincing banana flavour to try.
Are you a fan of using flavoured sex aids, like lubes and condoms, during sex? Do you prefer to keep things au natural? What's the worst flavour you've ever tried? Let me know what you think by joining in the discussion below! Latest posts by Lara Mills
(see all)
---