What We Want To Hear During Phone Sex
March 11, 2016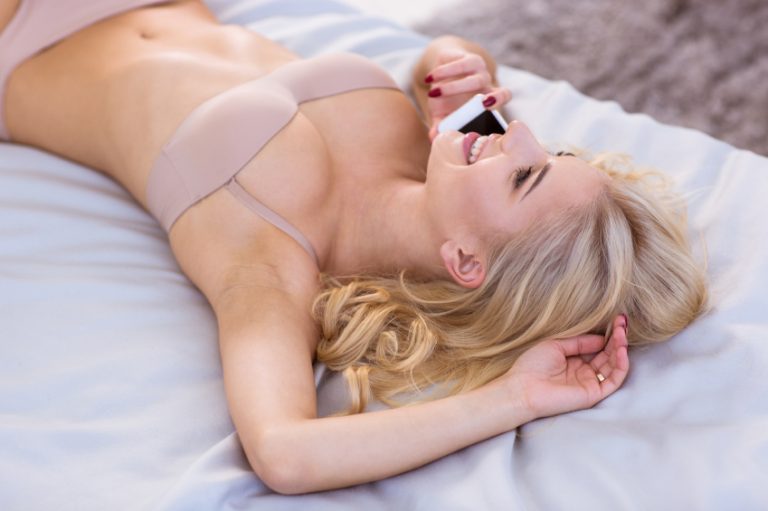 ---
Phone sex always seems like a great idea, but if you've never done it before or haven't much experience in it, it can seem complicated. You might know what you want to say but feel unsure about it. Your partner might not find it sexy. In fact, they might be turned off by it. That is definitely not what you want to do.
When it comes to getting it right, it is actually really simple. There is one fantastic trick you can use to make things easier, and that is by thinking of what your partner will want to hear. Not sure what that might be? We take a look at the hot things you can say during phone sex that your partner will actually want to here on the XEscorts blog.
Whispers
Whispering during phone sex is one of the hottest things that you can do. It might seem a little random, but when you start whispering to your partner they will copy you. They might even be prompted to ask "why are you whispering?", which can lead you into one of the sexiest things you can say.
This trick won't work if you are in a relationship and your partner knows it. However, if they know that you are living in a place with friends, this will work wonders. Simply tell them that you don't want to be overheard or risk getting caught, and that is why you are keeping your voice down.
It makes your hot and steamy conversation seem even hotter than before because you're doing something naughty. You don't want to be caught, and that just makes the person on the other end of the phone want to make you moan and groan even louder.
Repeating what we've said
We want to hear that you're paying attention, so repeating what we've said back to us can really help. That doesn't mean you have to copy it word for word, but picking out key phrases will really help.
For example, if we've just described the lacy black lingerie we are wearing, you should mention the colour and how much you love it. Something like "I'd peel the straps of that gorgeous black bra down your arms" lets us know that you are actually listening to us.
It's important to show that you're paying attention because far too often, people expect phone sex to simply be someone reading an erotic story to them while they jerk off. If you can actually tell us what is going on, we'll be turned on and excited to see what comes next.
It also helps to create a very vivid picture in our mind. We can actually see you doing the things you've described when you pick up on the little details, and that can have our hands sliding all over our bodies while you talk dirty to us.
Question us
You might feel totally confident taking control of the conversation, describing every little thing in detail, but your partner might not. They might be a little clueless about the things that they are supposed to say or when they are meant to jump in and say something sexy.
Questions can really help with that. It shows that you actually care about what we have to say for a start, which is incredibly sexy, and it gives us an idea of the thing that you might want to hear from us.
Phrases like "how does that make you feel?" work well, as we can start to say how hot and horny we are listening to the things you'd do to us. It might even prompt us to say where we're going to put our hands in reply to your actions, which then gives you something to work off.
When you are getting close to the end and you've had your partner moaning and groaning for a while, a simple "are you ready for me now?" can have them demanding back "yes, yes, yes". It will be sexy for them to hear themselves saying it, and it will be a huge turn on for you.
Heavy breathing and moaning
Words can be fantastic during phone sex. They can really help to set things up, but the hottest thing that you can hear is the moans, groans, and heavy breathing of your partner.
Most people use phone sex as the chance to masturbate, and you don't have to be shy about it. You can do that, and if you are vocal about how turned on and great it feels, your partner will find it incredibly sexy.
However, try not to pop too soon. If it is getting too much, stop touching yourself and simply listen, giving the occasional moan. You'll want to save yourself from the big finale when your partner is moaning loudly and saying "I'm cumming" repeatedly down the phone… and you'll love the sound of your moans mixing together.
Looking for more phone sex tips?
There are plenty of great phone sex tips here on the XEscorts blog, so if you are looking for a list of key phrases that you can use, you will definitely be able to find them there! However, you might have some ideas of your own that you want to share, and you have a few ways of doing this.
What do you think of the tips above? Are there some great tips you didn't think of in there? Do you enjoy a lot of phone sex? We want to hear from you, so let us know what you think. Latest posts by Lara Mills
(see all)
---
---