Why Is Disabled Sex Taboo?
April 17, 2015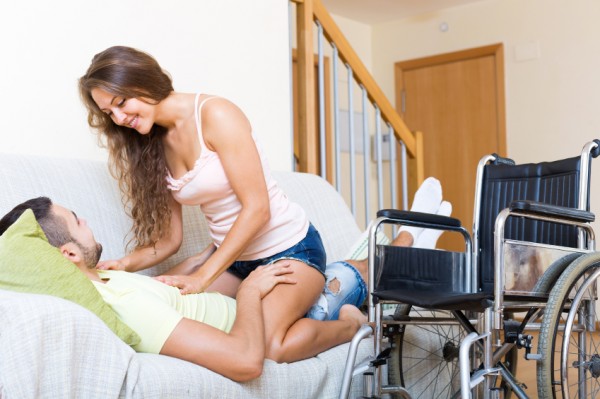 ---
Everybody wants to have sex. It is something that we all know and accept… for the most part. Yet when it comes to disabled people and sex, we don't like to put the two anywhere near each other. It has become a taboo.
For whatever reason, the idea of disabled people having a sex drive is alien to us. We don't think it is possible for them to form their own sexual relationships. Why? Why has disabled sex become a taboo, and is there anything we can do to change that? Here on the XEscorts blog we take a look.
Sex toys for the disabled
Sex is one of the basic needs. If you are in a relationship without you, you'll find the relationship going downhill fast, and often you are tempted to go and get your pleasure somewhere else.
The Gothenburg Cooperative for Independent Living wanted to show that sex and pleasure is for everyone, regardless of their circumstances. They set up the company 'Secreta' with the aim of bringing immense pleasure to disabled people around the world.
They have created some toys that can be used to pleasure disabled people, and they have three different forms: the dick, the pussy, and the fist.
It already sounds pretty unusual, right? The illustrated guide to using these comes in video form, and you can view the whole thing below.
Awkward and uncomfortable
If you didn't feel incredibly uncomfortable and awkward watching that, then there is something wrong with you. Everything about it is worrying, from the bright yellow "safety" clothing that both client and assistant have to wear, to the fact that they forbid eye contact to make it as awkward as possible.
It gets worse when the assistant goes to clean up the mess and you see a cartoon tear fall from the client's eye, before they show the correct way to wash the toy (not in the dish washer) and the client (take them outside and hose them down).
The video ends with the assistant walking out and leaving the client to watch some television, while the words människor i behov av assistans får dagligen se sina liv reduceras ned till en mekanisk, institutionell process" flash up at the end, telling us that for people in need, some aspects of life have become a very mechanical process.
However, the toys will never make it to the shelves of your local sex shop. Why? Thankfully, it seems that the entire thing is a work of satire, aimed to shock people into looking at the big issue regarding disabled people and sex… but why? Why have GIL decided to make sex toys the tools of activists?
Disabled living
Anders Westgerd, a spokesperson for GIL, recently did an interview where he spoke about what the toys were designed for, and why we need toys like this in the first place.
It seems that the "tools have been especially developed for the Live and Function fair", which is Scandinavia's largest fair running from the 14th-16th April, and takes a look at care and assistive technology. He points out that "there's a lot of focus on assistive technology but not so much on how to actually live when you are disabled."
Eager to change that, Westgerd points out that "this campaign isn't really about sex; it's just a way for us to reach out to people." However, the biggest point is what he says next.
"Sex and disability is a taboo. It all comes down to escaping from the idea that other people decide how we're supposed to live our lives. We're like anybody else and we want the opportunity to live like anybody else, too."
Changing the taboo
Westgerd points out that, while sex is something that we are constantly talking about, we don't really talk about it "in relations to individuals with disabilities".
It seems that the few times we do decide to talk about this topic, it is "more from a perverted or freak show-ish point of view. Having sex as a disabled person isn't something that we talk about. Also, there are plenty of people who think that sex isn't something that we do."
So, what can we do to change that? It seems the key is to get people to understand that actually, regardless of your disability, you are still human and so still get turned on by things. They are not "sexless objects", and deserve the chance to have sex the way they want to.
They want to take control of their lives and their sex lives by tackling the fact that, for many people, everything they do is planned and scheduled by someone else.
Taking control
It is time that we let disabled people take control of their own lives. They have their own thoughts and free will just like the rest of us, so why don't we let them explore it?
One of the big ways that disabled clients are taking control not only of their lives, but also their sex lives, is by arranging a date with a Swedish escort.
Escorts are some of the most understanding people. They don't see the wheelchair, the walking sticks, or the other equipment you use to help with your disability. They see the person, and know that you deserve love like anyone else.
Are you a disabled client, or are you an escort who regularly dates disabled clients? How do you think we can break the taboo about disabled people and sex? You can let us know what you think by popping your thoughts in the comment box below and let us know that way. Latest posts by Lara Mills
(see all)
---