Why It's Better To See A Professional Dominatrix!
January 28, 2019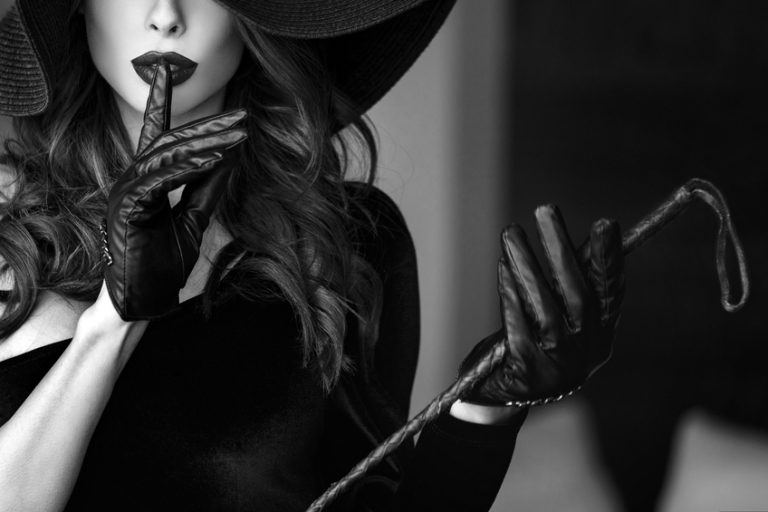 ---
BDSM is now more mainstream than it has ever been before. It is mainly thanks to the book and film Fifty Shades, and we just can't get enough of it. While we can agree that the portrayal of BDSM in the movie isn't exactly accurate, it has brought it to the attention of the general public.
It's now difficult to escape the world. It's everywhere we look, and that isn't necessarily a bad thing. Almost all sex shops now stock BDSM equipment so that you can explore in the comfort of your own home. My question is… why would you want to?
Yes, you could enjoy a hot session with your partner, but you are better off putting yourself in the hands of an expert. This is why you should see a professional dominatrix!
Breadth of knowledge
The world of BDSM is huge. There are so many things involved in it, from spanking to watersports to dog training. Often the awakening of a kink means that you have to spend hours researching with your partner to figure out what is involved and then plan things out carefully.
If you go to see a professional dominatrix, they will often have the knowledge already. They might want to discuss with you still to ensure that you have a thorough understanding of what is involved, but they already have the knowledge you need.
This means that they can easily guide you through it. They might even have some ideas about alternatives to try with you! If you have any questions, they'll be willing to go through them with you to keep you informed. Any misconceptions you have will be quashed and explained in order to keep things safe… but I'll come back to that later.
They have the experience
The first time I tried anything BDSM I was terrified. My partner was as new to it as I was. We both had the same level of understanding about it, because we'd researched together. Sitting down at a laptop just isn't the same as experiencing it, so we decided to jump in and see what happened.
It felt awkward. Neither of us really knew what we were doing but we forged ahead. At one point I said my safe word and my partner ignore it and continued on. This hurt me that they ignored me, because they thought I was just exaggerating. I didn't want to try anything with them again, so I decided to see a professional.
I was at ease with them in a way that I simply wasn't with my partner. From the start I felt relaxed. Their experiences mean that they know what to expect and what to do next. When things got a little too much and I said my safe word, they immediately ceased the action. They brought me out of the subspace and talked to me about what happened. I trusted them, and that trust made me willing to try more things.
They are professionals!
My first experience with BDSM with my partner didn't go well. Afterwards, it was hard to separate my feelings. I was still mad at them for not listening to the safe word and they were mad that I didn't just keep going. Whenever we were intimate after that it was hard to think of anything else but the failed attempt at BDSM.
By seeing a professional I didn't have that issue. Going to visit them in their dungeon established a clear line between kink and intimacy. Simply entering the dungeon put me into subspace.
Their expertise and knowledge meant that they were able to help me explore so many different things, and because I was in the subspace I was willing. But they also eased me out of the subspace. It wasn't simply a case of wiping their hands of me once the session was over. They took their time to make sure I was okay.
You're in safe hands
The above points all come together to make an incredible experience for you for one very important reason. You will always be in safe hands with a professional dominatrix. They know what is safe and keep their space safe for you. Listening is important to them, so if you say the safe word, they'll stop. In fact, many build up a relationship with their clients so that they don't even have to utter a word if they aren't happy. They just know and stop.
The equipment they have is the highest quality. It has been designed for use and is carefully looked after. You and the equipment are treated with respect while still providing an unforgettable experience!
They are also really discreet. For me, I was worried that others might find out that I'd seen a professional dominatrix. What if friends judged me for it? What if the dominatrix judged my kinks? I didn't have to worry about that. My domme was amazing and did not judge me at all. I felt totally safe that they wouldn't share any details with others. That helps to make it even better!
What a professional dominatrix has to say
It's all well and good hearing from me why I prefer to see professional dominatrixes. Yes, I do still explore BDSM with my partners, but sometimes you want to enjoy an experience with a professional. I've done it in the past and I will do it again, especially if there is something new I want to explore.
But if you really want to know why you should see a professional, it is best to hear it straight from the mouth of a dominatrix. In the video below, Alexandra Snow explains why someone might see a dominatrix. It is enlightening!
Professionals are able to offer a safe environment without judgement. I have never felt like a dominatrix has judged me for my interests before. In fact, there have been times when it felt like they were the only ones who could understand me. If you've ever felt that way, you might want to think about booking a session with a dominatrix near you!
---