Your Favourite Sexting Apps Might Be Banned
July 13, 2015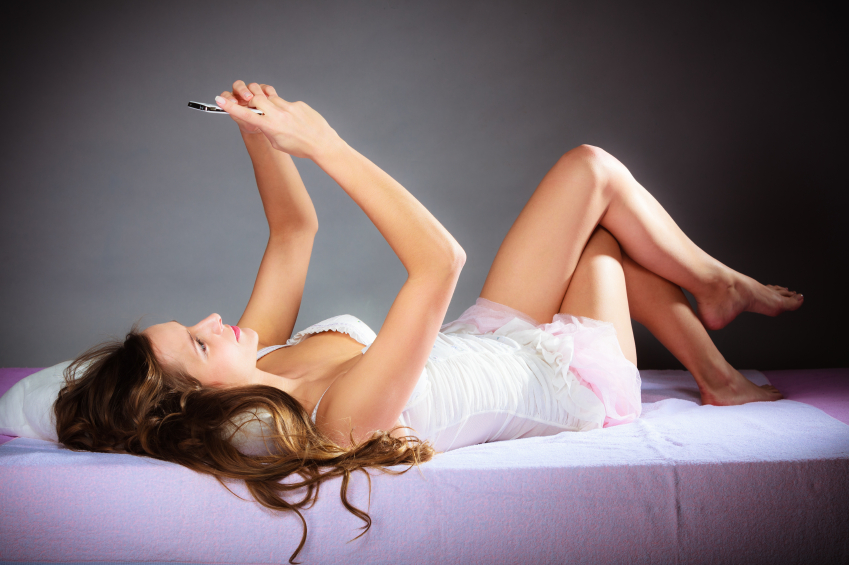 ---
We all love sexting, especially when you hear your phone ping with another great snap. You can enjoy getting a sexy snap of your partner in their lingerie and another one of them completely out of it for you to treasure forever… or as long as the app you are using lets you look at it.
However, if you use apps like WhatsApp, Snapchat, or iMessage to send and receive your hot and steamy sexts, you might soon find yourself with a gap in your life, as these apps might soon be banned under new laws.
"Potential security concern"
You might be thinking that it is all just paranoia and that Big Brother just wants to intervene in our lives and stop us from sexting, but the apps have brought in some genuine concerns to the government. They believe that there is a potential security risk from using these apps, as they have encrypted messages.
Basically, it means that only the person that the text was meant for can read it, but the government doesn't like that. After all, the sext where you describe licking your partner's clit could actually be code for some nefarious plan to take over the world, and we can't have that, can we?
The Home Secretary, Theresa May, believes that we need to ban these messages so that the government will be able to check for potential security risks. It could mean that your favourite sexting apps are no longer legal and allowed, but it could also mean that the government will be able to read that hot and steamy sext you spend half an hour working on.
Doesn't sound too good, does it?
Snoopers' Charter
The law that could make this nightmare a reality has been dubbed as the Snoopers' Charter, although it is more commonly known among government officials as the Draft Communications Data Bill.
It means that those companies that are providing an internet service of some kind would have to keep track of what their customers are doing online, with the documents and logs of their activity needing to be kept for a total of 12 months.
So it wouldn't be a case of them reading your latest horny sext to that girl you met in the bar last night, but they would actually be able to see all of the different things you do online – and that seems to include the porn that you watch.
The bill was actually first proposed in 2013, but was blocked by the Liberal Democrats. Clearly they understood how terrifying it is that the government might be seeing those nudes you sent. However, if this proposal is successful then it could become a law as soon as 2016. Yikes!
A new version of the bill, with alterations to include apps like WhatsAp, iMessage, and Snapchat, is going to be proposed in the autumn, and now that we are no longer in a coalition government, it seems highly likely that the Tories will put the bill through.
Is there hope?
It seems like a dark time for sexting, and you might be losing hope that you can enjoy the hot and steamy sext session you do right now in the future. Best to get lots of sexting done now then, right?
Well, there is actually a small glimmer of hope. The restrictions that the government plan to put in place could be met by apps like iMessage, Snapchat, and WhatsApp, meaning you can still quite happily use them to send nudes or dirty texts.
Not only is it highly likely that those type of apps will meet the restrictions put in place, but there will probably be a wave of other apps that offer safe alternatives while still staying in the boundaries of the law.
However, the downside is that the government will, more than likely, be able to see what you are sending, which is probably going to put a lot of you off. After all, you might be fine with sending a dick pic to that hot and sexy woman you fancy, but the idea of your local MP seeing it might be a bit of a turn off.
Safe sexting
It does mean that the reason we use those type of messaging apps in the first place might soon be gone, but there are still ways to keep your sexting safe and you don't need to lose your cool over the government watching you. After all, the government isn't really interested in what you would do to that sexy lady if she was with you. They just want to make sure that people aren't doing things that they really shouldn't be doing, and sexting, as far as we know, is still perfectly fine.
However, that won't stop you from worrying, will it? If you are really worried about what might happen with sexting, you might want to follow your own restrictions. Feeling uncomfortable about your nudes being seen by someone other than your intended? Don't send them. It might seem like an extreme way of doing it, but you can actually make things more exciting by describing what you are doing.
Take the time to explain how hard you are, and that you are wrapping your hand around your cock as they describe the black lacy lingerie they are peeling off their hot body for you. It will turn you both on as you visualise what is happening without risking someone else seeing your nude pics.
What do you think about these potential restrictions? Is it a bit too 1984 for you, or is it something we should just expect nowadays? Let us know your thoughts on the matter by leaving a comment in the box below. You might even find some great tips of making sexting safe, so why not check the comments? Latest posts by Lara Mills
(see all)
---