3 Hot Sex Games To Push Your Boundaries!
April 24, 2018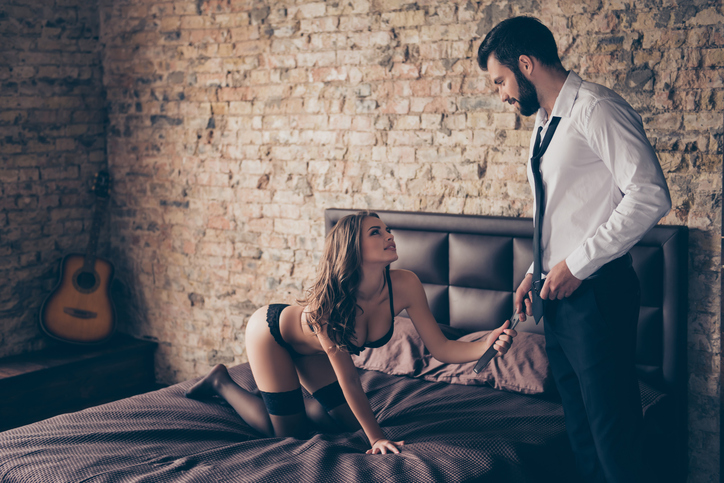 ---
Sex is fun, but sometimes we want to try something new. It is fun to push our boundaries and discover things we like it bed. We could discover a kink we never knew we had, or we could find something that our partner loves. Often, hot sex games are a good way to do this.
There are plenty out there that we might like, and they can really help us to expand our sexual horizons. Here are three hot sex games that you should try.
1. Sex dice
You'll have probably seen sex dice sold in a variety of shops throughout your life. They are great tools to keep in your goodie drawer for that special occasion, and because they are so cheap to buy, you don't break the bank to add them to your collection!
They are excellent to use because they force you to mix things up. Usually, one has on it a body part while the other has an action. Die number one might say "neck", "lips", "thighs", and things like that. Die number two might say "lick", "pinch", and "suck" on it. The rules are simple: you roll the dice and do what they say.
Not only is this ideal for spicing up foreplay and pushing your sexual boundaries a little, but you can even make up your own in case you don't like the options on the dice. You can just get normal dice and decide with your partner what each number represents. It personalises your dice without you having to spend much money on them.
2. Positions on cards
Another great item you should look at buying is a pack of playing cards. However, look for sex positions cards. They allow you to really spice up sex and push your boundaries by giving you and your partner a new position to try.
They are simple to use. All you do is shuffle the deck and choose a card at random. Once you have your card, you and your partner then try the sex position you have drawn. It is great to get you trying new positions.
Not a fan of the positions on offer? Like the sex dice you can customise the deck to your desire. Split the pack evenly between you and your partner and take your time writing positions you want to try on the cards. Then you shuffle them and choose one. This way, they are things you actually want to try, instead of really complicated positions you just don't think you are ready for.
3. Truth or dare?
At some point in your life you will have played truth or dare. What you might not realise is that this game is ideal to try in the bedroom. By keeping your questions and dares focused on sex, you can learn more about your partner and try new things at the same time.
Struggling to think of things to say? There are plenty of lists online to help you get started. This list from Vixen Daily might be perfect to start with. However, try thinking of your own, as that will make things more fun!
If you want, you could sit down your partner and plan some questions and dares. Something that works well is using two colours of lollipop sticks and writing them onto those. Choose one colour for the truth questions and one for the dares. Keep them in a jar for those moments when you feel really horny. That way, you'll both be surprised by the things that you choose at random.
Other hot sex games
Hot sex games are a lot of fun. They help you to expand your sexual horizons and push your boundaries. The three I've mentioned above are some of my favourites, and they work really well! However, there are plenty of other hot sex games out there.
Do you have a favourite not listed above? If so, tell us all about it. You can use the comment box below to describe it and tell us why it works so well. What are you waiting for? Latest posts by Lara Mills
(see all)
---