5 Fun Ways To Enjoy Cool Sex This Summer
May 20, 2018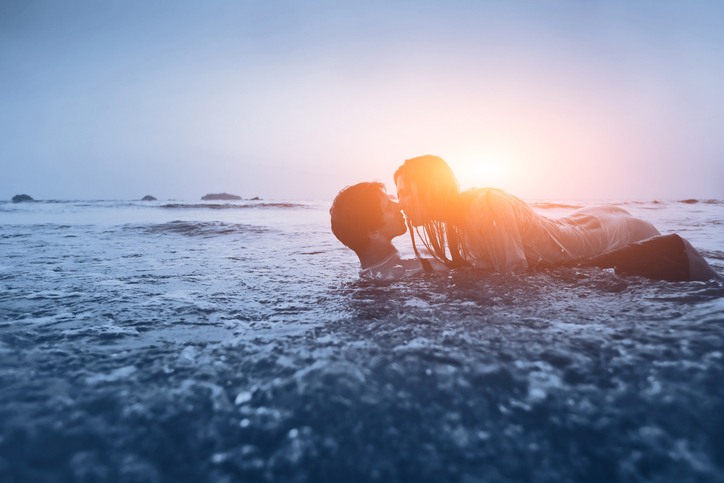 ---
The sun has been shining, and most people have been taking advantage of the good weather by heading outside to a beer garden to enjoy the sun. Some of us have been feeling more turned on than usual, and so we've been hopping into bed. The problem is that summer sex is often hot, sweaty, and uncomfortable.
Even as things heat up we still want to fuck. Why should we stop just because things are hotter? Opening windows is a good idea, as long as you don't mind anyone nearby hearing what you are doing. You could also use a fan to keep the room cool, but this is going to give you a huge electricity bill by the end of the month.
Thankfully, there are alternatives. In fact, I have five fun ways you can enjoy cool sex this summer. Take a look to see how I stay cool in the hottest moments, and suggest your own if there's something you think I've missed.
1. Sex in the shower
In the summer time, when the weather is fine, most of us will hop into the shower when we are a little warm. We'll turn the temperature way down, blasting ourselves with the cool water to try and stop ourselves from melting in the heat.
The shower might just be the perfect place for you to have cool sex this summer. Most bathrooms tend to be tiled, which helps to keep them cool. However, because you can turn the temperature of the water down, it is also a fun way to beat the heat!
Sex in the shower is a lot of fun, although depending on the size of your shower you might find yourself presented with challenges. Getting the right position is tough. The best ones tend to be oral, with one partner kneeling, or taking your partner from behind. If you want to get a little more creative then feel free, but use caution. Showers are slippery!
2. Ice ice baby
The chances are that your freezer is well stocked with ice cubes. You might have your own ice trays full of them to help cool you down, or you might just buy a large bag from the shop to save yourself from having to wait for them to freeze.
They are also a fun way to enjoy cool sex. Temperature play is kinky and thrilling for you and your partner. Best of all, all you need is some ice. That's it! Exactly what you do with that ice is completely up to you, but if you are struggling for ideas I have a few suggestions for you.
You could try moving it all over their body in a slow trail, which you follow with your lips. It'll leave cool water on their skin, and the contrast between the cold of the ice and the hotness of your mouth will be a huge turn on. Better yet, put an ice cube in your mouth when performing oral. It is going to give them an intense sensation and really blow their mind!
3. Ice cream fun
If you've found that ice cubes are a little boring, you might want to pull a tub of your favourite ice cream from the freezer instead. You can try food play while also keeping your partner cool during sex, even if things might get a little sticky.
The best thing about this is that many shops will have sales during the summer, so you can pick up your favourite flavours for cheap. You can be savvy, save money, and have some kinky fun all at the same time!
You'll want to try drizzling some of it onto your partner's body. Try to do it just a little bit at a time, otherwise it will melt and slip down onto your bedding. If you don't mind things getting sticky then go crazy! You and your partner could cover each other in the sweet stuff and roll around on the bed together for a really sexy time.
4. Lube it up!
Lubrication is vital for amazing sex. Not only does it make pleasuring your partner much easier, but it helps you to slip easily in and out during sex. A little goes a long way, and for those times when you want to have fun without the long build up of foreplay, it is ideal.
When the summer comes, try swapping your standard lube for a cooling lube instead. Sometimes referred to as tingle lubes, these lubricants often have menthol or mint in them. These create a cold sensation when applied, and can feel very pleasant.
Think of how your skin feels when you've used a mint body wash. Cooling lubes have a similar effect, but they are made to use in your most sensitive areas. Imagine getting a blowjob while lubed up with this? It'll be unlike anything you've ever experienced before! Just be careful if you have sensitive skin as you could react badly to it. Test it first before you slather your member in it… just in case.
5. Outdoor sex
As soon as we get the slightest hint of sunshine and warm weather, most people go outside. They might take a walk through a park, enjoy a picnic, or head to a nearby beer garden to drink a cool pint with their friends and enjoy the sun while they can.
In other words, we want to be outside. It is a great way to keep cool, and when it comes to cool sex, it's also a lot of fun. Sex outdoors is risky, but that is what makes it so great! Before you go rushing off to your local park, take a moment to think. Are there more secluded places you can catch a breeze?
If you have a garden, that might just be the ideal location, especially if it is secluded. You'll get out in the fresh air and fuck, and even if you are cut off from the world by a high fence, it still feels naughty. Don't have a garden thanks to the flat you live in? Open up the balcony doors and take your partner from behind as they lift their skirt. You'll get the fresh air and enjoy the risks at the same time, while also keeping cool.
More ways to have cool sex
There are so many different ways for you to enjoy cool sex, and the five above are just a few of my favourites. They allow you to beat the heat and still have fun, because let's be honest, we aren't going to stop having sex just because things get a little sweaty.
I am sure that there are plenty of other techniques you can use to keep sex cool during the summer months. What is your favourite? Have you got a tried and tested technique you think others should know about?
Sharing is caring, so why not tell us all about it in the comment box below? You can help others with your top tips, and you might just learn something for yourself. Latest posts by Lara Mills
(see all)
---