5 Sex Games You'll Only Need A Phone To Enjoy!
January 23, 2017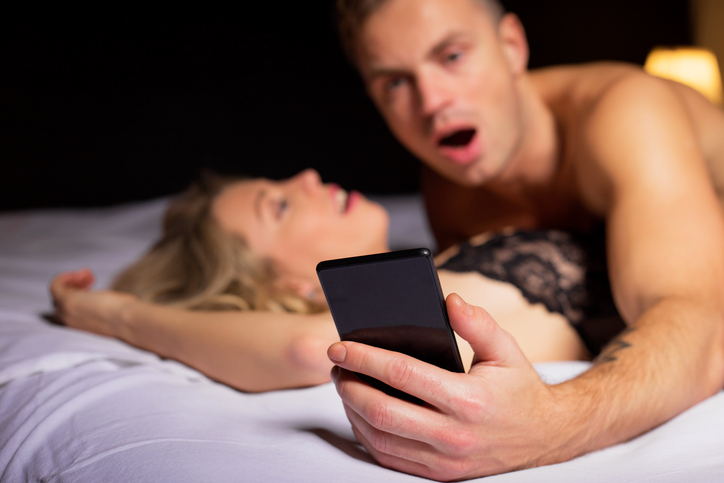 ---
Sometimes we get bored with sex. It isn't because it doesn't feel good. It is simply that we tend to do the same things over and over again. It gets predictable, and so we start trying to think of ways to spice things up. A lot of the most popular suggestions require loads of equipment. Things like bondage ties and sexy board games. But what if you just want to use your phone to play hot sex games?
Don't worry. We've got you covered. Here on the XEscorts blog we take a look at five sex games you can play with your partner right now… and all you'll need is a phone for your fun!
1. Sexting
Your phone is a fantastic tool for a number of different reasons. It is perfect for you to take into the bedroom, especially if you are feeling a little horny. You can watch some porn on your phone or send a dirty text to your partner.
If you and your partner can't be together for whatever reason but you are keen to spice things up, you'll find that sexting is the perfect thing for you to do.
You can tell each other a story with your sexy texts, going into detail about your deepest fantasies. Best of all, you can save those messages for a later date when you are feeling horny and want to experience it all again.
Saving the messages is great, especially if you want to re-enact your sext session. Next time you meet, simply sit down with your partner in bed and start to read it to each other. You can then work on doing exactly what you promised to do in your messages and leave them feeling really turned on!
2. Truth or dare?
Talking about sex with your partner is tough. You might not feel confident to talk about your hottest sex dreams and fantasies. This is why playing a game of truth or dare is a great idea!
There are plenty of websites you can visit and phone apps you can download to give you some suggestions to try out.
It is great because you get to start a sexy conversation with your partner without having to think of the questions yourself. The questions and dares are already there for you, so you just have to choose the ones that you like the best. Afterwards take the time to discuss your answers in detail. You might just share a fantasy!
3. Digital sex dice
Your phone will give you access to a number of different apps you can use to spice up your sex life. There are virtual versions of the Kama Sutra for you to be inspired by, so you can check out a few different sex positions you have always wanted to try. There are plenty of "massage" apps that allow your phone to vibrate for a long time, so you can sensually rub your partner and get them really turned on.
There are other apps you should check out. If you want to spice up foreplay a little and mix things up, you can actually download digital sex dice.
They are simple to use and a lot of the apps give you the chance to customise the options on the dice. This means that you can shake your phone and get the kind of results you really want to see… so you won't end up with something like Marge and Homer did in that episode of The Simpsons!
4. The foreplay timer
We don't spend long enough of foreplay. This is hardly a secret. We often get so turned on and keen to fuck that we forget to slow things down and see just how turned on we can get our partner. There is nothing quite as hot as hearing your partner begging for you to fuck them, which is why foreplay is so good.
Struggle to resist the urge? Set a foreplay timer. You won't need any special apps for this, as you can simply use the clock function on your phone. Give yourself five or ten minutes and set yourselves a challenge – you aren't allowed to fuck until the alarm goes off.
This means that you'll have to keep teasing each other until it rings. You'll find that is gives you the chance to really explore your partner's body and turn them on. When the timer does eventually ring to tell you that your time is up, you'll jump on each other and have some of the hottest sex of your life!
5. Countdown to cum
There is something else you can do with a timer. Instead of holding off of sex, you can instead switch it around. Set a timer that you and your partner can both see and then fuck.
The difference is, this time you should try to hold off of your orgasm. Countdown with the timer and see which of you can resist best. As the numbers get lower you'll find it is incredibly sexy hearing your partner trying to count in reverse as you fuck them. You'll want to go harder to try and put them off.
It also turns your session into one of the hottest sex games, as you will want to last longer than your partner. If you don't manage it don't worry, as you'll both still feel fantastic!
Your favourite phone sex games
Sex games are a fun way to spice things up, but a lot of people find that they require too much equipment. Yes, you can buy sexy board games, but you just want to keep things simple. This is why using your phone is a great idea.
There are so many different things you could do with your phone in the bedroom. If you are feeling inspired and have a few suggestions you want to share, you can use the comment box below. You could also join in the discussion and see what others think.
Vote for the game you would love to play in the poll and see if others agree. You might be surprised by the results. Latest posts by Lara Mills
(see all)
---