5 Ways You Can Improve Your Sex Life With Porn
May 12, 2017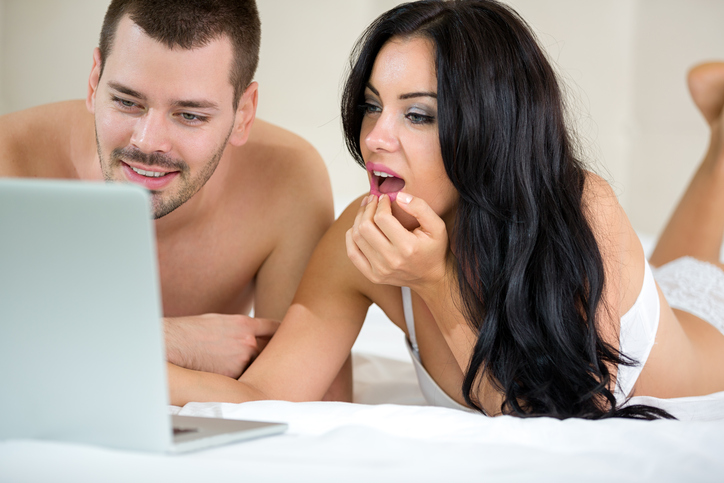 ---
Most of us are happy to admit that we watch porn regularly. Porn is a fantastic way to let off steam and de-stress, and it is a turn on to watch sexy people on the screen getting up to kinky things. However, for some watching porn is simply something they do when they are horny, when actually it can improve your sex life.
Not convinced? Maybe you are simply curious to know how watching your favourite porn star can make sex better for you. Here on the XEscorts blog we tell you the five ways that watching porn can improve your sex life.
1. Discover new interests
We primarily watch porn to get turned on. Most of us will know the kind of videos we like to watch. Maybe we go to a specific category, such as lesbian porn, to see what new videos are there? Perhaps we like to see the hottest videos to try something new?
When you watch porn you'll notice that certain things get your heart racing. You might love it when the woman sinks onto her knees before the man and licks her lips, and so every time you see it you get excited. However, you can also find new interests this way.
While watching porn you might spot something that turns you on. It might be something you didn't know about before, or something you never thought would appeal to you. But you are responding. You get to discover new interests from your comfort zone, which is fantastic for you!
2. Learn more about kinks
If you have discovered a new kink you'd love to learn more about, or your partner has confessed to liking a hot sex act you know little about, porn is actually a great way to start your research into the subject!
There are millions of porn videos out there for you to watch, meaning that your fetish is going to appear. Rule 34 of the internet tells us that, if it exists, there is porn of it. It is just a matter of finding it!
When you have found it you can find other similar videos to learn more. You can see the proper way to spank somebody, or even discover tutorials on the best knots for tie and tease. Perhaps you are struggling with an erotic massage and need some tips? These porn videos can really help you improve your sex life if you pay attention.
3. Share your favourite porn
Most of us think of porn as a solo act. We'll put it on, jerk off, and that's that. We rarely think about sharing it with our partner, but it is actually a fantastic thing to do!
For a start, it is a quick way to show our partner what we want in bed. Struggling to tell them that you want to hear more dirty talk? Show them a video with plenty of it. Make-out with them as you watch and start moaning when you hear the dirty words. They'll take the hint and try it.
It can also be a great way to share the knowledge you have picked up about kinks. If they have told you about an interest of theirs and you have found a video about it, you can show them. They can then tell you if it is the type of thing they like and, if it is, you are on to a winner! If not? Ask them to show you a more accurate video.
4. Watch and learn
You can use porn as a tutorial, but you can also use it to learn new things to try. Struggling to think of new positions to spice things up during sex? Find a porno you both love and put it on in the background.
Take the time to follow the porno. It'll be a huge turn on for you both and it is a great way to improve your sex life! It'll inject a little fun into things and spice things up, all without you having to think of different things you want to do.
It is going to make sex more exciting for you, and because you get the chance to watch porn stars getting into different positions you might just discover something they love. If they don't love it, then don't worry. Porn stars change positions a lot so you can try something new in no time!
5. De-stress!
When you are stressed you aren't going to be in the mood for sex the same. You'll want it just to let off some steam, which is another way porn can improve your sex life.
Use porn as a way to get rid of that tension instead of using sex for it. With porn you can quickly jerk one out without worry, saving all of your energy and efforts for the bedroom. Not only will jerking off first help you to last longer, but it also means you will put more effort into sex. You aren't feeling as stressed so your focus will be on your partner and not yourself.
You'll feel happier for it and more eager to enjoy sex. Let's face it, how many of us have felt angry or upset after an intense orgasm while watching porn?
Porn can improve your sex life
Porn is an incredible way for you to improve your sex life, and because there are so many videos out there you can choose what to watch with ease. There is something out there for everybody, so whether you watch solo to get ideas or you share with your partner, it is going to work wonders for you.
Got some other tips for spicing things up? Leave a comment in the box below. We want to hear from you, so tell us how you use porn to make things more exciting in bed. Latest posts by Lara Mills
(see all)
---