The 6 Best Sex Positions For The Shorter Man
November 16, 2017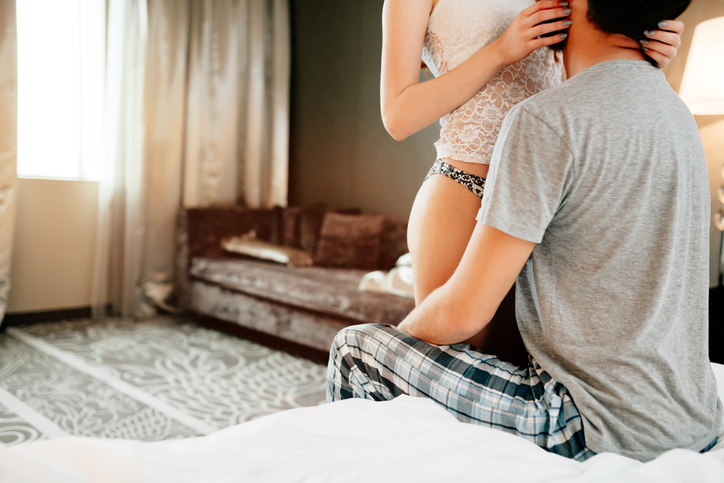 ---
Height can really make things tough in the bedroom. There are plenty of different positions you can try, but knowing which ones will work is going to be hard. If you are a shorter man you don't want to have to experiment with your partner to find out. You'd rather know which work before you get into the bedroom.
If you want the answers we have them for you right here! Take a look at the 6 best sex positions for the shorter man.
1. The butterfly
This is the perfect position if you want to do something a little different and get out of the bedroom. Sex on the table is a fantastic way to do it, and this position is ideal if you are a shorter man. All you have to do is lie your partner back on the table.
They can then rest their legs over your shoulders. This allows for deep penetration and you'll find that you don't have to worry so much about the height difference! Plus, your hands will be free to play with her. You can put your hands under her ass to lift her a little and change the angle, or you could instead play with her clit as you fuck.
2. The good spread
Some positions can be a real struggle if you are short and your partner is taller. Thankfully, you can adjust them to make them better. For example, the good spread is a fantastic version of the girl on top position.
It'll test your partner's flexibility a little, but will allow for really deep penetration. It also puts your partner in control so they are more likely to get off on you. After all, they know the best way to move to make it feel good!
3. Edge of heaven
Feel like taking a seat? The edge of heaven is ideal for you. It can be a bit more of a challenging position to get into, but like the good spread above, it puts her in more control, making it easier for her to come.
You'll sit down in a chair and she'll sit in your lap. You'll then lift her legs so that they sit comfortably over your shoulder. It will allow for really deep penetration and put you on eye level with her tits, making it the perfect position if you want to admire her boobs.
4. Twisted missionary
Missionary can often seem more challenging if you are a shorter man. You feel like you just aren't on eye level with her, or you spend time trying to wrap her legs perfectly around your waist.
So don't bother. Instead, get her to move her legs back towards her, as shown in the image below. Like the positions above it allows you to get deeper, but it will also give you the chance to look into her eyes as you fuck.
5. Scissors
Scissors is a position we usually see in porn when we watch lesbians at it. However, it is also ideal for the vertically challenged. It feels kinky and fun and will really spice things up.
You'll get to admire your partner's legs up close and personal, and the angle means you will be hitting her g-spot with each and every stroke. Perfect for your hot sex session!
6. The tight squeeze
If you'd rather be the one standing up and taking charge, you should try the tight squeeze position. A counter, desk, or stool will work perfectly for it, and it will create the kind of close and intimate atmosphere you want for hot sex.
Get your partner to sit on the edge of your chosen surface and wrap their legs around you. You should then be able to slip easily inside of her. The bonus is that the position will allow you to be face to face while you fuck.
Challenges for the shorter man
When you are a shorter man it can be a real challenge to find sex positions that work for you. Hopefully these positions listed above will work for you. If not, leave a comment below.
Got some other things you'd like to ask about? You can use the comment box below to post your questions! You can even suggest your favourite sex positions for others to try. Latest posts by Lara Mills
(see all)
---