6 Different Things To Do With Foreplay
June 3, 2016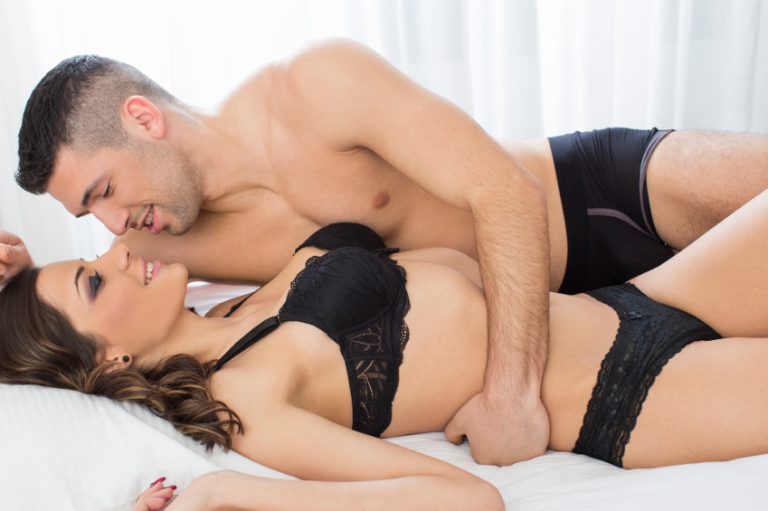 ---
Sometimes, foreplay can get really boring. We'll do the same few things over and over and find that it is becoming very dull very quickly. A quick bit of tongue action and jumping into sex doesn't always work, but finding something different that works for you can be tough.
There are so many different things that you can do during foreplay, and here on the XEscorts blog we have put together 6 different things that you can do to make foreplay more interesting for you and your partner in the future.
1. Sexting
Believe it or not, sexting is one of the best things you can do as part of foreplay, simply because you don't even have to be in the same room as your partner. You could be at work, sending a cheeky and naughty message to them, describing all of the kinky things you'd like to do together.
Sending a sext is a great way to spice things up. You'll have plenty of time to think about the things you want to say, and it can turn your partner on before you even get there. It means that, when you do eventually see them, they will jump on you, and you'll have a fantastic fuck together.
Not sure what to say? A simple message saying "remember the last time we fucked?" will work well. They will remember the last time, remember how great it was, and you can then offer to re-enact it with them.
2. A sensual massage
Enjoying sex is tough if you are feeling stressed. After a long week at work, most people will feel a bit uptight. A good way to solve this is with a slow and sensual massage.
It gives you the chance to touch your partner all over their body, and to also help them relax. Plus, as you slide your hands slowly over every inch of their skin, they'll get turn on. You can then easily move from massage to sex.
The best way to start is at the very tips of their fingers and work your way in. Get them lying on their front and use a nice massage oil on their skin. Take your time, as the slower you go, the more sensual it will be. It will really tease them and get them in the mood, and if you wait to touch their sensitive areas until the very last moment, they will be begging you to fuck them.
3. Naughty confessions
A fun way to spice things up and to talk to your partner about your kinky interests is to share your naughty confessions with each other. Looking for ideas? The blogs can help you out.
Sit down with your partner and tell them that you want to share some of your fantasies with them, and that you would like to hear theirs, too. Make some rules that you won't laugh and that you will take the time to listen and ask questions afterwards.
It will work even better if you talk about the fantasy as though they are in it. Say things like "you would command me" to show that it is them that you fantasise about. This will be a bigger turn on for you both, and they might decide to then try your fantasy with you.
4. The sexy strip tease
A strip tease is the best way for you to turn both you and your partner on quickly, and the show is going to be a lot of fun to try. If you are the one enjoying the dance, all you have to do is sit back, relax, and enjoy the show. There will be some nice music playing, but you might decide to try dancing yourself.
Choose a sexy song to play. Not sure what to go for? Hype Means Everything have the 10 best strip-tease songs of all time for you to take a look at. You might just find the perfect inspiration for your fun.
When it comes to the strip itself, stick with the beat of the music. The slower it is, the better your strip will be. Take each item of clothing off slowly and just have fun with it. The more fun you look like you are having, the better it will be.
5. Hot and cold
Temperature is a fun way to make things more interesting in the bedroom, especially when it comes to foreplay. By playing with the temperature you can excite your partner and try something knew.
Ice cubes are an excellent way to do this, especially on a hot summer's day. Get a glass with ice cubes in it and take it into the bedroom. Get your partner to lie down and close their eyes. While their eyes are close, gently run an ice cube over their body. It will excite them. It is even better if you take an ice cube and keep it in your mouth while you suck on their nipples or eat them out. They'll love the change in temperature between your tongue and the ice cube, and when it melts away you can simply get another.
Massage candles are another excellent way of adding heat to your foreplay. You light them, let them melt a little, and then blow out the candle. You'll have a nice, hot massage oil to rub into your partner's skin. If you drop it from a height, it will have enough time to cool so that it doesn't scold them… but it will still feel nice and warm. It will be a huge turn on to then run it into their skin.
6. Let's play a game
Sex games are another fantastic way to spice up your foreplay. Instead of trying to think of a new way to do oral sex, you can play some sex games to spice things up… and there are a number of different ones that you can try. If yo like the idea of a strip tease, strip poker might work well. It will put you in direct competition with your partner, and you'll work hard to win because you want to see them strip first!
Sex dice are also a great way to make things interesting. When you roll the dice and it says "kiss neck", you'll have to do what it says. If it says "lick leg", then you will do that too. It means that you will have to spice things up in the bedroom, as the dice tells you what you have to do. Instead of following a plan for foreplay, you'll just listen to what the dice say.
There are also a number of games that you can play that involve time. Some, like seven minutes in heaven, are pretty self-explanatory. You set a timer and can do whatever you want to with your partner within those seven minutes… except for sex. You can kiss, you can lick, you can even give them oral… but sex is not allowed. You have to wait until those seven minutes are up before you do that, and when they are up, you will pretty much attack each other because you are so turned on and ready for sex.
Other ways to do foreplay
Foreplay doesn't have to be the same things over and over again, but it also doesn't have to be really complicated. The six different ideas above are simple enough to do that you won't really need any equipment for a lot of them, and those that do require it don't need you spending lots of money, as you'll probably have the stuff anyway!
There are so many different things that you can do to make sex exciting again, and our blog has some great suggestions for you. The ideas above might inspire you for your next meeting with a local escort, or you might have some other ideas you want to talk about.
If so, you are in the right place! You can leave your thoughts in the comment box below and tell us what you think. You might just discover some hot and kinky ideas that you can't wait to try, so what are you waiting for? Latest posts by Lara Mills
(see all)
---