The Christmas Porn We Can't Get Enough Of!
December 14, 2017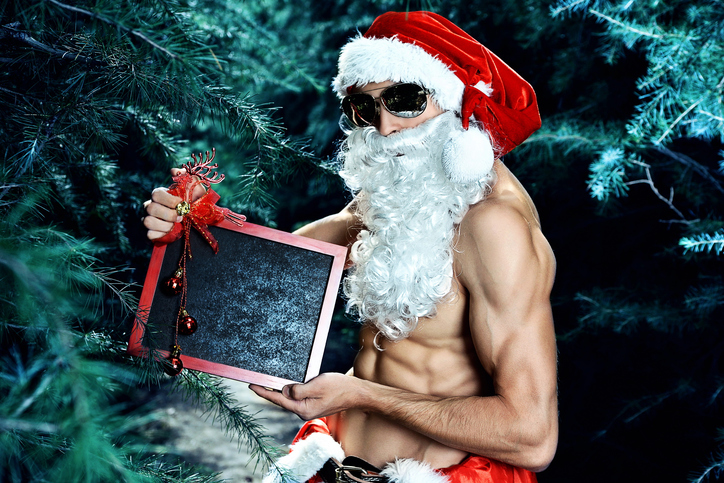 ---
It's the most wonderful time of the year, and according to Pornhub this makes it the perfect time for us to watch some Christmas porn. It seems that we just can't get enough of it. Our usual lesbian porn and facial compilations are being swapped for something a little more festive… but why?
What is it about the festive season that makes us reach for our laptops or phones and put on something kinky to watch? Is it the snow outside making us want to stay inside and keep warm in another way? Or can we not resist the sexy red colours everywhere? We take a look at Pornhub's insights to find out.
The Christmas porn we love
There are some things we associate heavily with Christmas, and these words are some of the most popular to search for when it comes to Christmas porn. Things like "santa", "Christmas present", and "elf" are some of the most searched for in porn at this time of year, with "santa" getting a 447% rise in searches!
However, for some people this just isn't kinky enough. They want to add a little naughtiness to their porn searches at Christmas. "Christmas orgy" is the perfect example, and the number of searches for this jumps up 796%!
"Christmas gangbang", "Christmas creampie", and "santas horny helpers" (sic) are some of the other things we are looking for, as well as "dick in a box" for those fantastic Christmas surprises we love so much.
Women's favourite porn
It seems that men and women like different types of porn, so which Christmas terms are searched for more by women at this time of the year? It seems that, while men are 34% more likely to look for Christmas porn, their priorities are not the same as women's.
Women want to find "old Santa Claus" to watch, with "Christmas lesbian" and "Christmas gangbang" thrown in for good measure.
While "Santa blowjob" does appeal to women, it is one of the least popular searches made by them, as it is only 12% more likely to be searched by women. It seems that women have different ideas about kinky sex.
Men's favourite porn
Men, on the other hand, would rather experience Christmas in a whole new way, as they are 313% more likely to search for "Christmas pov". They want to watch the naughty Santa's helpers sucking on that cock as though it is their own. We already know that VR porn is popular in Sweden, so perhaps this ties in to it?
While women aren't as interested in blowjobs during the festive season, men are. 185% more interested, in fact, as "Christmas blowjob" is the second most popular search. This might have something to do with the POV porn.
Other popular searches by men are "Christmas milf", "Christmas step mom", and "Christmas anal". "Naughty Santas helper" (sic) is another top search, so it seems that, while women prefer to turn to Santa, men like the elves instead.
A Swedish Christmas!
On Christmas Day we tend to have different priorities. While we might like the idea of sneaking off to watch some Christmas porn, we are simply too busy. We'll do other things, such as spend time with our families and eat our weight in Christmas pudding.
In their insights, Pornhub also took a look at the drop in traffic during Christmas Eve and Christmas Day. They wanted to see just how little we want porn during the holiday season.
For Sweden, it seems that we still want to watch porn more than many other countries. Sweden is fifth on the list, with only a 14% drop in traffic! This might seem like a large number, but only Germany, Netherlands, Austria, and the United States watch more porn then.
Watching porn at Christmas
Christmas is said to be the most wonderful time of the year, and that might have something to do with porn. We can't get enough of sexy Santa bending over a naughty elf and fucking them from behind!
Do you enjoy watching Christmas porn? Let us know which searches are your favourite by leaving a comment in the box below! Latest posts by Lara Mills
(see all)
---