The Emoji Vibrator Makes Sexting Fantasies Real!
August 31, 2016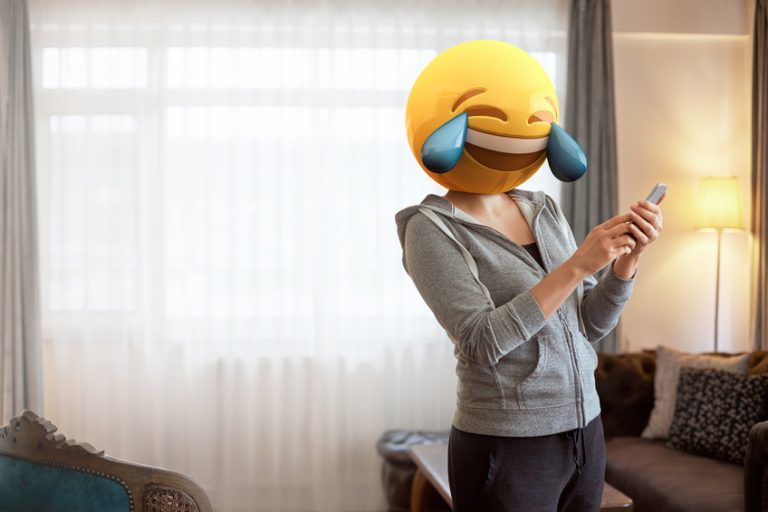 ---
Sexting is a huge deal. It is something that a lot of people do, because once you get the hang of it, it's easy! You simply send off a saucy message and you are done with it. Many like to add emojis to hint about the kind of kinky things that they like, using the aubergine or eggplant next to a peach to hint that someone was going to enjoy some rock hard cock in their pussy.
Emojis have become an important part of sexting for many people. We find that slipping the odd waving hand in helps to show that we really want spanking. Sending the camel to someone also is a great way to ask if they are up for sex. No matter where you look, emojis are everywhere. You can buy cushions with them on, and now it seems that the emoji vibrator you never knew you needed has arrived!
If you have ever wanted to shove a purple fruit into your body in an unconventional way, now you can! We take a look at the emoji vibrator and just how it might help to make your sexting fantasies real.
An emoji vibrator
Have you ever looked at an emoji and thought "you know what the world needs? An emoji vibrator"? If not, you aren't alone. Honestly, it is a thought that has never really crossed my mind when I've added the peach to the end of a saucy message.
However, for Jaime Jandler it seemed like the logical thing to do, especially with how often the purple eggplant emoji, or aubergine emoji, is used. She wanted to make a sex toy that added a little bit of fun to the bedroom, so that when someone tells you to go and fuck yourself with emojis, you can!
Named the Emojibator, the toy aims "to make masturbation fun, easy, and accessible." In fact, Jandler says that "whether you're looking for self pleasure, a playful and perfect gift, or embracing the inner vegan, the Emojibator will certainly please."
On the website you can find out a little more about it. The toy will set you back $32, and currently is only shipping in the US. However, we imagine that it is going to be hugely successful, which means it is only a matter of time before you can bring your emoji vibrator into your own bedroom.
Not only is the toy waterproof so you can take it, and your waterproof phone, into the bath with you for some fun, but it also has ten different settings. Your emoji vibrator can make you squeal in a number of different ways. Plus, as the website states, it is a great way to get your serving of vitamin D.
Why we love sexting
The emoji vibrator has come about from the huge amount of sexts that we have been sending. It seems that everyone is at it, sending saucy messages to their partner to try and turn them on and leave them wanting more. But why?
There are so many different reasons why we love sexting. For a start, it is a fantastic way to enjoy foreplay with your partner without actually being in the same room. You can start the sensual seduction with a quick text their way when you are leaving work, letting them know how excited you are to see them. This will start to get them wet and horny for the fun to come.
It is also the perfect way for you to experiment with your fetishes. You can see what your partner is willing to play out with you in text form, and you can also learn about their kinky interests. They might say something that surprises you. They might even decide that the idea isn't for them. If that is the case, rejection is a lot easier to take in a text.
Enjoy a little phone sex or sexting is perfect for those times when you cannot be with your partner. You can let them know exactly what you would want to do to them when you see them, and then when you do meet up, you can make good on all of your promises. Just make sure you don't promise something that you can't do!
Would you buy the emoji vibrator?
I don't know about you, but the idea of sliding a vibrator shaped like a fruit inside of me isn't appealing… especially not for how much it is. If you have the money to spare and want to give someone a laugh, then it might make a great present, but there are plenty of other toys that you can buy for cheaper without the unusual shape.
Strangely shaped vibrators seem to be a growing trend at the moment. You can get some themed on Pokémon if you really want to, and there are some that are shaped like Jesus on the cross. Why? Well, we aren't entirely sure.
Would you buy the emoji vibrator to use, or is it just the kind of novelty item that you think you'd avoid? We want to hear from you. Let us know what you think by leaving a comment in the box below and joining in the discussion there. Latest posts by Lara Mills
(see all)
---