First Time Bondage Tips And Tricks
January 15, 2016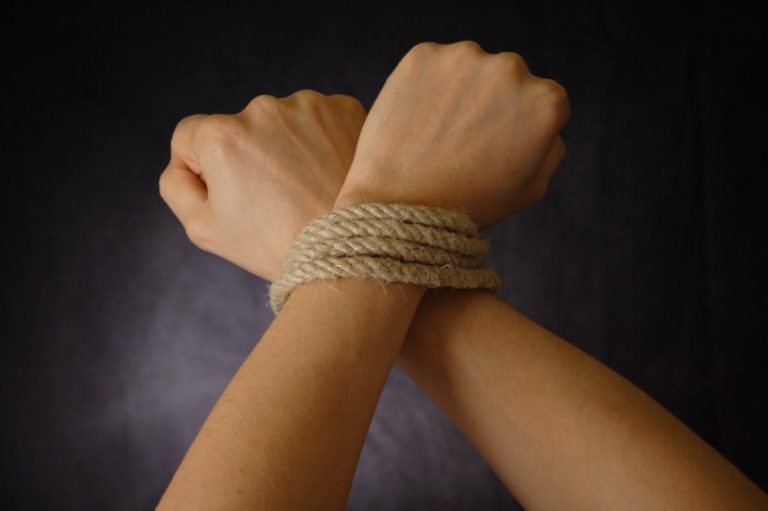 ---
There are so many fun games that people choose to play in the bedroom, but sometimes we want something simple. We don't want to have to buy tons of equipment just for some fun, but when it comes to the kinkier things, it is hard to avoid spending money. Bondage is a lot of fun to try, but many want to have the specialist equipment to make sure everything goes smoothly and according to plan for their first time bondage.
You really don't have to spend lots of money to get the right equipment, but often it can help those trying first time bondage feel a little more at ease and as though they know what they are doing. It helps to transform them from the caring other half into the dominatrix, which is exactly what you want in the bedroom. If you are eager to try out bondage for the first time, the first time bondage tips and tricks below will talk you through every step, telling you what equipment works best, how to start the conversation, and all of the kinky things you can try!
"I want to try bondage"
Strangely enough, the best time to open up and talk about sex is actually right after you have had amazing and mind blowing sex. This is when you are at your most receptive, and hopefully when your partner is relaxed enough to join in the discussion with you.
Explain to them that there is something you have been interested in trying for a while and that you would love to do it with them. Explain that you wish to talk about it in detail and to have an honest and frank discussion about it. Let them know that, if they decide it isn't for them, that is okay as long as you can talk about the possibility.
Usually this is enough to set their minds at ease, and if you give them the chance to ask the brutal and honest questions, you'll find your kinky conversation goes a lot smoother than you might have originally thought it would. They get to air their concerns and get answers, and you get to finally talk about your fantasy.
Getting the right ties
A key mistake that some beginners make when it comes to bondage is that they buy the wrong equipment. They'll rush to a hardware store, as you see Christian Grey do in the Fifty Shades Of Grey books and films, and buy a load of cable ties and duct tape.
Cable ties and duct tape are great if you are role playing a kidnapping scenario, or even if you and your partner are happy for your bondage session to go a little harder. However, if you are trying bondage for the first time, you might want to rethink this equipment.
Instead, consider buying specialist bondage rope. It is softer than a lot of other rope, so it won't hurt their skin as much when you tie it, and the luxurious look and feel will turn them on even more.
If you don't have the funds to be spending on rope, take a look around to see what you have to hand. It might be that you have turned up for your sexy date wearing a tie, which can be used to keep your wrists bound. If she has a dressing gown to hand, the tie of that can also be used and will be soft enough that it won't hurt you when it digs in.
What to do when you are tied up
Really, this part all depends on the fantasy you have built up in your head. It might be that you want nothing more than to be tied up and left alone for a while so that they can do their own thing, but ost of us have other ideas.
One of the kinkiest things to try is a little tie and tease. As the name suggests, you'll be tied up nice and firm before your partner then decides to tease you. They might offer you a slow and sensual strip tease, making you rock hard and ready for them before backing off. You'll be desperate to touch them and start begging them to let you go, and that will only spur them on.
Other people like to have rough sex when tied up. The fact that their hands are usually tied together stops them from exploring, and it means that the person doing the tying is completely in control of the session. They can climb on your lap and fuck you to orgasm, or they can simply use your body for their own pleasure, which is a huge turn on to watch.
First time bondage tips and tricks
Really, before you start trying to tie them up, you should find out what kind of bondage experience you are both interested in. It might be that you simply want tying and fucking as normal, but they might think you want something more. It is best to establish your desires beforehand to avoid confusion and awkwardness.
Bondage is also a good way to test boundaries. See what you like and what you don't like when tied. You might enjoy the thought of them standing outside of the room and listening to your cries for help while you're tied, or you might think that you want to go further after a little tie and tease.
Maybe you have your own suggestions for first time bondage that you wish to share? You can use the comment box below to let us know what you think. You might even find some great ideas you didn't think of before! Latest posts by Lara Mills
(see all)
---
---