Fisherman Catches Foot Long Dildo!
January 24, 2017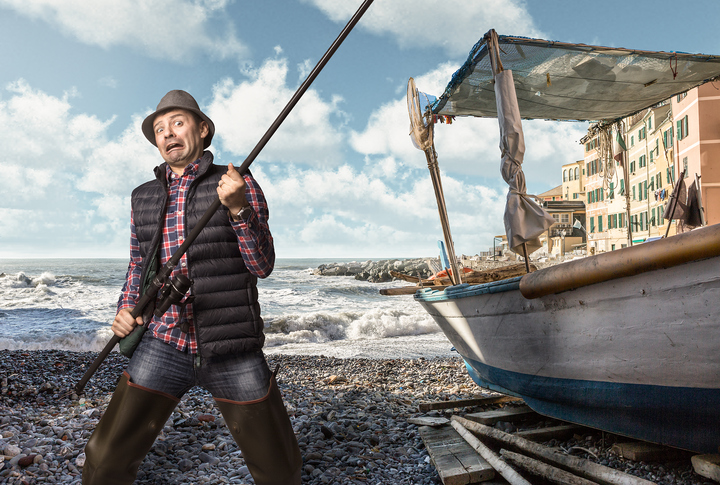 ---
Fishing is supposed to be a nice, relaxing pastime. You go out on the water and try to get the catch of the day. You hope you'll catch a big one, and when you feel the tug on the line, you hope it isn't a branch. You want the biggest fish out there… but sometimes you'll get something else entirely!
For one fisherman he had a hell of a shocker when he went out on the water only to discover that he had a big whopper on the line… just not the one he thought he had!
A normal day?
For Adam Broadbent it seemed like a normal fishing trip like any other. He and a friend headed to the Leeds and Liverpool Canal to do a little fishing, as they have done plenty of times before. According to Broadbent he tries to go out "once a week" and has caught a number of unusual things there.
It is a relaxing activity the two men enjoy, and while Broadbent confesses that he has "caught some weird stuff", he wasn't quite expecting to pull this big surprise from the water.
"Usually you get a bit of a tug on the line and it's just a fish, a branch or some debris," he said in an interview. "This was something else. I couldn't believe it."
After the excitement of fishing, he had managed to pull a massive dildo from the water.
One hell of a shock!
The dildo was reportedly "a good 12 inches long" and is, by far, "the most ridiculous" thing that Broadbent has ever caught out on the water. Sure, you might find the occasional condom caught on your line, but a huge dildo is another matter entirely!
After getting over the initial shock, the pair were able to see the funny side of it, as they apparently "just burst out laughing". In fact, Broadbent feels pretty strongly about it, stating that it is "the greatest thing I've ever caught".
To be fair, pulling a massive dildo out of the water is going to make for one hell of a memorable fishing trip, right?
But there was an air of puzzlement around the mysterious dildo… what was it doing there, how did it get there, and why did someone decide to dispose of it in such a way? The men had their own theory, believing that the own got rid of the whopper because they simply had no use for it any more. However, they couldn't figure out just how it had gotten out into the canal.
It gets better
So naturally, they decided that it needed a new home. Broadbent's partner in crime, George Simpson, decided that the best thing to do would be to hang it onto the nearby fence. We suspect that this would be to give others in the area a laugh, and to potentially reunite it with its owner.
However, not all of the locals saw the funny side. It seems that one woman came out of her home to inform the men that she didn't want the giant 12 inch cock near her home. Understandable, really. I don't think I'd want a used dildo hanging near my house, either!
But the men were not satisfied to simply leave the matter there. Broadbent decided to really see how the woman felt about the cock, asking if she was the owner.
Unsurprisingly, the woman "said I was cheeky and told me to bugger off". This only seemed to make them laugh even more, and made for one hell of a story. But honestly, how many people would put their hands up and say "that's mine"?
Dildo in the wild
Given the nature of the catch, the two men did not keep hold of it. They apparently carried the dildo around for a little while before deciding to dispose of it. Whether it was the looks they were getting or simply the fact that they had a potentially-used 12 inch dick with them, we don't know.
However, it is definitely one of the strangest things that people have fished from a river. That said, we have all seen unusual things out in the wild. I know that I have been out enjoying a morning run before, only to discover an entire box of condoms just lying in the middle of the path.
What is the strangest thing that you have seen out in the world? Have you ever found a dildo the size of this one? What do you think you would have done if you had made this discovery?
We want to hear from you. Let us know what you might do with such a discovery. Would you proudly display it on a fence somewhere or would you take some candid pictures? Latest posts by Lara Mills
(see all)
---