Gaming Platform Turns Bop It! Into A Sex Toy
June 1, 2018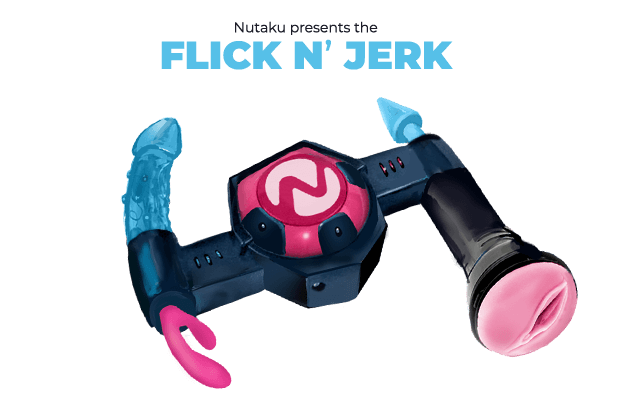 ---
The chances are that, at some point in your youth, you'll have played Bop It!. Bop It! was a popular game in the 1990s and early 2000s, challenging your ability to follow instructions. A voice would give you things to do to the toy and you did them. You'll probably remember the frustration of going "but I DID flick it!" more than once.
It was a fun party game and a great way to get people involved. But one gaming platform just couldn't leave it alone. They decided to change it and make a more adult version of Bop It!, just to make sure that our childhood is ruined.
The Flick N' Jerk
The Flick N' Jerk is the adult version of Bop It!, and is the creation of Nutaku. Nutaku is a gaming platform, dedicating themselves to 18+ content. They wanted to give the fun game from our childhood a bit of an upgrade.
In their mind, they see it as a multi-player sex toy, and decided to put the idea out there especially for National Masturbation Day, which takes place in Masturbation Month. Just in case you needed an excuse to jerk off.
The problem is that the toy isn't currently for sale. On their blog about it, Nutaku state "since this product is not on sale yet, we hope you have just as much fun fapping n' flicking away on our site for now!". Well, that's certainly one way to pass the time.
What does the toy do?
As you can see from the image at the top of this blog, this toy seems capable of doing everything. Yes, it looks like it is going to be very bulky, but that is because of the number of different toys attached to this one device.
On the toy you'll find a masturbation sleeve for hard cocks, a dildo, a butt plug, and a vibrator. The vibrator even has a clitoral stimulator attached, so you get a huge number of toys for your money.
The toy is going to cover a huge range of needs, and is described on their site as a "gender inclusive gadget". It's the kind of thing we suspect you never ever thought you might need in your life before. But why bother combining these toys in the first place?
Why combine these toys?
It is going to be a huge toy. If you ever remember playing with the Bop It! it seems to have been modelled on, you'll realise just how bulky it could be. It has four different toys attached to it! How is something like that going to make a good and convenient toy?
Well, the theory is that you can use each toy individually. However, it comes with instructions for combos. Much like your favourite video games, you can hit the right buttons to enjoy the combos this toy has to offer. In theory, it'll give you one hell of an intense orgasm.
Another big plus for the toy? It has everything you need in one. I have a suitcase at home for my toys, one that hides under my bed. When I want to use a few toys I have to unpack them all and prepare them. In theory, a toy like this could save me time. It is effectively a multi-tool sex toy… but is it worth it?
Would you use the Flick N' Jerk?
I have a large number of sex toys, and I am happy with them all. They each have their uses, from the intense Doxy to the clit clip. While the Flick N' Jerk might seem like a good idea, I'm not convinced it is going to work.
It is going to be huge, making it difficult to use properly. Plus, sometimes we want something more subtle. What if you only want to use the dildo and end up having to pull out the entire adult Bop It! contraption just to get your orgasm?
What are your thoughts on the toy? We'd love to hear from you. Let us know what you think by leaving a comment in the box below. Has your childhood been ruined by this toy? Are you tempted to buy it in the future? Latest posts by Lara Mills
(see all)
---