Get Into The Festive Spirit With Christmas Sex Toys
December 5, 2017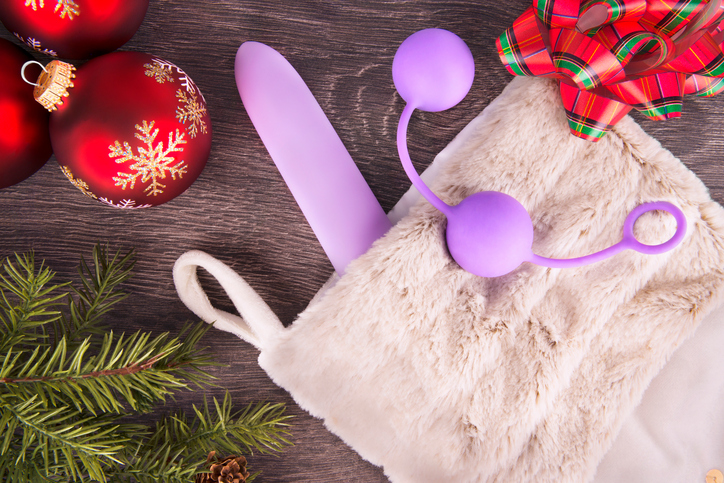 ---
Not feeling particularly festive yet? There are plenty of different things you can try to get yourself in the holly jolly Christmas mood. For some, Christmas shopping is all they need. Others like listening to festive songs. And then there are those who would rather try out some Christmas sex toys.
There are sex toys for every occasion, and Christmas is no different. If you can think of something Christmas-themed, the chances are that you'll find a toy to pleasure yourself with based on it. So which Christmas sex toys should you be looking at?
Candy cane
Christmas tends to be the time of the year when we spoil ourselves rotten with sweet treats. Even if chocolate isn't your thing, options such as candy canes and mince pies are aplenty no matter where we go or how we celebrate. So we shouldn't be surprised that someone took one look at a candy cane and went "this would make an excellent dildo".
Well, a "hand blown glass massager", as Dear Lady describes it. They have a beautiful looking candy cane specifically for your pleasure. It's seven and a half inches long and it looks fantastic!
The only problem is that it seems to be sold out. Who knows? If you've been good this year you might just get this treat from Father Christmas. If not? Maybe you'll get it anyway…
Santa's Little Helper
Not satisfied with the idea of a glass dildo to use for your pleasure? Perhaps you need a little vibration in order to make things exciting in the bedroom? Don't worry, as there are still plenty of Christmas sex toys you can buy!
Spencer's have another seven and a half inch toy for you, but this one is called Santa's little helper. Unlike the other toy, this one vibrates and is sure to get you off!
The tip curves to hit her g-spot or your prostate and there's even a small Santa head near the base to stimulate you in other ways. For the lady it might be perfect for her clit, while the man might find it arousing to stimulate their perineum.
Jingle bells!
The Christmas sex toys we have suggested so far might not be up your alley. Maybe the idea of having Father Christmas so close to your crotch makes you feel uncomfortable, or maybe they just aren't kinky enough? Don't worry, as you can dive into the world of BDSM thanks to these nipple clamps.
The Jingle bells nipple clamps & panty set is an interesting set, to say the least. The clamps are connect with festive white tinsel with bells on, so you can make noise as you dance around for your partner.
It'll certainly kink up your Christmas, and the matching thong will spice things up! However, we believe you could probably make your own festive set if you don't feel like splurging. Why not wind some tinsel around your favourite clamps and see what happens?
Fancy dress
If you want to put a little festive cheer into your bedroom antics without investing in sex toys, there are a few alternatives. In fact, you'll find that there are plenty of dress up opportunities for you both!
For men you'll find a variety of "pouches", each with different themes. There is the "Rude-Olf" below, as well as things like the Mr Clause Mankini. Not feeling it? You can always just wear a Santa hat on your cock instead.
Ladies get more variety. You can become a sexy Santa or a naughty elf, depending on how you feel. You've got plenty of options and it might just be the perfect way to explore some Christmas role play!
Christmas sex toys
Sex toys tend to be the biggest sellers at Christmas. We can't get enough of them and they seem to be the perfect things to buy for our partner. They make great gifts, and even if you don't want to wait until the big day, you'll find that you can get great deals on Christmas sex toys in the run up to the 25th.
Do you already own a few toys yourself? Tell us all about them by leaving a comment in the box below. Latest posts by Lara Mills
(see all)
---