How To Prepare For A Hot Webcam Session
September 10, 2015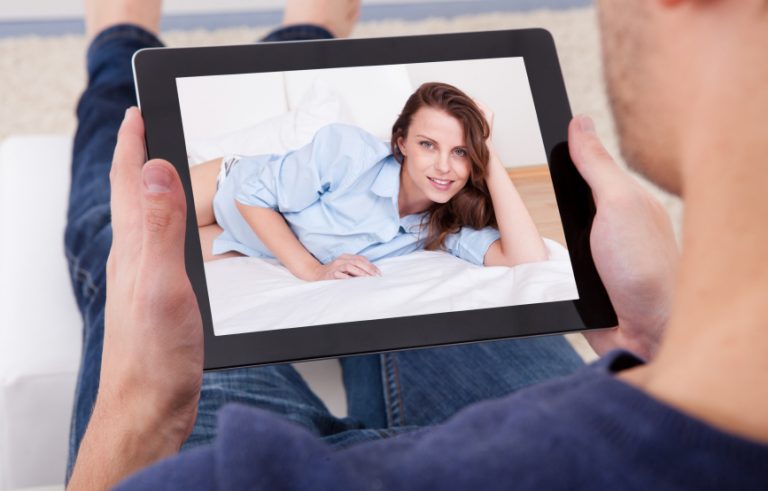 ---
It used to be that when you were away from your hot and sexy partner for a long time, you would have to content yourself with simply giving them a call and having phone sex. Okay, so phone sex isn't bad, but your imagination will never be as good as the real thing.
That is why webcam sex sessions have become so popular. You can simply start up Skype and sex is yours in a matter of moments, and while you still aren't there to touch them, you can tell them exactly what you want them to do and watch as they put their hot hands all over their own body just for you.
It's a huge turn on to try out Skype sex, but there are plenty of people out there who feel unsure about where to start when setting up a hot and sexy webcam session. If you are one of those people, hopefully the XEscorts blog article below can help you out.
Get technology on your side
Before you even think about having sex on webcam with the sexy woman who is just too far away for you to meet face to face, you need to make sure you have technology on your side. It is no good setting up a time for you to skype sex each other if your computer, webcam, and speakers aren't co-operating, so test them and make sure they are ready before the session starts to avoid any disappointments later on.
With the computer, you want to make sure you don't have anything else open at the time. Yes, you might want to check in on Facebook before it starts, but when it does close it. There is nothing more irritating than hearing that little "bing" noise when you are stripping off for someone, as it tells us that you aren't 100% focused on the fact that we are stripping our clothes off for you.
As for the camera, you want to make sure you have a decent one. Thankfully, most laptops you will find have a good one as it is, but if not you can find one in a store that will suffice for your hot and steamy session that won't break the bank.
When it comes to the sound of the session, headphones are the least sexy thing that you can wear. Yes, they might make sure only you hear the sound, but speakers might be better, as you can have the volume down low and still hear everything that is going on.
Relax
Once you have gotten your computer and equipment all set up properly, you will want to also make sure that you are completely relaxed and at ease. If you don't feel comfortable with what is going on, it will be evident in the way you act and prove to be a big turn off to your partner.
Before you start your webcam session make sure you won't be interrupted. If you have a landline phone nearby, unplug it so that it won't ring. Make sure all of your curtains are closed so that you don't give your neighbours more than they bargained for, and check to see if you have any deliveries planned. The last thing you want is someone knocking on the door with a parcel for you when you are pumping one out on camera as your partner slowly and teasingly strips out of their lacy panties for you.
You may find your mind is fixed on what is going to happen later on, which can make it really hard to simply relax and enjoy it when it happens. If that is happening to you, a good way to overcome this anxiety is to do something active. It will help you use up the adrenaline that is making it so hard for you to sit still.
Should you still be finding it difficult to just unwind, keep in mind that the perfect you are skyping with isn't physically in the same room as you. This means you can burn some candles with nice scents to unwind you, or you could even have a back massager going if you are really that wound up. It will really help you a lot, and will make your session even better because you are much more relaxed than you were previously.
Clothing is important
With webcam sessions and Skype sex, people put a huge focus on the clothing that you wear. For some reason, plenty of people out there seem to believe that you have to wear your sexiest things for your partner to get them in the mood, but that's not the case.
When you are choosing the clothing you want to wear, don't go for what your partner will find sexy if you don't feel comfortable in it. All that will happen is that you will constantly be moving and shuffling around in your chair to get more comfortable, and this will distract you from the hot and horny action that you could instead be watching on the screen.
A good way to think about the clothing is that you should instead go for what is the most comfortable. If you have some nice light clothing and a dressing gown you could wear, these might work as a great alternative to a stuffy suit. You will feel much more comfortable in them, and if you go for clothing that is a little baggier it helps even more, as you have plenty of room for movement.
The basic things that you need to prepare for a great Skype sex session are the technology you will use, the clothing you will have on, and how you will relax yourself before it starts. When you have that all sorted, your webcam sex session will be so much easier… but you can easily share your top tips in the comments below. Lara Mills is a writer who has four years of sex industry expertise behind her. Since she entered the adult industry, she has worked on the Escort Advertising forums, before moving into her current role three years ago.

Since then she has gained a fine reputation with her blogs on sex advice, sexual health and amusing news stories from around the globe. She is also a campaigner for the rights of sex workers from all over the world.

In her spare time, Lara keeps herself active by going running, and is something of a film buff. She also loves to go travelling. Latest posts by Lara Mills (see all)
---