Masturbation: Why We Should Go Solo
May 10, 2016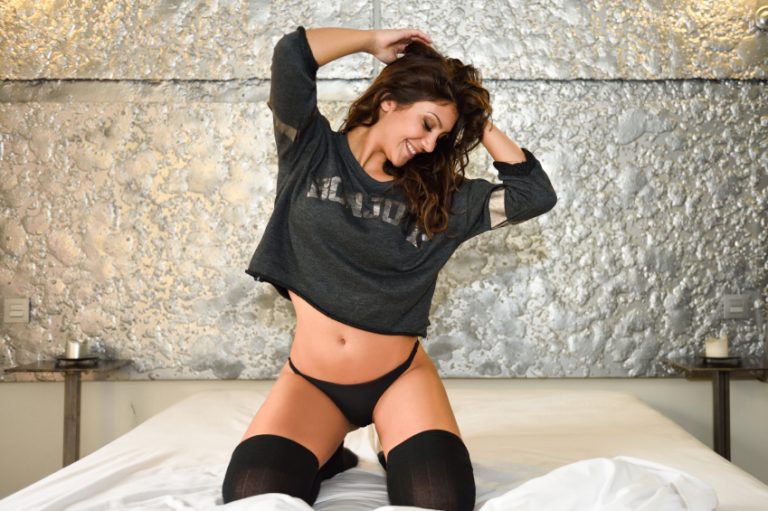 ---
Sex is great. No-one will ever tell you differently and, if they do, they simply might not be having the kind of intense, amazing sex that the rest of us are having. However, if we had sex every single time we were turned on and in the mood, we'd be exhausted. Sometimes, it is just better to enjoy a little masturbation to get you through the day.
Some people have a lot of different toys that they can use to make themselves feel good. You might have a vibrator, a cock ring, or perhaps a masturbation sleeve like a Fleshlight to keep you entertained.
We here on the XEscorts blog take a look at why, when it comes to being horny, sometimes it is best to enjoy a little solo masturbation with either your toys or just you and your hand.
You know exactly what you want
Don't get me wrong: fucking someone feels amazing. It can be a lot of fun and you will get to enjoy a lot of pleasure. However, no-one knows you as well as you know yourself.
You have been spending quality time with "Palmela Handerson" and her five friends for many, many years, and you know just where to touch, when to speed up, and when to slow down to bring yourself the most intense pleasure.
Because you know yourself so well, there won't be any awkward moments where you are thinking "just a little faster" or "not so rough". You will give yourself exactly what you want, and you will find that your little masturbation sessions goes the way that you wanted it to.
Adding toys isn't weird
Some people feel uncomfortable with the idea of adding toys to their sex lives. They feel like using a sex toy is somehow cheating and means that you don't have to put as much effort into sex. That isn't the case at all. Usually we just want to add them to spice things up.
But when you have been told "no" and had the idea turned down, it can put a bit of a dampener on things. However, if it is just you on your own looking for a way to make masturbation less of the same old up and down motions, sex toys can be perfect.
You don't have to get anyone else's permission to use them but your own, which means that, whatever kinky stuff you want to try in the bedroom, you can. You can go shopping on your own, confident that you know the type of thing you are looking for.
Best of all, you get to play around with the toys in the way you want to. You can take as log as you need to familiarise yourself with them, seeing how they make you feel.
Skip the foreplay
Foreplay is a hugely important part of sex. You need to help your partner warm up and get excited about it, which means that you have to spend a decent amount of time on foreplay.
If you aren't in the mood for foreplay, with masturbation you can simply skip it completely, concentrating instead on giving yourself pleasure.
You get the chance to be selfish in bed, to not think of anyone but yourself. Yes, it is fun to share those moments with others, but sometimes, you just want to think about yourself and nothing else at all.
Your imagination is your only limit
The best thing about enjoying a little masturbation is that you can pretend that you are having sex with anyone. Think a celebrity is hot? You can imagine what it would be like to have them sinking to their knees before you, mouth ready and willing for your cock.
When you have sex you tend to be present and in the moment. When it is just you and your hand? You can go to wherever you want to and fuck wherever you want to. Your own limit is your imagination.
Not feeling very imaginative? Porn helps, especially point of view porn and virtual reality porn. You can watch the ladies on the screen do all sorts of naughty things to the cock and just pretend it is yours as your hand slides up and down the shaft.
You can do it whenever you want
There is a bit of a thrill at getting sex whenever you want it, but if you are stuck at work and haven't got a partner with you who wants to risk getting caught, it can leave you feeling a bit lonely. Your hand, however, is totally portable, meaning you can have sex pretty much whenever and wherever you want.
Want to jerk off while thinking of that sexy woman in your department as she bent over in front of you? You can do just that.
Maybe you have a stressful meeting coming up that you need to be prepared for? Jerking off in the toilets is actually a great way to bring your stress level right now.
Getting to know yourself through masturbation
Not sure what you like or what you might be into? Instead of having to endure that potentially awkward conversation about your fetishes with your partner, you can try it on your own. You don't need a safe word because you will know when you want to stop.
You feel a lot more comfortable trying out new things in the bedroom on your own, which is why sometimes, it is good to just enjoy a little fun by yourself.
All of this work with your hands might make you decide to see if you can get her off using nothing but your fingers. Why not take a look at the guide to fingering which uses fruit to demonstrate the techniques. See what you can learn and share your favourite tips for solo fun and fun with a partner in the comment box below. Latest posts by Lara Mills
(see all)
---