No, A Bath Bomb Will Not Make A Great Dildo!
January 16, 2019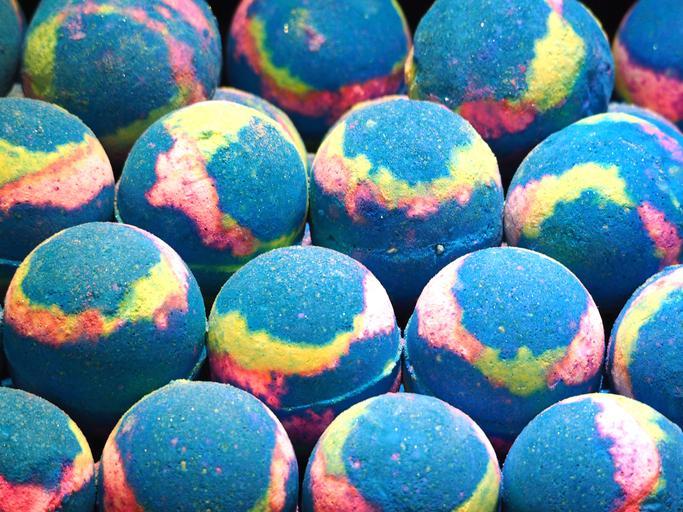 ---
There used to be a joke that went round many years ago now. "Anything's a dildo if you're brave enough". At the time, many of us laughed about it… but it seems that some are taking this statement a little too literally.
Doctors are coming forward to advise people that the latest Lush bath bombs aren't to be used as temporary sex toys. Yes, this apparently does need saying. What is inspiring people to use their bath bomb as a dildo?
The Lush limited editions
Lush are known for their handmade cosmetics. They really push against animal cruelty, and many of their products are vegan. Eager for things to be as natural as possible, they also want to leave their customers feeling incredibly indulgent. You could probably do your entire cleaning regime using Lush products.
They are particularly popular during certain seasonal holidays. Valentine's Day, Halloween, and Christmas in particular are the big ones. Lush will put out limited edition items for you to buy, typically based on a theme. With Valentine's Day just around the corner, we shouldn't be surprised that they are getting a little loving with their products.
Loving, in this case, means making bath bombs shaped like a peach and an aubergine. Basically, the emojis for ass and cock. Well played, Lush. These products will probably be as popular as other Lush items, but people are looking at the phallic bath bomb and thinking things that they should never think.
Anything's a dildo…
Lush likely knew what they were doing when they created these bath bombs. We imagine that they wanted to make a playful nod to the amount of sexting we'll be doing over Valentine's Day, because nothing says romance like an aubergine emoji, right?
The problem is something you likely spotted from the get go. It's phallic. The bath bomb is phallic-shaped, and since it is often used instead of a dick when sexting, people are looking and going "I'm going to stick it in me".
Part of me is wondering whether Lush really did think this through as much as they should have done. After all, we see the aubergine emoji now and immediately think "cock". But given that they released the product, we aren't sure. They might have just hoped for the best.
Doctors say no to the bath bomb
This really should go without saying, but I'm going to say it anyway. Please, for the love of god, don't go putting an aubergine-shaped bath bomb inside of you. In fact, don't put any bath bombs inside of you! It might seem like a good idea when you're horny, but it's not going to end well.
I can see why you might be tempted. For a start, they are the perfect shape and ideal for a little bath time fun. You might even wonder what the fizzing feels like inside of you. I'm telling you now that it won't be good.
So why is it a big no? Using a bath bomb as a dildo is a bad idea because it increases the risks of infection, as well as irritation. The bath bombs are also breakable. The whole point is that they break down for your bath. Do you really want that happening inside of you? No. The answers is no.
Use sex toys, not bath bombs
Lush like to experiment with their bath bombs and bath products. They want to create something unique, so they often have products not shaped into spheres. Some are cones, others are phallic-shaped instead. The moral of the story is that you are better off bathing in it and not using it as a sex toy.
If you really want to have some kinky fun in your bath, buy a waterproof sex toy. Don't look at your bath bomb and think "I'll stick it inside of me. What could possibly go wrong?" because lots could. We already know that homemade sex toys go wrong a lot. Don't take the risk!
I love Lush as much as the next person, but I'm not about to start grinding on something designed to relax me. That's just asking for trouble! Latest posts by Lara Mills
(see all)
---