Physio's Sex With Patient Gets Him Fired!
May 26, 2015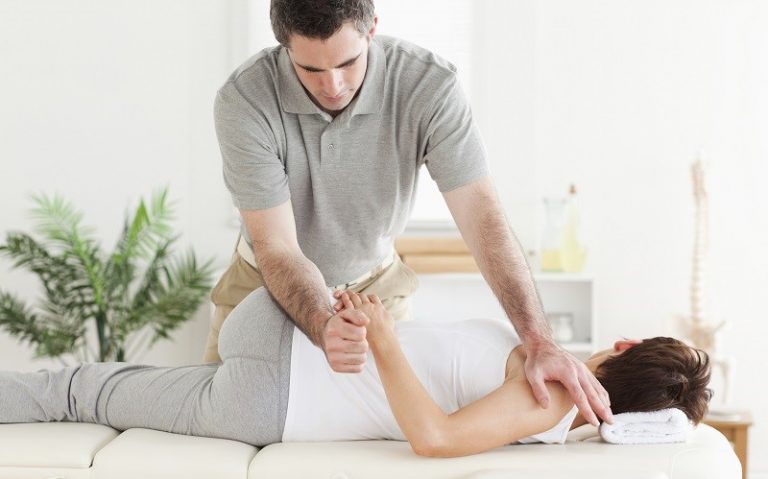 ---
In many roles, if you have sex with a client or customer, you could find yourself getting fired. It doesn't matter if it is consensual or that it goes on behind closed doors. If you break the rules by fucking one of your clients, that is all that matters.
For one unlucky physiotherapist in New Zealand, his relationship with a patient was discovered and he ended up losing his job… despite the fact it was all consensual.
Physiotherapy
Physiotherapy can be very intimate, depending on where the problem areas you want addressing are. They will help move your body to see how it reacts, and with how close you get and how well they get to know you, it's easy to see why you might be tempted into more.
In fact, it wouldn't be the first time this has happened. We hear about it a lot, about physios, doctors, nurses, etc, all sleeping with patients and clients.
However, often doing something like this will lead them to losing their job completely. How many stories do we hear each week about a doctor or a teacher or someone sleeping their a patient or student, only for them to end up losing their job as a result?
You'd think it would be easier to just resist temptation, but for one New Zealand physio it was too much.
Enduring an injury
While some people will go to see a physiotherapist to make sure everything is in order, and that their training isn't throwing any problems their way, most people tend to go as a result of an injury.
That is how the woman found herself spending time with her physio. She was at a fitness class at her local centre. The class itself was run by the physio, and so the two began to get to know each other a little better.

During one of the classes she found herself developing an unusual pain in her shoulders, and so, since the physio was there anyway, decided to consult him about the pain.
Over five weeks she attended nine sessions in order to sort the pain out, and the physio's notes of that final appointment confirmed that "the woman's injury had mostly settled".
Pizza and sex
Of course, we wouldn't be writing this story if that was all there was to it. "Shock horror! A woman visits a physio who helps her with her pain!". It really wouldn't make good reading… But it is what happened during that appointment that led to things getting very interesting between them.
At the ninth appointment, they began to talk about films they enjoy. Seeing an opportunity, the physio offered to lend some of his extensive DVD collection to the woman to watch. She agreed it would be nice, and so they arranged that he would drop some off later on.
When he arrived, there was a pizza delivery waiting, as the woman's flatmate had ordered in. Not wanting to send the physio off without something for his troubles, she invited to join them for pizza.
As you might imagine, it was discovered that the woman and the physio began to get close during the evening, and so "she and [the physio] had sexual intercourse more than once, and that they remained in the lounge until about 5am, at which time [he] left", as the Deputy Health and Disability Commissioner Theo Baker described in his report.
Moving too fast
However, it seems that the relationship was not to be. The physio contacted the woman the next day, quite a few times, but "she told him that she did not want an ongoing relationship".
So you'd think that was it, right? Well, you'd be wrong. It seems that his continued contact, where he suggested that "they had a connection", were beginning to get frustrating, and so the patient's father took it upon himself to complain to the commissioner.
As a result, an investigation began to see if he had broken any rules. If they had sex while she was still seeing her in a professional capacity, he would have "breached the code of patients' rights". Of course, he denies that they were still seeing each other in a professional way, as he believes that, when he visited her that night, "he had confirmed with her 'that he was no longer seeing her in a professional capacity'".
The woman, however, has a different idea. To her, "there was no discussion about the physio no longer seeing her in a professional capacity" as "it was her understanding that he was still her physio following the ninth appointment."
What's the big deal?
However, the Health and Disability Commissioner Theo Baker has found that "the man's conduct was clearly unethical and his actions were a severe departure from accept standards of professional behaviour."
The big deal, in this case, isn't that it was consensual. It seems that consent doesn't matter here. The point is that he broke the rules by staying as her physio while fucking her.
Yes, it is yet another part of life where what happens behind closed doors between consenting adults really does matter to those on the other side… just like the escorting industry! The fact that they consenting to it isn't an issue, as they both confirm that they wanted it and agreed to it. The problem was his job.
What do you think about this issue? Is it a real issue that we should be addressing? Should the circumstances be changing the outcomes at all, or is it always wrong to have sex with someone you see in a professional way?
Let us know by leaving a comment in the box below. Tell us your thoughts on this issue. Does it really matter what goes on between consenting adults behind closed doors, or should it be no-one's business but those involved? Latest posts by Lara Mills
(see all)
---