Are Porn Orgasms Really Fake?
March 2, 2015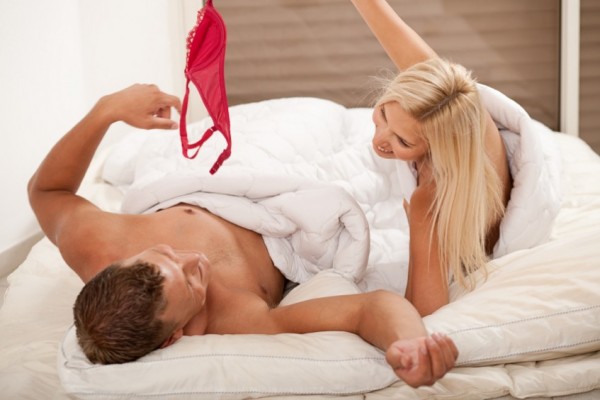 ---
When you think of porn orgasms, you tend to think of how fake they are with all of the screaming and moaning when someone so much as touches them. If that's the case, you might be reading the title thinking "are you mad, Lara? Of course they are fake!" Well, it turns out that isn't actually the case.
A magazine decided that, to settle the argument once and for all, they would actually talk to the porn actors and actresses about their orgasms, both in and out of the on-screen bedroom. Their answers are surprising, but are they enough to convince you that what you see on screen is real?
Faking on set
To start things off, the stars were asked if they had ever faked it on the set of a movie. Watching pornos you might be thinking "yes, you have, and plenty of times at that", but their answers suggest something else.
Some admitted that they are guilty of faking it. Brooklyn Chase said that "the majority of the time it's fake", explaining the reason for faking it. "It's very difficult, at least for me, to have a real orgasm when I'm filming."
Nikki Delano also admitted to faking it, saying that an orgasm was "more of an emotional thing and a connection thing. Sex is fun, and sex feels good, but as I get older and more experienced in the industry, I feel like I'm faking it more and more."
It isn't really much of a surprise that some porn stars choose to fake it in their movies. After all, people watching more want to see an orgasm, and if you can't actually get there, isn't it better just to fake it?
Keeping it real on set
More surprisingly, however, were those who said that their orgasms were real. Director Kayla-Jane Danger says "I don't want them to fake it". She believes that orgasms are essential to each movie, and so "if they're not having orgasms, then half of the fun of their job is gone".
That puts a lot of pressure on the porn stars, which might help to explain Kitty Stryker's answers. She admitted that "if I'm left to my own devices, I'm fairly quiet, and that's really boring to watch". Making noises in the bedroom is one way of communicating with your partner and letting them know just what does and doesn't work for you. Kitty says that she has "a tendency to overact [her] orgasms when they happen" to make them more interesting.
However, for actress Jenna J. Ross, she explains just why she tries not to fake it. "I want the experience to be real for the viewer. How can I expect you to have a real experience if I'm not experiencing it myself?"
She then goes on to explain just how she can tell if an orgasm is real or fake on screen. "If the girl is not turning red, she's probably faking it. You can't control blood flow."
Faking it in private
When we talk about porn stars faking it, we think only of what we see on the screen. We don't take the time to think of whether they might actually fake it at home. Thankfully, those in the industry answered that question too.
One said that, luckily, they haven't had to fake it. Jenna J. Ross said "never have, never will. I'm also a squirter, so it's hard for me to fake."
However, the rest admitted that they had faked it previously. For Kayla-Jane Danger, it was because of a partner who didn't understand her needs. "I did have one partner for a long time who, unfortunately, when I was with him, I faked it pretty much every single time." She went on to say that "he wasn't as interested in my pleasure."
While Brooklyn Chase said that she has "faked it a few times", she also gives some great advice for those struggling with it. "With your voice you can guide them to where you want them to be. That's also the point of dirty talk. If you use the right tone of voice, it translates as dirty talk and you can tell him exactly what you want him to do, and guys like that."
Does it even matter?
I know that it is one of the biggest turn offs for a man if they can tell their partner is faking it. If you can tell that the woman is faking it, you start to think that maybe she isn't enjoying it as much as she is suggesting by the rest of her actions. It makes you question what you see in the rest of the video.
That said, I can also understand how stressful it is if you are under pressure to orgasm. I have been in a relationship like Kayla-Jane Danger, where my pleasure wasn't important to the guy I was dating and so I faked it the entire relationship. Now I've managed to figure out the perfect way of telling a guy what I need to get me off, but back then it was stressful.
Does it really matter to you if you know a porn star is faking it? After all, porn isn't reality. Porn is fantasy. In your private life, I can understand… but does it make that much of a difference to the fantasy if you know it isn't real? Latest posts by Lara Mills
(see all)
---